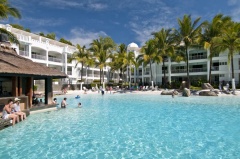 The Boutique Collection has a selection of apartments, resort rooms and holiday houses from various properties around Palm Cove. Palm Cove boasts a range of accommodation options including resorts, apartments and holiday houses. Looking for the ideal holiday location and resort? Palm Cove absolute...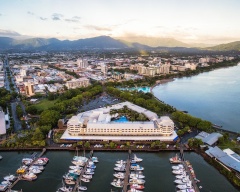 Set upon the Cairns foreshore, Shangri-La Hotel, The Marina, Cairns offers picturesque views of the pristine Marina complemented by luxury 5 star service. Only a short stroll from the City Centre, Esplanade Lagoon, Reef Fleet Terminal and an integral part of the Pier Shopping Complex, Shangri-La...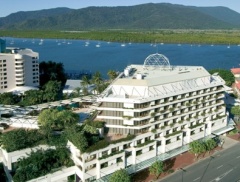 The Pullman Reef Hotel Casino complex is a world of fun, food and entertainment. It boasts one of Australia's finest boutique casinos, a multitude of dining experiences and bars, extensive conference and banqueting facilities, elite entertainment in Vertigo or the Casino Sports Arena and the luxurio...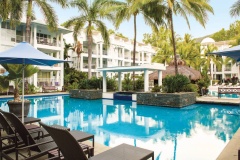 Charming Palm Cove is a classic tropical destination, with a beach fringed by swaying palms and a coastal village atmosphere. Your Palm Cove accommodation at Peppers Beach Club & Spa is in an iconic North Queensland resort, with lush green gardens, a rainforest rock pool and lagoon pool with sandy b...
About 5 Star Hotels For Cairns
Cairns is a world class tourist destination, with some amazing 5 star hotels in a superb location. These 5 star properties include the Pullman Reef Hotel Casino (formerly the Sofitel Reef Casino), Shangra-La Hotel and the Sebel Cairns (formerly the Cairns International Hotel). The Hilton Cairns self-rates itself as a 5 star property, but is classified as 4 star.
All three of these fantastic properties are located close to the Cairns Esplanade, where the best rooms have beautiful views of the Cairns Harbour and surrounding rainforest mountains. From the hotel you will find yourself walking distance to Cairns Esplanade including the Reef Fleet Terminal, Restaurants, Shops, Marina and Lagoon.
If you are after a hotel that offers personalised service within a luxurious environment, then a 5 star hotel is for you. Treat yourself to a first-class experience while staying in the tropical Far North.