Get the best service and rates by dealing direct with David H Stacey Gallery.
|

From $ 900

|

Save $500
$500 OFF at David Stacey Gallery!
Special Expires 30 Apr 2017
We have something very special at the gallery!
Flaggy Creek limited Edition Print of 99.
Stretched Canvas Triptych .
Normally $1400 SALES PRICE $900
Measurement 1500mm length Height 700mm.
Other specials for locals: Discount apply for...
More
We have something very special at the gallery!

Flaggy Creek limited Edition Print of 99.
Stretched Canvas Triptych .
Normally $1400 SALES PRICE $900
Measurement 1500mm length Height 700mm.

Other specials for locals: Discount apply for locals in David Stacey Gallery in Kuranda Village but all vary.
The new works for the acrylic normally $440, local price $380.
Limited edition booklets $10.00
Cards $4 each, 6 for $20.

Now is the time to get that print you've been wanting or the perfect gift for someone!

Local gallery to showcase special art by local Kuranda artist David Stacey, Master of fine Contemporary Art only Australian listed in book published UK. David Stacey has dedicated his life to depicting the lush wilderness of Far North Queensland through his illustrations and paintings. David H Stacey Limited Edition Prints is a forever expanding business, now producing the prints themselves, (on paper or canvas), little framed miniature prints of easles and a series of Gift Cards. David is passionate about sharing his Love for the landscape of this region and hopes that you all enjoy viewing his artwork.

His illustrations and paintings of the natural environment are a must see. For lovers of fine art.

The Gallery is open 7 days and we can receive orders via message, email, website or phone :-)

View our website for the full range of miniature works! www.davidhstacey.com
david@davidhstacey.com / Ph 0428 595 516.
---
About David Stacey Gallery
About David H Stacey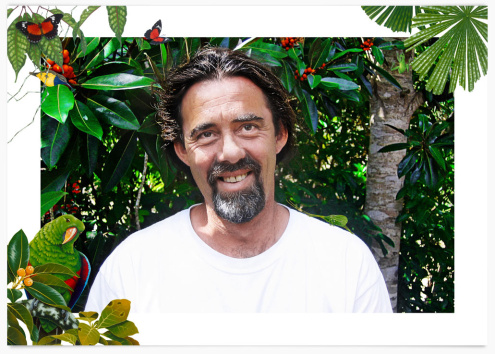 Acclaimed artist, David Stacey, is renowned for his seductive representation of the natural world. Born in Sydney in 1961, David moved to North Queensland during the eighties where he currently resides. David's unique and distinctive style of interpreting the landscape has been instrumental in showcasing the beauty and diversity of this region.
Inspired by the Blue Mountains west of Sydney, he developed a passion for wildlife and the Australian landscape. A passion that has become a lifelong pursuit; to further the understanding and exploration of nature through art.
His deep connection to the natural world is clearly visible in his contemporary interpretation and observations. David has a definitive ability to capture the essence of the living landscape in all its nuances. Often revisiting specific places at different times, giving these brief moments, continued existence.
David spent 2 years on Dunk Island and South Mission Beach in the early 90's which was a pivotal moment in his career. A landscape that was new and fresh in ideas, the coastal environment provided much interest where his favorite pastime was beach combing to collect objects amongst the tidal zone. Strangely enough, it took many years after before the ideas found their way on to canvas. Still to this day, he returns to the coast, finding a deeper knowledge of the ebb and flow of this beautiful landscape.
Primarily considered as a painter, his pen and ink works appear in various publications such as scientific journals and university texts. David has had over twenty successful solo exhibitions in Australia and Japan and his work is represented in private collections throughout the world. He is currently illustrating and writing a book. David is an artist of genuine repute, his name is synonymous with the genre of fine art; the work speaks for itself.
Limited Edition Prints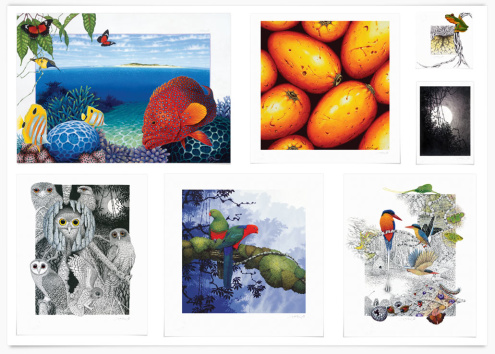 David Stacey's limited edition prints are produced by the giclee (pronounced "zhee-klay") printing process. The quality of giclee printing rivals and exceeds that of traditional printing and is commonly found in museums, art galleries, and photographic galleries worldwide. The giclee printing provides better colour accuracy than other means of reproduction currently available. These images are so impressive in fact, that it is not uncommon for a collection of giclee art reproductions to be sold for hundreds of thousands of dollars in high-end galleries throughout the world.
The numbering of limited edition prints for sale in this book are in two categories. The exclusive limited edition totals 99 prints, plus 9 artist proofs. The remaining prints total 220 plus 22 artist's proofs. All prints are hand signed, numbered and titled in pencil. Image embossed over the left-hand bottom corner to ensure authenticity. All editions are printed on 'German Etching' acid-free fine art paper.
Artworks that are a part of a Limited Edition Print range will only be printed the number of times the range outlines. Once the total number of prints is reached, that artwork will no longer be available for print.
---
News By David Stacey Gallery
Exhibiting at Red Hill Gallery 4 – 20 November 2016
By David Stacey Gallery
27 Oct 2016
Exhibiting at Red Hill Gallery 4 – 20 November 2016
Meet the Artist: DAVID STACEY
David is of the belief that there is a continuum between all life. He seeks, as an artist, to record and capture the mood and spirit of the precious wilderness now threatened. To celebrate and pay homage to our fellow creatures in nature, be they trees, be they living in the trees or on the forest floor. David's work is not just looking at colours on canvas. It is vitality, a common ground of inspiration and integration for us all to share.
Address: 22 Coondoo Street, Kuranda, QLD 4881 Australia
RED HILL GALLERY
61 MUSGRAVE ROAD, RED HILL, 4059
BRISBANE. QUEENSLAND, AUSTRALIA
---
How to get to David Stacey Gallery
22 Coondoo Street
---
Direct Contact Info
Hours: 10:00am – 3:30pm
Address:
22 Coondoo Street
Kuranda
QLD 4881
Australia
---