Get the best service and rates by dealing direct with GSL Aviation.
---
About Cairns Scenic Flights and Air Charter
About GSL Aviation
GSL Aviation are your best value operators for Cairns scenic flights. GSL Aviation carry more than 20,000 passengers on our tours each year, so when it comes to seeing the Great Barrier Reef, you're in experienced hands.
GSL航空是您在凱恩斯空中觀光的最佳選擇, 公司每年運載超過2萬名遊客來一睹大堡礁的壯麗.
Why fly with GSL?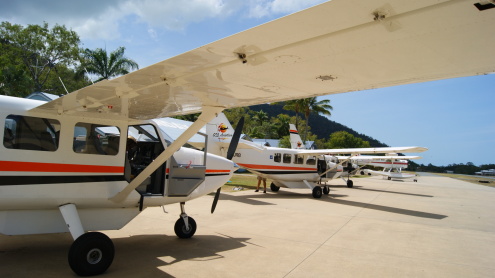 Why fly with GSL? / GSL 航空提供以下服務:
- Guaranteed Window Seats! / 每人都有自己的臨窗座位
- Free Courtesy Bus Transfer to/from Cairns local area! / 凱恩斯市區內的免費接送
- Free drop off after the flight to the Airport for your departure! / 飛行結束後可以直接送去凱恩斯機場
- Experienced Great Barrier Reef operators! / 公司運營數年無事故紀錄
- Competitive Tour Pricing! / 非常親民的價格
- In-flight pilot commentary! / 飛行途中機師的親自講解
- Modern fleet of high-wing aircraft! / 新型的上單翼機型
=======================================================
Green Island Fly and Cruise 1 Day Tour Combo
>>> Green Island Fly and Cruise 1 Day Tour Combo <<<
You will find yourself on the morning 'Reef Hopper 40 minute' flight outbound to see 9 Reef's before jumping aboard 'Reef Rocket' for their tour departing at 11am.
For $279 your tour includes the flight and boat trip, lunch, snorkel equipment hire or glass bottom boat. If you would like to do the semi-sub too they can add that for $20 at the time of booking or $30 on the day.
We can also split the tour and do these two activities on separate days if timing does not permit the whole tour to be completed on the one day.
Green Island Fly and Cruise Combo (FDRRPak2)
Start your day with a birds-eye view of Cairns, Green Island and The Great Barrier Reef. Soar overhead with GSL Aviation aboard a high-wing aircraft, with guaranteed window seats for everyone on-board. The 45 minute flight departs Cairns Airport and gives you an appreciation of the region that you can only get from the air. Following the flight, and your complimentary bus transfer, you'll find yourself at the Cairns Reef Terminal, ready to depart on a full day adventure cruise to Green Island with Big Cat on board 'Reef Rocket'. Your full day cruise includes everything you need for the day, with a range of extras and activities available for no extra charge. Included in your cruise is a buffet lunch, glass bottom boat coral viewing tour and snorkel equipment hire. On top of your tour inclusions, are all the other activities on Green Island such as self-guided walks and fish feeding. After your entertaining afternoon, cruise back to the Cairns Reef Terminal where your tour concludes. Tour duration: 7:30am – 5pm (9.5 hours) Cost per person: $279(Adult), $229(Child 3-14)
Please call us directly on 1300 475 000 for more information or to book this tour.

=======================================================
Scenic Flights in Airlie Beach & Cairns
GSL Aviation operate a fleet of high wing aircraft, to ensure you get the best view as you fly around some of the best sights Queensland has to offer. The Great Barrier Reef is one of the 7 Natural Wonders of the World, and the best view is from above. GSL Aviation operate daily departures from Airlie Beach Shute Harbour and Cairns Airport.
GSL 航空公司的上單翼型飛機提供乘客從空中觀覽昆士蘭的美景。 å¤§å ¡ç¤æ˜¯ä¸–ç•Œä¸ƒå¤§è‡ªç"¶å¥‡æ™¯ä¹‹ä¸€ï¼Œæƒ³è¦ä¸€æŽ¢å¥¹çš"壯麗,最佳視野就是從空中俯瞰ã€' GSL航空公司每日在艾爾利海灘å'Œå‡±æ©æ–¯æ©Ÿå ´ç'ºæ'¨æœå‹™ã€'
=======================================================
Cairns - 40 mins "Reef Hopper" Scenic Flight only $179
Get a taste of the Great Barrier Reef with our 45 minute scenic flight. Departing Cairns Airport this tour includes Green Island and the Great Barrier Reef. After exploring the Reef you'll head back toward the mainland, with views of the North Queensland coastline. Sights include Cairns, Green Island, Arlington Reef, Upolu Reef, Double Island and Palm Cove.
=======================================================
Cairns - 60 mins "Reef & Port Douglas" only $249
See it all! Our 60 minutes signature flight includes a bird's eye view of Green Island, the Great Barrier Reef, and the famous Port Douglas, the amazing contrast of colours is something that's best experienced from the air.
=======================================================
Airlie Beach - 25 mins "Island Explorer" only $99
Fly over Hamilton Island, Whitehaven Beach, Hill Inlet, Hook Island. Get amazing views of this breathtaking tropical heaven from above.
Only $30 extra for Airlie Beach to/from Hamilton Island transfer.
>> Book Now <<
飛越這令人歎ç'ºè§€æ­¢çš"美麗奇景,路ç¶"漢米爾é "島、白天å '沙灘、希爾灣、富克島ã€'
åªéœ€å¤–åŠ $30就可以搭配艾爾利海灘與漢米爾é "島之é–"çš"接驳飛機ã€'
=======================================================
Airlie Beach - 60 mins "Reef & Island" only $199
Come to see the romantic Heart Reef, the mindblowing contrast of Hardy Reef, along with Reef World, Hook Reef, Hook Island and Haymand Island and everything else the shorter flight Island Explorer had to offer.
Only $30 extra for Airlie Beach to/from Hamilton Island transfer.
>> Book Now <<
一覽赫赫有名çš"æµªæ¼«å¿ƒåž‹å¤§å ¡ç¤ã€å¤§è‡ªç"¶çš"天ç"¶èª¿è‰²ç›¤ "哈迪礁群"ã€å¯Œå…‹å ¡ç¤ã€ä»¥åŠçŸ­ç¨‹é£›æ©Ÿæ‰€ç¶"過çš"所有聖靈群島重要景點ã€'
åªéœ€å¤–åŠ $30就可以搭配艾爾利海灘與漢米爾é "島之é–"çš"接驳飛機ã€'
=======================================================
Charter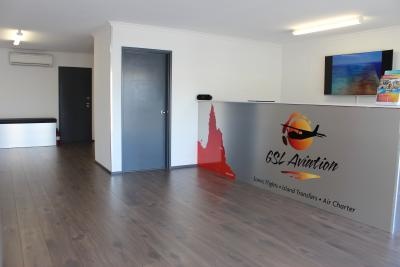 We also offer charter services:
- Corporate Air Charter
- Tourism Charter
- Fishing Charter
- Freight Charter
- Fly to Airlie Beach
On our website, you'll find plenty of information about our aircraft, our scenic flights in Cairns, and our air charter capabilities. If you can't find the information you're looking for, please feel free to contact us.
æˆ'å€'也提供公司集團包機、私人光觀包機、å'Œè²¨é‹åŒ…æ©Ÿç­‰å¤šé …åŒ…æ©Ÿçš"服務,詳情請請參照æˆ'å€'çš"ç¶²é æˆ–èˆ‡æˆ'å€'聯繫ã€'
More about us
Our fleet of modern, high-wing aircraft, are designed to give you the best view on your scenic flight. The aircraft are comfortable, and fitted with quality intercom systems so that the pilot can provide in-flight commentary. All of our flights include guaranteed window seats, so no one is left out. Our aircraft are all maintained to the highest standard by our designated company maintenance facility.
GSL Aviation flight crew are all commercially qualified, and undergo extensive company training to deliver not only a safe journey, but a great experience for our customers. During all of our scenic flights, our flight crew provide a commentary of the area below, making sure you don't miss anything on your tour of the Great Barrier Reef and Daintree Rainforest.
Our scenic flights and tours have been designed for the best viewing of these areas, and our procedures and practices have been refined through years of experience in tourism operations. Our practices over the Great Barrier Reef Marine Park have all been approved by the Marine Park Authority, and we continue to support the ongoing conservation of the reef with our low impact tourism operations. The Great Barrier Reef is one of the 7 Natural Wonders of the world, and once you see it from above, you'll certainly understand why. Our Aim is simple, and that is to give you the best possible experience of this amazing natural wonder.
As well as our tourism operations, we can offer a range of air charter solutions, with a variety of aircraft available to meet your requirements.
We offer a free courtesy bus to/from Cairns City area, making it easy for you to jump on-board our scenic flights or air charter, any day of the week. Our office is open 7 days, and our scenic flight departure times are designed for best viewing around the Great Barrier Reef and Daintree Rainforest.
---
News By Cairns Scenic Flights and Air Charter
Group tour to Cairns, welcome aboard!
By Cairns Scenic Flights and Air Charter
25 Jan 2016
Another special group from one of the Chinese Travel Agency
Special group from Hainan Airline
By Cairns Scenic Flights and Air Charter
11 Jan 2016
We had the great privilege hosting a special group from Hainan Airline on our Scenic Flight today. Including the 737 Captain, Cabin Manager and their crews. It was such a great flight we all had a fantastic time
---
How to get to Cairns Scenic Flights and Air Charter
---
Direct Contact Info
Hours: 8:00 am - 6:00 pm
Address:
GA Aero Centre – Unit 3, 97 Tom McDonald Drive
Cairns Airport
QLD 4870
Australia
---