Get the best service and rates by dealing direct with Reelcrayzee Charters.
---
About Reef to Rainforest Full Day Package with Cairns Bus Transfers!
ABOUT US – REEL CRAYZEE CHARTERS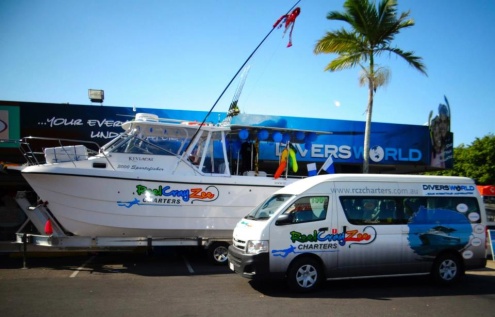 From our base in Innisfail, North Queensland, we offer the closest mainland access to the wonderful aquatic playground that is the Great Barrier Reef and ensure you minimum travel time to & from the reef. And we offer a free shuttle service to all of our valued clients from Cairns.
With the help of our powerful twin 300hp Yamaha outboards, we will have you there faster than you can say Reelcrayzee!
We are fully licensed to operate over the whole Great Barrier Reef which also gives you an endless choice of plentiful locations to explore both above & below the water.
And our highly qualified and passionate crew constantly go above and beyond to ensure you are left with wonderful memories and experiences from your trip with Reelcrayzee Charters!
REEF TO RAINFOREST
SNORKEL THE GREAT BARRIER REEF
No visit to FNQ is complete without a trip to the Great Barrier Reef! And why not do it on a personalised level with Reelcrayzee Charters. We cater for smaller groups of 8 people to ensure you get the ultimate reef experience.
The Great Barrier Reef is one of the most well-known natural attractions and is the world's largest coral reef. Our boat – the 30ft Kevlacat Sportsfisher, will have you to the reef in comfort and style – with a cruising speed of 26 knots. With ample seating, loads of esky space and a toilet onboard – it comes with everything you need for a great day.
PARONELLA PARK
Step back in time and be amazed by the ingenuity and determination shown by one man with a dream. Paronella Park today is a celebration of the Paronella family's achievements, particularly those of it's founder, Jose Paronella.
On arrival, our guests are taken through many highlights of the Park on a 45 minute storytelling tour. This tour sets the scene for the rest of your visit.
Paronella Park has something for everyone. Fantastic photo opportunities, remarkable architecture, an incredible story, 5 hectares of tropical gardens, a fully restored and operational 1930's hydro electric generator, wildlife and fish feeding, a boutique caravan and camping grounds, a cafe with fresh local produce and much more.
You arrive not knowing what to expect and depart with memories you wish to cherish forever.
---
How to get to Reef to Rainforest Full Day Package with Cairns Bus Transfers!
---
Direct Contact Info
Hours: 9am-5pm
Address:

Innisfail
Australia
---