---
About Tourism Tropical North Queensland
Cairns & Great Barrier Reef Australia - Official Tourism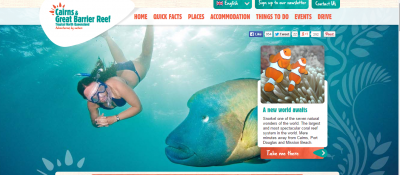 Welcome to the official tourism website of Nature's Theme Park - Cairns & Great Barrier Reef Australia.
Here you'll find everything you need to plan your perfect Tropical North Queensland vacation in the only place on earth where world heritage listed Wet Tropics and Daintree rainforests meet the Great Barrier Reef.
Take a virtual scuba dive on the Great Barrier Reef with our underwater webcam or view our other cams and get a feel for the heart-stopping adventure, secluded escapes, amazing wildlife, rare birds, and picturesque landscapes here for you to experience. Then catch up on all the latest news, weather information, events, photos, and videos from around the region.
Whether you're seeking an indulgent tropical vacation, some time with the family or the thrill of a new, World Heritage-listed adventure, cairnsgreatbarrierreef.org.au is your one stop shop for unbiased, local information and advice about tours, accommodation, dining and attractions available in Cairns, Great Barrier Reef, Daintree Rainforest, Port Douglas, Atherton Tablelands, Cape York, Mission Beach, Gulf Savannah, and much more!
What are you waiting for? Visit our site to see for yourself!
---
News By Tourism Tropical North Queensland
Cairns to host 10th ANZA Workshop
By Tourism Tropical North Queensland
17 Feb 2017
Cairns will host the 10th Australia New Zealand Agent (ANZA) Workshop on 5 - 7 April. ANZA attracts hundreds of educational institutions, youth tourism and edu-tourism operators to meet one-on-one with international agents (buyers) who send many thousands of students and youth travellers to the region annually.
ANZA is the most efficient and cost-effective way to personally meet a large number of high-quality agents committed to promoting Australia as a destination. Pre-schedule 1:1 business meetings with 180 quality screened buyers from over 40 countries. Meet agents attending the Study Cairns FAM tour.
Contact Rod Hearps rhearps@icef.com for more information.
MANTRA GROUP TIPS CAIRNS TO BE AUSTRALIA'S HIGHEST PERFORMING MARKET IN 2017
By Tourism Tropical North Queensland
10 Feb 2017
Mantra Group expects Cairns to be the best performing travel destination in Australia in 2017, forecasting its current RevPAR growth to continue into the new calendar year. 
Mantra Group Chief Executive Officer Bob East said the gateway city of Cairns is bursting with new flights, which is creating strong demand for accommodation providers in the region.
"The increased air-capacity, flight affordability and the proliferation of low cost carriers into Cairns, particularly from Asia and in addition to an active domestic market, has boosted occupancies in recent years," said Mr East.
"Cairns is well positioned to take advantage of the opportunities presented out of Asia, particularly with its large leisure travel market attracted by Cairns' close proximity, single flight offering and favourable time zone.  
"A record five million passengers passed through Cairns Airport this year, which not only bolstered business in Cairns but also in the nearby holiday hotspots of Palm Cove and Port Douglas."
Mantra Group Executive Director of Sales, Revenue and Distribution Luke Moran said occupancies at Mantra Group properties in Cairns performed well above the industry-average this year, which is trading at 83.5% year to date, and occupancies are forecasted to grow further in 2017. 
"RevPAR at our Cairns properties has grown by nearly 12% in 2016, making it one of our fastest rising destinations," said Mr Moran.
"We're also seeing a smoothing of the city's traditional seasonal demand curve with high occupancies being achieved year-round."
Other leading destinations in Australia this year are Sydney, Melbourne, Canberra, Noosa, Hobart and Launceston and they're also forecasted to continue to perform strongly in the New Year.
These rising occupancy rates and RevPAR growth across the country are supporting a wave of new-build hotels for the Group.
In 2017, Tribe West Perth, Mantra's Sydney Airport hotel and Mantra Macarthur Hotel in Canberra will open under Mantra Group's management.
"Updating our existing hotel product with high quality refurbishments is also a key priority for our Group in the New Year," said Mr East.
---
Direct Contact Info
Hours: 9am - 5pm Mon-Fri
Address:
Level 2, 51 The Esplanade
Cairns
QLD 4870
Australia
---
Tourism Tropical North Queensland (TTNQ) is the peak regional visitor destination marketing organisation for Tropical North Queensland. Joining is easy and the benefits are many. The following pages describe how your organisation can benefit from the di...