Get the best service and rates by dealing direct with Rapid Boarders.
---
What to expect.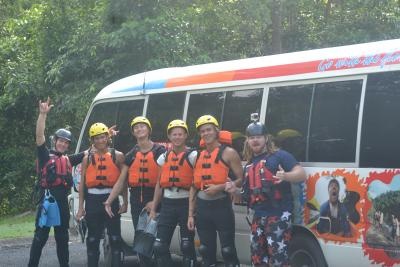 Rapid Boarders is an action packed day, starting at 5:30am with a trip south on a fully air-conditioned bus to the Tully River. Watch white water videos on the way; enjoy a light breakfast and the chance to get to know the crew and other guests.
Once at the river we get all customers into safety gear including a life jacket, helmet, wetsuit pants, knee/shin guards and fins. Looking safe and stylish, we put all customers through rapid swimming training, safety guidelines and board maneuvering. Once we're confident everyone is ready to board, we head down the river from Carson waves and on through the rest of the rapids till we conquer the biggest rapid of the day Zig-Zag.
After the white water action is over, it's time to dry off and head for some much deserved and needed lunch.
Requirements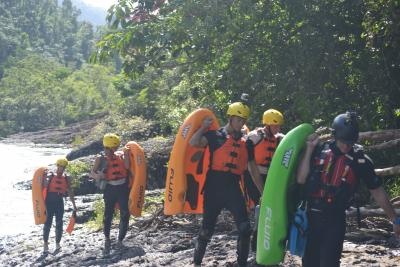 River boarding is a physically demanding white water adventure. For your own protection, there are a number of compulsory requirements for individuals wishing to participate in this day tour.
All participants have to complete water confidence training, which will involve swimming a grade 2 rapid prior to the boarding tour. If unable to complete the training for whatever reason, individuals will not be able to participate in the boarding tour.
Guests wanting to book a Rapid Boarders white water river boarding tour should be over 18 years of age. People aged 16 years and over can participate, but will need to be accompanied by a parent / guardian.
Every participant must sign a liability release form prior to commencing boarding or swim training. Passengers under the age of 18 years must have a parent or guardian sign on their behalf.
Please note that some medical conditions, impairments or disabilities may exclude participants from boarding for safety reasons (eg pregnancy). Participants should disclose any medical conditions (including food allergies) at time of booking.
To participate in a Rapid Boarders day tour adventure you MUST be able to answer YES to the below statements:
I am a confident swimmer
I am medically and physically fit
I will have my A-game on, that means no drugs or alcohol
I can understand basic English instructions
If you can't give a definite YES answer to all four of the above statements, or have any questions on restrictions, please feel free to contact us.
---
Rapid Boarders LIVE bookings
By Rapid Boarders
04 Oct 2014
Rapid Boarders has offically gone live with online bookings.
Head over and make your next booking online.
---
How to get to Rapid Boarders
---
Direct Contact Info
Hours: 7 Days
Address:

Tully National Park
Australia
---