Romantic Retreats Listings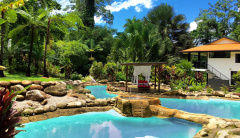 Misty Mountains Rainforest Retreat is one of the most secluded romantic rainforest getaways in Australia. The luxury villa, lagoon pool, and party room with cheeky dance pole, were all designed with romance in mind and they're exclusively yours during your stay. This absolute privacy makes Misty Mou...
Location
Once you are on the Bruce Highway drive south through Gordonvale this takes approx 20mins<br />from Cairns.<br />Continue straight south on Bruce Highway, you will also pass through Fishery Falls and then at<br />Deeral you will see a BP Service Station on the LHS, 4.5 km from there you will turn Right into<br />Ellis Road. A land mark is Harvey Creek Bridge turn just after this bridge.<br />Drive to the end of Ellis Road and you will see a log home on the RHS, our Private Driveway is<br />opposite this house with a sign "Private" Bellenden Ker Gardens. The driveway is a scenic<br />2.7kms so drive safely 20km/hour in case of another car, also it is advisable to make a estimated<br />time of arrival to ensure that the gate is open and for the caretakers to welcome you.