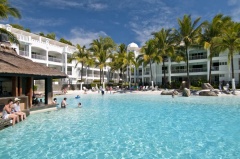 The Boutique Collection has a selection of apartments, resort rooms and holiday houses from various properties around Palm Cove. Palm Cove boasts a range of accommodation options including resorts, apartments and holiday houses. Looking for the ideal holiday location and resort? Palm Cove absolute...
About 5 Star Hotels For Cairns
Cairns is a world class tourist destination, with some amazing 5 star hotels in a superb location. These 5 star properties include the Pullman Reef Hotel Casino (formerly the Sofitel Reef Casino), Shangra-La Hotel and the Sebel Cairns (formerly the Cairns International Hotel). The Hilton Cairns self-rates itself as a 5 star property, but is classified as 4 star.
All three of these fantastic properties are located close to the Cairns Esplanade, where the best rooms have beautiful views of the Cairns Harbour and surrounding rainforest mountains. From the hotel you will find yourself walking distance to Cairns Esplanade including the Reef Fleet Terminal, Restaurants, Shops, Marina and Lagoon.
If you are after a hotel that offers personalised service within a luxurious environment, then a 5 star hotel is for you. Treat yourself to a first-class experience while staying in the tropical Far North.