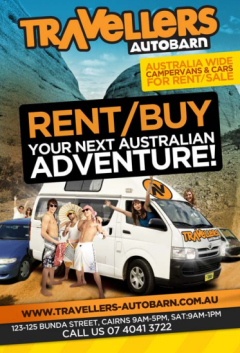 As a proud and well established Australian campervan company, Travellers Autobarn (est. 1993) is a 'one stop shop' for the backpackers and budget travellers planning their self drive trip around Australia or simply up the coast in a campervan. We offer a range of station wagons and campervans for hi...
About Campervans & Motorhomes For Cairns
North Queensland has some beautiful drives and excellent camping spots in National Parks as well as camping parks.

Prepare an interesting self-drive itinerary and travel at your own pace along coastal drives, rainforested roads, Aussie bush and sandy plains.

Allow yourself the time to be flexible and enjoy relaxing holiday where you can stay a little longer in out of the way places such as the Undarra Lava Tubes, Chillagoe and the Chillagoe caves, Etty Bay and Cooktown. In these remote areas you can experience and explore Rock Art and unusual geological wonders and also learn about the history of our region.

We also have local rodeos and local shows that may be of interest to some travellers. We also have many roadside vegetable farmers on the Tablelands and in the Innisfail region.



Here in Cairns we have one of the most famous caravan parks in Australia. The Cairns Coconut Caravan Resort is very popular for families and has won the best caravan park in Australia for about 3 years running. We also receive great feedback on this park from clients who are booking the Cape York safari and they can leave their campervan at the park for no cost if they stay either side of the safari at the park. The only drawback with this park is it is a 12 minute drive from the city.

However tempting it may be to have a beautiful view of the sea from your mobile little house house on wheels in Cairns city it is illegal for campervans to camp on the esplanade, in car parks and in all public parks and gardens.

However we do have many beautiful camping grounds in and around the city. It is a great idea to pre book your spot as the best ones are very very busy especially in the high season between May and November.

North Queensland also has some beautiful National Parks and camping is permitted in many of these. Where camping is permitted, camping permits are generally required. For more information please contact the Environmental Protection Agency for more information about these permits.

www.epa.qld.gov.au



Sometimes permits are available at the checkin at the actual National Park camping area itself. The rangers visit these at least daily in most cases.


Facilities vary and in many of the parks, campers will need to be completely self sufficient.

DRIVE CAREFULLY: Many of the roads going into a National Park are dirt and sometimes sand. You will need to drive with caution and if you are driving a motorhome or campervan you will need to make sure you are legally allowed to drive it in these conditions as sometimes you may need a 4WD especially if there is water running across the road and tricky access.

SAFETY: Take a first aid kit. Make sure your camping equipment, vehicle and boat are in good working condition. The weather in this part of the country can be very changeable, so bring wet weather gear.

DRINKING WATER: Take your own water supply. If unsure about the quality of the available water from creeks or lakes, boil it for at least five minutes, filter it or treat it chemically before you drink it.

ANIMALS: Where walking tracks are provided, stay on them. Keep away from any wild animals, even seemingly harmless animals like kangaroos or possums. Avoid insect bites and stings.

FIRE: In many parks it is illegal to light a fire and you will need to bring your own gas cooktop.

SWIMMING: Creeks with stones are often extremely slippery and sometimes the creeks will have a swift hidden current especially if there is a waterfall. Please be very careful and watch your step. Supervise your children at all times due to the many risks.

In an emergency call 000 OR from your GSM mobile phone try 112. Consider travelling with a satellite phone if there is not mobile coverage.