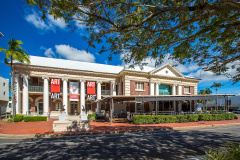 The Cairns Art Gallery is one of Australia's most innovative regional galleries distinguished by its unique Pacific–rim identity and a commitment to promoting the visual art of Tropical North Queensland. The Gallery presents a diverse challenging and stimulating exhibitions program featuring works b...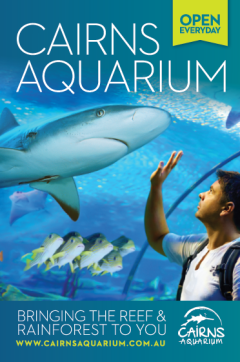 With over four million visitors a year to Australia's tropical North, The Cairns Aquarium provides a world class venue for seeing and interacting with the incredible plants, animals, and habitats found only in Australia's Wet Tropics, a region which borders two World Heritage listed environments: Th...
About Educational Tours For Cairns
Destination Profile: Cairns, Tropical North Queensland
Cairns, is home to some amazing natural wonders including the World Heritage protected Great Barrier Reef and The Wet Tropics Rainforest of Queensland that stretches along the coast from Townsville to Cooktown. Nature provides some incredible and unique outdoor experiences all easily accessible for groups staying in the region. A visit to Cairns and the surrounding region is one of Queensland's most desirable holiday choices and once you experience the Tropical beauty and excitement Cairns has to offer, you will understand why.
For school groups, staying in the Cairns city offers a convenient base to access both the Reef and the Daintree Wet Tropics Rainforest. You may also want to consider a beach location just a short drive from the city, such as Trinity Beach or Palm Cove where you can enjoy both the sunshine and the ocean side location it provides.
The Great Barrier Reef
The activities and tours on the Great Barrier Reef are unique, educational and exciting and offer an abundance of outdoor learning opportunities for students, as well as the educational value of protecting this precious eco-system. The coral structure that makes up the Great Barrier Reef is over 1,5000 kilometres long and home to the greatest variety of flora and fauna species in any one location in the world.
Visiting the Great Barrier Reef is a must for any first time visitor to North Queensland. There are both Island day tours and pontoon trips to the Outer Barrier Reef to choose from. Island tours are usually a much more affordable option for school groups, with plenty of opportunities to experience what makes the reef amazing. Many operators also offer special group and student discounts.
Both trip options offer outdoor activities such as swimming, snorkelling, scuba diving, glass bottom boat and semi-submersible tours for amazing coral and marine life viewing. Students and visitors of all ages and swimming abilities are catered for with safety as a priority. Floatation devices and snorkelling equipment are included on tours. Island trips also offer the chance to go island hiking, sea kayaking around the island or para-sailing.
For something really different, one of the closest islands to Cairns, Fitzroy Island offers the opportunity to stay on the Tropical Island overnight! This doesn't have to be as expensive as you imagine with camp grounds on the island that include showers, toilets, BBQ facilities and picnic tables for a very reasonable price per night. You will need to provide your own drinking water and food and sites are limited so booking are essential.
The Wet Tropics
While staying in Cairns planning a trip to the Daintree Rainforest, part of the Wet Tropics should be on your list. This World Heritage protected Rainforest is one of the most complex and oldest on the earth, over 135 million years old!
Tour operators pick up from both Cairns city and beach accommodation offering daily tours to explore this spectacular area. There is something for everyone with 4WD and waterfalls safaris, night spotting, birdwatching and rainforest canoeing. Taking a tour with a knowledgeable guide is worthwhile giving you a greater understanding and appreciation of the region.
Cairns Based Activities
As well as the major draw cards to Cairns being the Great Barrier Reef and the Wet Tropics, there are plenty of other activities to keep young students occupied in the outdoors!
Popular team building activities that are ideal for students and fit into a short time frame are Para-sailing, Jet skiing, Tube Riding, Cable skiing, Skydiving and Bungy Jumping. These are of course not all for the faint hearted and age and fitness need to be considered but are all possible to fit into a busy schedule with varied options at different times over the day available.
Cable Ski Cairns is one of the newer attractions in Cairns but is already very popular with students at this purpose built lake water park. Basic instruction is included, with safety being a priority for everyone wanting to have a go. You will be attached to a 10 metre-high cable system that drags you around the lake in circular motions depending on your choice of activity whether it is water skiing, wake boarding or knee boarding.
If you are visiting in the winter months between April and October which is considered some of the best weather in Cairns, you might want to try kite-surfing. One of the local Cairns beaches, Yorkeys Knob is the ideal location to try kite-surfing with many locals spending their weekends here doing just that. Students who are interested in kite-surfing and learning how it is done properly can take part in lessons with a 2 day course available to learn how to kite-surf, while staying safe and in control.
If you want to keep the adrenalin pumping and conquer a fear of heights, you can do this at AJ Hackett Bungy, located in Smithfield. Suitable for students aged 10 and over, choose over 16 different ways to leap off the 50-metre high bungy tower!
If heights are not your thing but you still consider yourself adventurous, White Water Rafting is for you. North Queensland is a great location to do this with the Barron and Tully River Rapids considered some of the best in Australia. The Barron River is perfect for beginners with a half day option that is fun and preferable for inexperienced and younger students. The Tully River is a full day activity that is more challenging with a minimum age of 13 years required.
Kuranda and the Tablelands
Kuranda, known as the village in the Rainforest is only a 30 minute drive from Cairns. The village has many cafes and attractions including the Kuranda Markets, Butterfly Sanctuary, Koala Gardens and Bird world. However, half the fun about visiting Kuranda is the journey getting there! Taking the Kuranda Scenic Railway you will climb through tunnels, past waterfalls and stop at the breathtaking Barron Falls. On your way back to Cairns, take the Kuranda Skyrail Cableway where passengers travel in gondolas with a bird's eye view of the rainforest below as you glide above the trees. The Skyrail includes two stops in the rainforest including a walk to the Barron Falls and a visit to an interpretive centre.
Also located on the Tablelands is the Genazzano Lake Tinaroo Conference Centre. This centre is in a natural bush setting on panoramic Lake Tinaroo and is ideal for school camps, retreats and outdoor education forums.
Getting to Cairns
Cairns is a 1700km drive from the state's Capital Brisbane, so the best way to travel is to fly into the Domestic or International Airport located a short 10 minute drive from the heart of the city. From here you can catch a taxi, or organise a shared coach transfer offering door-to-door service from the Airport to your Cairns or Beach accommodation.
Accommodation
There is a variety of accommodation available in Cairns and the local beaches. Groups have a choice of camping, staying in self-contained villas or cabins, budget backpacker accommodation, as well as hotels and resorts.
Further Information & Bookings
A very helpful and informative website to visit when planning your Trip to Cairns and the Tropical North is The Cairns Tourism Website at http://cairns.localtourismnetwork.com. This site allows you to research all of your options and then Book Direct with each operator to SAVE!
If you are looking for a Travel Agent to assist you with all of your tour and accommodation bookings then visit www.cairnsinfo.com, their local team are dedicated to providing you with honest local advice on tours that are most suitable to your requirements.