---
About Cairns Regional Council
About the Cairns Cty Council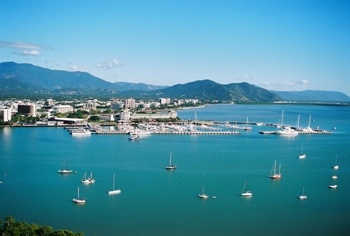 Cairns Regional Council was formed from the amalgamation of Cairns City Council and Douglas Shire Council in 2008. Douglas Shire subsequently de-amalgamated from Cairns Regional Council, effective 1 January 2014.
The former Cairns City Council evolved from a number of Governing Bodies and Shire Councils from the 1870s to 1995, when Cairns City Council amalgamated with Mulgrave Shire Council.
The Cairns region has an interesting history which includes many exciting events dating back to the first discovery in 1770. You can read more about our region's history on the Cairns Museum website.
Tourist Information
Cairns and the Great Barrier Reef is a unique environment, renowned nationally and internationally as a premier tourism destination. The region attracts more than two million domestic and international visitors each year.
We have some of the most beautiful parks and beaches in Queensland. Swimming enclosures are provided at most beaches during the dangerous marine stinger season - typically from November to May (subject to seasonal variability). View the current beaches status.
Visitor information
For everything you need to plan your next holiday to Cairns and the Great Barrier Reef - brochures, destinations, activities, events, accommodation, booking services and more:
Weather
The Cairns region is characterised by two seasons – the wet summer season, which begins around November and ends around May, and the dry winter season. Being a monsoonal climate, most rainfall occurs between January and March. The cyclone season is normally confined to between December and April.
Typical daytime temperatures range from 14 to 26C (52-78F) in mid-Winter/dry season, and 24 to 33C (75-91F) in mid-Summer/ wet season.
The Dangerous Marine Stinger season typically runs from November to May (subject to seasonal variability). View current beaches status.
Mayor & Councillors
The Councillors represent ten divisions, and each is elected by eligible voters in each division. The Mayoralty is decided on a majority popular vote across the entire local government area, which has over 86,700 enrolled voters. Use the links below to view information on the individual divisions and their Councillors.
---
News By Cairns Regional Council
Free bus just the ticket for concert travel
By Cairns Regional Council
15 Sep 2017
Are you going to Sir Elton John's concert at Cazalys? It's going to be a massive event - among the biggest ever in Cairns. We're providing free bus transfers from Lake St and a park & ride service from the Cairns Showgrounds to make getting there easier.
Free bus transfers will operate from Lake Street and the Cairns Showgrounds from 4.20pm and will return to the same locations following the concert. Other Sunbus services will operate as normal with usual ticket prices.
Concertgoers are encouraged to take public transport to avoid traffic congestion when Cairns hosts international music icon Sir Elton John later this month.
Changed traffic conditions for the event will include road closures around Cazalys stadium to cater for the massive crowd that will attend the concert.
Mayor Bob Manning said free bus transfers from the CBD and Cairns Showgrounds would be provided to concertgoers before and after the performance.
"This will be possibly the largest single event that Cairns has ever hosted, with upwards of 25,000 people to converge on Cazalys," Cr Manning said. "It's important that everyone who is going is aware of the changed conditions and takes the time to plan their travel.
"Ideally, attendees should plan to take public transport, as parking will be limited around the stadium.
"The event ticket includes free transport from either the Lake Street bus station or the Cairns Showgrounds, where we will have a park-and-ride option available."
On the day of the concert, road closures will apply on Tills Street and Newell Street. Public pick-up and drop-off zones will be provided on Dalton Street and Earl Street.
Limited parking will be available for a fee at the corner of Gatton and Tills Street, and disabled parking is provided on Mulgrave Road.
"Your best bet is to avoid driving in the area altogether," Cr Manning said. "There will be a lot of people moving around and cars will simply add to the congestion and this will cause frustrations for motorists.
"The key message is: 'Take the bus, check your gate, don't be late'."
Ticketholders should check their gate number prior to travelling to the stadium and disembark at the coinciding drop-off point.
---
Cairns Regional Council
Council Chambers is located at 119-145 Spence Street, Cairns.
---