---
---
About Paronella Park & Mamu Tropical Skywalk Tour
About the Tour !!See below for charters!!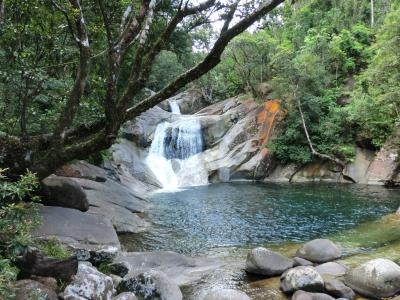 This Tour highlights the best of the Far North - Rainforest, Waterfalls and native wildlife! We'll immerse you in totally amazing landscapes both during the day then at night. As if this is not enough, this package includes entry into TWO Park attractions - Paronella Park and Mamu Tropical Skywalk. Dinner is enjoyed at the charming Mena Creek Hotel where visitors who choose this option can dine on a choice of 5 delectable meals as the sun sets over the tropical ranges.
So what will you see?
RAINFOREST
The World Heritage Listed rainforest of Tropical North Queensland is over 180 million years old. This ranks as the oldest or the planet. We'll show it to you from the bottom of the lush canopy right up to the top from 37m high viewing tower of Mamu Tropical Skywalk.
WATERFALLS
Josephine Falls and Mena Creek Falls are rated as two of the most picturesque in the region. The short stroll to Josephine Falls is well worth the effort as the several levels of waterfalls make for excellent photography. You'll have a chance to cool off in the pristine waters at he bottom of the Falls. Mena Creek Falls is shown presented in the afternoon when hundreds of fish can be hand-fed then after dark, lit up by spotlights.
PARONELLA PARK
Magnificently landscapes Rainforest gardens provide the backdrop for the dream provoking Spanish-style structures that in 1935 was a theme park for families and couples to spend time with one another. The dream of the creator behind this wonderful place definately lives on and is a MUST-SEE for visitors to the Cairns region
WILDLIFE
Most Australian rainforest animals are nocturnal. On our return drive from Cairns, your driver will check sites where rarious animals including Wallabies and Kangaroos congregate, guaranteeing the spotlighting of Aussie wildlife!
Tour Highlights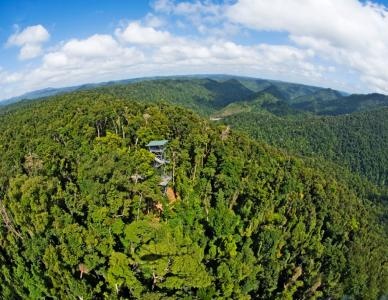 Highlights in Brief
As we depart at 1PM, you can have plenty of time to enjoy the morning, Alternatively, choose from one of the numerous morning activities Cairns has to offer. Contact us or your tour provider for ½ day Green Island trips, Helicopter Tours, Hot-Air Ballooning, Horse Riding, Skydiving, Bunjy Jumping or a shopping spree.
Explanation of World Heritage Listed Tropical Rainforest, day & night.
The Mamu Tropical Skywalk: 35m long, elevated rainforest walkway, 10m cantilever & 37m tall Rainforest viewing tower
2 Waterfalls listed in 5 most beautiful in the region (See one of these "lit-up" at night)
Appreciate award winning Paronella Park both at sunset, then illuminated right after dark
Choice of 5 meals for dinner or a picnic at Paronella Park (Tour Option 2 only)
Chance to cool-off in crystal clear spring water
Tropical fruit tasting for afternoon tea
When can I go?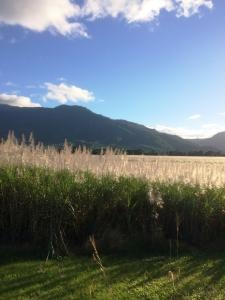 Daily from 1PM, returning by 9:30PM. (Except Christmas Day)
Not too late to rise for early morning flights and reef trips the following day. This return time also allows plenty of time to enjoy Cairns' night-life, including the must-see Nightmarkets which are open until 11PM!!!
What's Included?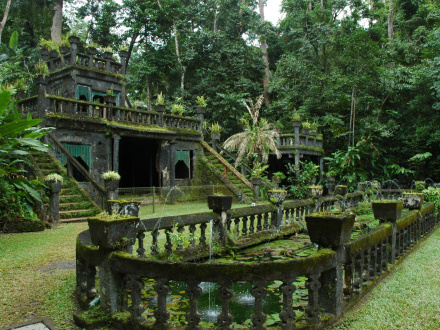 Everything to make your day/night enjoyable + better value & less hassle than self-drive!
Entry to 2 Parks, Paronella Park and Mamu Tropical Skywalk (Regular Retail: $60p/p)
Small, fully guided, personal transfers (Car Rental, approx. $60/day + Fuel)
Option 2 includes dinner in picturesque scenery at Mena Creek Hotel (Average meal in Cairns: $20 - $25p/p)
Tropical Fruit tasting
Bottle of Ice Cold Water
100% guarantee of spotting wild Wallabies and/or Kangaroos!
Guided waterfalls/rainforest excursion with chance to cool off
Wildlife spotlighting and Stargazing
National Park Fees
So come with us, save, and enjoy the perfect day out!
What to Bring...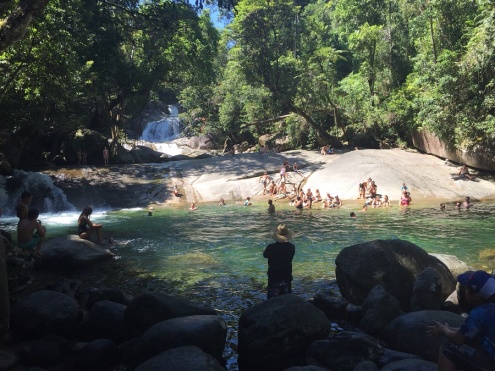 hat & comfortable clothing and shoes
sunscreen
swim wear and towel for those who wish to cool off
umbrella or raincoat if rain is forecast
cash or credit card for purchase of souvenirs and extra meals/drinks
warm clothes between June and October
Cairns Coach Charters !

Inquire about our Cairns Coach Charter Service, fully experienced and accredited driver guides are here for you and your group. Create your own custom tour itinerary or use our large fleet of vehicles for airport hotel transfers and general people moment in and around Cairns, Port Douglas and The Atherton Tablelands. We also specialize in Wedding charters, buck's parties and hen's nights, sports club Coach Charters, school trips and Company Convention Charters.
For more Information visit our website: http://www.cairnschartertours.com.au/cairns-coach-charters
---
News By Paronella Park & Mamu Tropical Skywalk Tour
Day / Night Tour 29/04
By Paronella Park & Mamu Tropical Skywalk Tour
30 Apr 2017
Wow, the weather was perfect! With hardly a cloud in the sky, we took some fantastic photos today. Our guests are visiting from Melbourne. Please enjoy the rest of your stay in Cairns!
The magic and romance at Paronella Park
By Paronella Park & Mamu Tropical Skywalk Tour
11 Dec 2016
Paronella Park is beautiful during daytime, but it is even more magical and romantic at night especially when the castles and waterfalls are illuminated.
But why not join the Paronella Park Day & Night tour to enjoy both views when you can do it in one single tour?
---
Paronella Park & Mamu Tropical Skywalk Tour Reviews
---
Paronella Park & Mamu Tropical Skywalk Tour
You will be picked up from your accommodation then taken for a dip at Josephine falls, then onto experience the rainforest scenery at Mamu Tropical Skywalk (on the outskirts of Innisfail), next is Paronella Park (shown on map) located in the quaint Mena Creek. Just across the road from Paronella Park is the Mena Creek Hotel where guests who purchased tour option 2 will have a choice of five yummy meals to enjoy in the old-style Queenslander pub. To wrap up a beautiful night, Wallabies can be sighted, as well as a star or two.
---