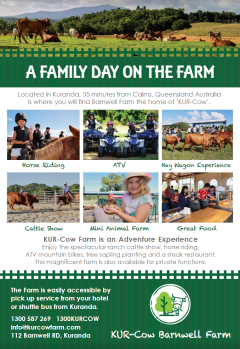 KUR-Cow farm is a working Cattle station located in the rainforest where travelers can interact with Pasture Feed cattle and Equestrian environment and experience close encounters for all families to enjoy.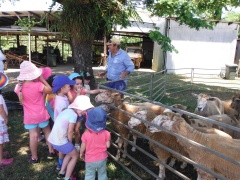 Aussie Farm Entertainment at 'Spurwood Springs' Mena Creek offers farm visits for families, schools etc. Accommodation and country wedding venue. Come on 'down to the farm' at 'Spurwood Springs' and enjoy genuine Aussie Farm Entertainment where kids get up close and pat all the farm animals, ride a...

Farmstays are a rewarding cultural experience creating unforgettable memories and lasting friendships. Stay with a real Australian family, 'on the land', joining in daily tasks and special seasonal farm activities. Farmstays are based on the Atherton Tablelands with a variety of farms and farm exper...
About Farmstay For Cairns
Close cousin to B&B but with a character all of its own is Farmstay. A farm holiday is many things to many people, whether it be contact with farm animals, picking fruit, exploring the countryside, or just meeting the 'real' Aussies. Visitors can choose from outback cattle stations, cool rainforest properties, rich green pasture lands, tropical fruit farms, bushland settings and coastal acreage.