From
$1,200.00
private charter (max 3 persons)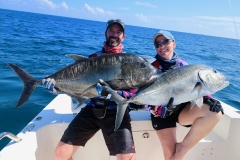 We are the Sportfishing Specialists. We know the where, when, why and how of sportfishing. But what is it exactly that we do? We hunt the biggest meanest fish in the Coral Sea by casting surface lures, jigging and light tackle trolling. We take you to destinations where few have the capacity to ve...
About Fishing Tours For Cairns
The Tropical North is a fishing and boating paradise. The thrill of the catch and encounters with great sportsfish such as giant black marlin and sailfish have long enticed recreational anglers to the azure waters of the Coral Sea and the quiet estuaries of the coast.

Quite simply, your expectations of a fishing adventure are sure to be realised because the calibre of our local fishing guides and charter operators is world renown, and the superb natural environment and weather conditions lift the experience into a class of its own.

Fishing here is an all year round pastime, and all classes and angling preferences are catered for with the balanced management of recreational fishing being a subject dear to the hearts of many locals.
Zoning guide to using the Great Barrier Reef Marine Park
If you are planning a fishing or boating trip to the Great Barrier Reef Marine Park, you will need to know where you can go and what you can do, as penalties apply if you do not follow zoning rules.
What you can do and where you can go