Get the best service and rates by dealing direct with Yummy Noodle Cairns.
|

$ 10

|

Save $10
Breakfast Combo Deal Extended!
Special Expires 31 Mar 2019
Due to popular demand, Pho Street at Night Market has extended the Breakfast Combo Special! Our best seller for the first week of the new breakfast menu is Meat Ball Bread Rolls! Try our best seller with any coffee combo at only $10 with this de...
More
Due to popular demand, Pho Street at Night Market has extended the Breakfast Combo Special! Our best seller for the first week of the new breakfast menu is Meat Ball Bread Rolls! Try our best seller with any coffee combo at only $10 with this deal!

Start your day bright and early with delicious Vietnamese bread rolls "Banh Mi" and Vietnamese iced/hot coffee "Ca Phe Sua Da"! A special combo of all kinds of bread rolls and coffee is only for $10!

Thank you for supporting our restaurant and the local people who make it sparkle very day.

Our new breakfast menu:
Vietnamese bread roll
Bacon n Egg roll
Omelette n Vegies Roll
BBQ pork n Vegies Roll
Meatballs n Vegies Roll
Chicken avocado Rol
Toast sandwich
Ham cheese
Ham cheese tomato
Tomato cheese
Chicken avocado
Chilli Beef Noddle Soup
Beef Noddle Soup (Pho)
Laksa

Open 7 days for breakfast, from 7am.

Address:
Stall 15 Night Market
54/60 Abbott St, Cairns QLD 4870
---
About Pho Street at Night Market
Pho Street Restaurant at Night Market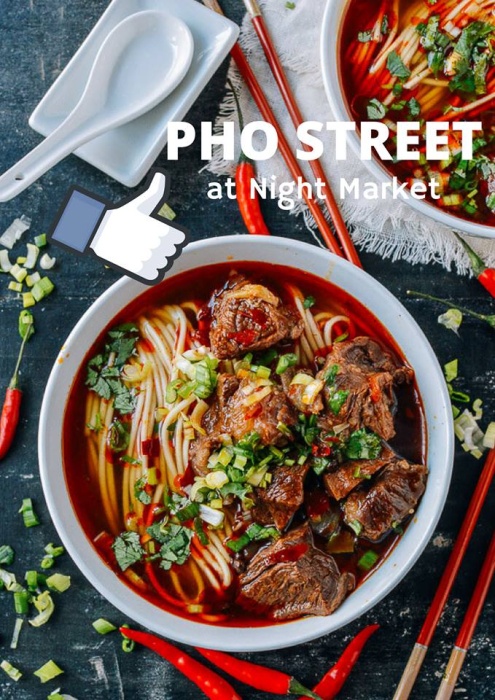 Pho Street at Night market offers authentic pho and Vietnamese street food. Proving the wonderful benefit of being a family-run business, Pho Street utilise special home recipes, which combine traditional tastes with slightly newfound flavours to have each customer both satisfied and, of course, smiling! Because as their motto goes, 'Live, laugh and eat Pho!'.
So, what's on the menu? At Pho Street restaurant, popular menu items include the renowned Beef Noodle Soup, which is one of the world's most famous Vietnamese dishes, Chicken Pho, Rice Vermicelli Noodles, Rice Dishes, Rice Paper Rolls, Stir-Fry, Crisp Pork Belly, Special Fried Rice and so much more. And for the essential pick-me-up, try something different with a cup of Vietnamese coffee - served nice and strong.
About Vietnamese Cuisine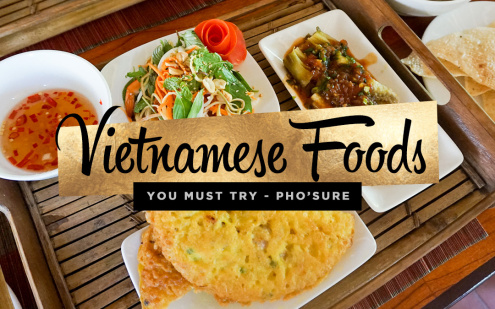 Vietnamese food is up there with one of our favourite cuisines in the world.
Vietnamese food is best described as fresh, herby, flavourful and 80% rice noodles. Everything (almost everything) involves noodles and everything is fresh with an array of flavours from sweet to salty to spicy.
The fresh herbs of mint, cilantro and lemongrass are what Vietnamese dishes thrive of, as well as the use of rice in all forms (sticky, steamed, noodles). Tropical fresh fruits (jackfruit, papaya, mango, bananas) are found in many different forms and of course, meat, with seafood and pork being the most consumed. A typical Vietnamese meal will include one, if not all of the above in one dish.
1/ Goi Cuon (Fresh Spring Rolls)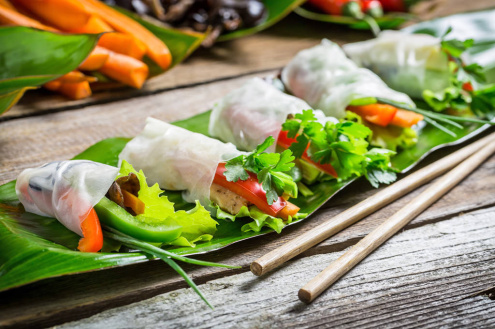 Have you ever tried our incredibly fresh spring rolls stuffed with greens, prawn and sliced pork belly?
Also known as a "summer roll" or fresh spring roll. These were our go-to on so many hot days in Vietnam. They can change in flavour and size but the foundation is always the same. Rice paper dipped in hot water and filled with a variety of herbs & vegetables (carrot, lettuce, cucumbers). The vegetarian version often uses tofu, but shrimp and pork are the most popular.
The Spring Roll Skin is directly imported from Vietnam, hence you can experience authentic Vietnamese taste. Don't forget to use the dipping sauces, either a peanut sauce or the all too famous Nuoc Cham (fish sauce).
Opt for this dish if you want something light and refreshing!
---
News By Pho Street at Night Market
COMING SOON TO OUR MENU: FRESH HOMEMADE SOY MILK!
By Pho Street at Night Market
10 Apr 2018
Homemade soy milk is rich, creamy and fresh-tasting with a delicate nutty flavour. It is not the sorts you can find in most supermarkets which come nothing close to the natural fragrance and tastes of soy. The real soy milk, which a lot Asians grow up with, is a lightly sweetened drink!
Fresh soymilk, a traditional Vietnamese drinks which are well-known to have `cooling properties´ to the body, is such a staple in a traditional Vietnamese breakfast. Soy milk is often made in Vietnam to serve chilled, with a spoon of sugar or two, sometimes with maple syrup. A few ice cubes adds a nice touch on hot days!
Vegans and people who are lactose intolerant appreciate soy milk as a dairy-free substitute. Soy milk contains fiber; it's a good source of protein, low in saturated fat and cholesterol-free. Many reasons to enjoy it!
Excited yet?
Remember to get your hands on our Vietnamese FRESH HOMEMADE SOY MILK to end off your favourite meal at PHO STREET
Did you know?
By Pho Street at Night Market
21 Mar 2018
Did you know? Banh Mi, also known as the Vietnamese sandwich combines French baguettes and mayonnaise with native Vietnamese ingredients such as cucumber, carrots and cilantro, influenced by the French Colonisation.
No street food list can be completed without the name of Banh mi. The uniqueness of Banh mi not only lies within the crunchy French influenced baguette, but it is also the flavorful and diversified fillings that helps it gain popularity worldwide.
With it reputation, Banh mi is considered to be the essence of Vietnamese cuisine. It is a must-try that even the pickiest eater can't resist.
Have you tried Pho Street's version of this popular Vietnamese street food yet?
---
How to get to Pho Street at Night Market
---