---
About Sunlover by Starlight
SUNLOVER BY STARLIGHT
Sunlover by Starlight is a once in a lifetime, intimate, overnight experience, sleeping under the stars at our Moore Reef Marine Base.
Enjoy a Moore Reef Daily experience, then as the day trippers depart and the sun starts to descend, a lucky few will experience the reef environment exclusively. Take one last snorkel for the day with the entire reef to yourselves, then relax with a drink and a delicious BBQ while taking in an epic reef sunset.
Wrap up in your deluxe swag, gaze at the brilliant stars of the southern night skies with nothing but the gentle sound of water lapping and nocturnal creatures coming to life on the reef to lull you to sleep.
The following morning, wake up to a brilliant tropical sunrise, then after breakfast it's time to discover new creatures as the reef awakens. Our marine experts take you to exclusive areas of the reef with a Guided Snorkel Safari and Glass-Bottom Boat tour, before the day guests return and you enjoy another full day Moore Reef experience before departing to Cairns.
Your Starlight experience includes: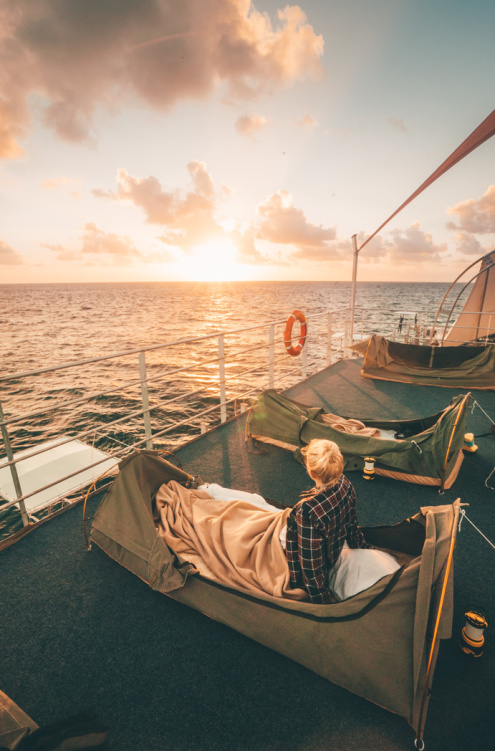 2 full day Moore Reef Daily Experiences with all standard inclusions (valued at $468)
Private Guided Snorkel Safari with a marine expert (valued at $55 per snorkel)
1 Night on Moore Reef Marine Base with fully hosted, 5 star service by our marine naturalists
Deluxe swag including hotel standard bedding
BBQ dinner, cooked buffet breakfast, and tea & coffee
Private Glass Bottom Boat tour with a marine expert
Fresh, hot water showers, change rooms and toilets
All other standard Moore Reef Daily experience inclusions:
Tropical Buffet Lunch both days
Great Barrier Reef Presentation by Marine Expert
Theme-park style Waterslide
Upper-level Sun-Deck
Underwater Observatory
Semi-Submersible Tour with Marine Expert
Fish-Feeding Presentation with Marine Expert
Touch-Tank Presentation with Marine Expert
Snorkelling Gear + Life Jackets + lycra suits
OPTIONAL EXTRAS include Certified and Intro Scuba Diving, SeaWalker Helmet Dive, Scenic Helicopter Tours, Underwater Photography, and Wetsuits.
ITINERARY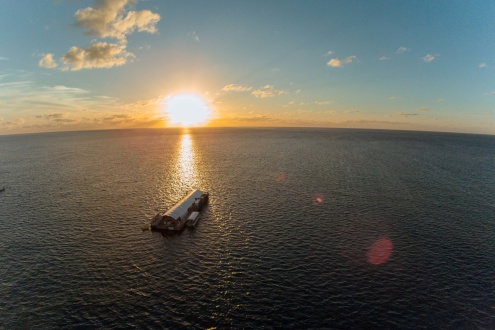 DAY ONE
8:30am - Check in starts
9.15am - Check in closes
9:30am - Depart Cairns
10.15am - Arrive Fitzroy Island
10.30am - Depart Fitzroy Island
11:30am - Arrive Moore Reef
Free time to enjoy the reef & Marine Base activities
3:45pm - Starlight introduction following day guest departure
Optional Glass Bottom Boat tour or Guided Snorkel Safari
Sunset, BBQ dinner + stargazing
DAY TWO
Sunrise - wake to the Great Barrier Reef & a cooked breakfast
Optional Glass Bottom Boat tour or Guided Snorkel Safari
11:30am - Day guests arrive. Free time to enjoy the reef.
3:30pm - Depart Moore Reef
5:20pm - Arrive at Cairns
*TIMES ARE APPROXIMATE
Great Barrier Reef Snorkelling. Explore One of The Seven Wonders Of The Natural World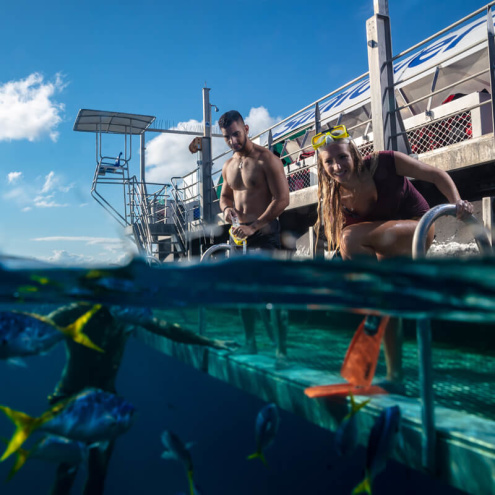 Due to the coral's proximity to our Marine Base, our Great Barrier Reef snorkelling is great for swimmers of all abilities. Haven't snorkelled before? Take a life vest and snorkel closely to the Marine Base. Guided Snorkel Safaris are also available for those who are not confident snorkelling on their own.
Our friendly team are also happy to teach you how to use your snorkel equipment and assist you in fitting your mask and fins.
All snorkel equipment is included in your reef trip, including snorkel, fins, mask and life vest. Lycra suits, wet suits and prescription masks are also available to hire.
Moore Reef: Outer Great Barrier Reef Snorkelling
When it comes to Great Barrier Reef snorkelling, it doesn't get much better than our Moore Reef snorkelling area! A whopping 300 square metres of pristine hard and soft corals which is home to hundreds of marine life species, the snorkel area offers the best the outer Great Barrier Reef has to offer.
Due to Moore Reef's crystal clear visibility and shallow depth of 1-4 metres, you can truly experience the splendor of the Great Barrier Reef while staying on the water's surface. Glide along our snorkel area and explore intricate mosaics of colourful coral, including boulder corals, coral bommies and staghorn corals. The outer edge of our snorkel area features a breathtaking coral drop off, highlighting the sheer grandeur and size of the Great Barrier Reef.
At Moore Reef, your Great Barrier Reef snorkelling adventure is sure to be full of many animals on your Australian bucketlist, including clown fish (Nemo), green sea turtles and our resident giant Maori wrasse; "Wally". Dive in off our Moore Reef snorkel platform into dozens of colourful yellow tail fusiliers, spot giant clams and relax and listen to the sound of parrot fish crunch on coral within metres of you.
Located just metres off the Marine Base the designated snorkelling area is designed with your safety in mind. The roped area is equipped with four rest spots for you to relax and re-energize during your snorkelling adventure. A trained life guard is always on watch from an elevated life guard station.
GLASS BOTTOM BOAT TOUR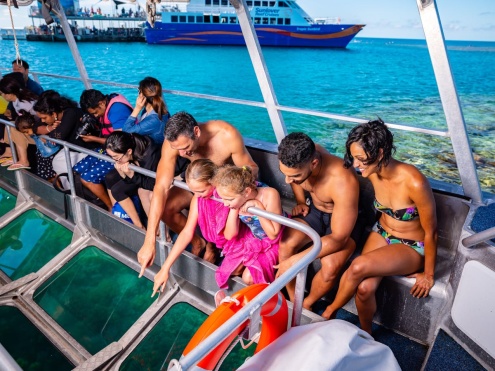 Glass bottom boat tours allow you to enjoy viewing the spectacular coral and marine life of the reef without even entering the ocean. This makes it perfect for non-swimmers or those who just want to view the Great Barrier Reef from a different perspective.
Glide across the Great Barrier Reef in our open-air glass bottom boat and see corals and fish in every shade of the spectrum through the large glass panels.
As the reef is only 0.5-3 metres under the glass, the tour offers a clear and close-up view of hard and soft corals, giant clams, anemones and more. Watch in awe as a variety of colourful tropical fish swim under the glass bottom boat, including yellow tail fusiliers, blue tailed garfish, butterfly fish and many more. You may even spot a green sea turtle or a white spotted reef shark!
Enjoy a full commentary from one of our marine experts as they educate you on the Great Barrier Reef and the various inhabitants that you spot during the tour.
The tour lasts 20 minutes and departs regularly throughout the duration of your time at the reef Marine Base. Best of all it is a free inclusion in your day at the reef and you can take unlimited rides!
SUNLOVER GREAT BARRIER REEF WATERSLIDE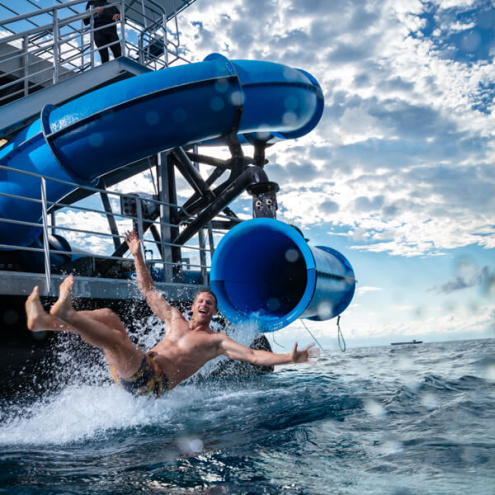 Our Moore Reef double-storey Marine Base is home to the only waterslide on the Great Barrier Reef. Swirling 8 metres down from our sun deck, on a 30 metre spiral into the tropical ocean, this theme-park-style waterslide is a hit with big kids and little kids alike. Kids under 5 can enjoy it too when accompanied by a parent or caregiver.
Best of all, the Sunlover Sunslide is a free inclusion in your Moore Reef Daily experience and you can have as many rides as you want!! Grab your camera or phone and snap away at your friends' and family's faces as they splash into the Great Barrier Reef.
The record for the most slides in one session is 110. Can you beat it? Ask one of our friendly life guards to count your slides as you go!
FISH FEEDING PRESENTATION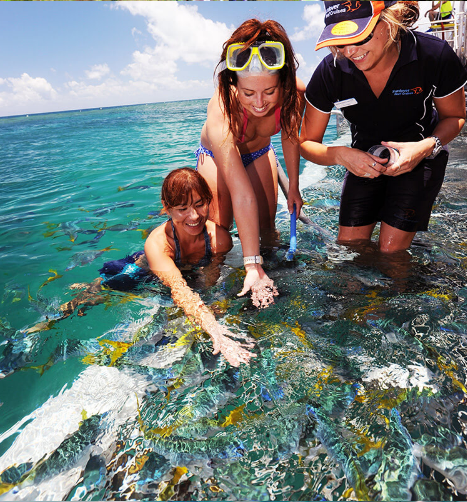 Watch an array of fish swarm the waters beneath you during a fish feeding presentation conducted by our marine naturalists.
The presentation occurs towards the end of your time at the reef and is included free as part of your day tour experience. During the presentation our marine expert sprinkles approved fish food into the water. From your vantage point on the Marine Base you can watch the feeding frenzy and spot colourful fish such as yellow tail fusiliers, blue tailed garfish, giant trevally and angel fish.
Our marine expert will tell you all about the the fish you are seeing and answer any curious questions you may have.
SEMI-SUBMERSIBLE TOUR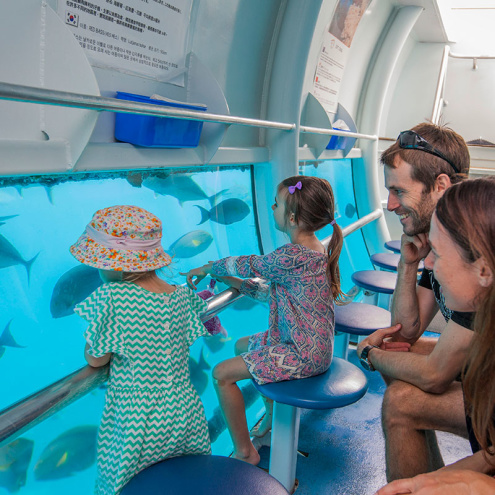 Who said you had to swim to be underwater? On a semi-submersible boat you descend to the lower area below the surface of the water, which allows you to have a 'fish eye' perspective of the Great Barrier Reef.
From the dry comfort of your seat, experience the wonder of the Great Barrier Reef as you cruise over stunning hard and soft corals, past staggering drop offs and coral gardens at a depth of 8-10 metres underwater. The incredible water clarity at Moore Reef means you can spot an array of marine life, from angel fish and yellow tail fusiliers, to green sea turtles, spotted rays and even the occasional reef shark.
The tour is fully commentated by one of our passionate marine experts. Learn interesting facts about the Great Barrier Reef and the coral and marine life that call Moore Reef their home.
The tour lasts 20 minutes and departs regularly during your four hours on the Moore Reef Marine Base.
Best of all, the semi-submersible Great Barrier Reef tour is included in your Moore Reef full day tour, so you can go on the tour as many times as you want for free!
OCEAN ENCLOSED KIDS' POOL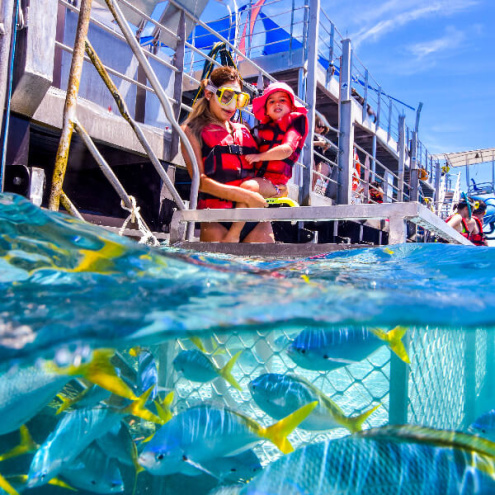 Our ocean enclosed and shallow kids' pools at Moore and Arlington Reef Marine Bases are a fantastic option for young children wanting to experience the Great Barrier Reef in a safe environment.
Plus, our resident yellow tail fusiliers often like to pop in and take a swim with the children!
The pools are located next to the snorkel platform and lifeguard tower, and are open for the duration of your time on our Great Barrier Reef Marine Bases.
SUNLOVER SUN DECK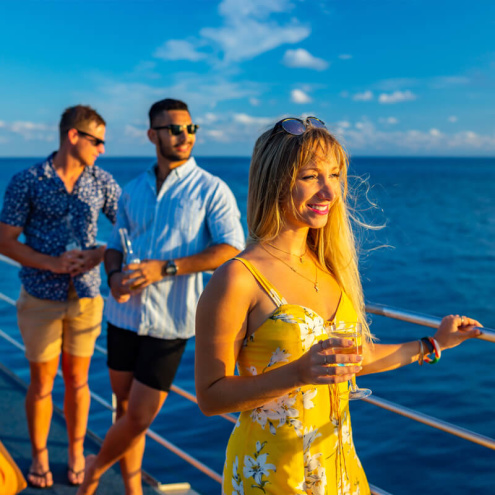 Relax, rejuvenate and unwind on the upper level sundeck at our Moore Reef Marine Base. It is the perfect place to chill out and soak up some tropical rays with a cool drink. Lie back on a sun lounger or giant bean bag, in between snorkelling and all the other activities available during your 4 hours on Moore Reef.
The sun deck offers the best vantage point to take spectacular photos of the blue skies, azure waters and brilliant reef. We even have a Great Barrier Reef selfie wall so you can share your amazing reef experience with envious friends and family.
UNDERWATER OBSERVATORY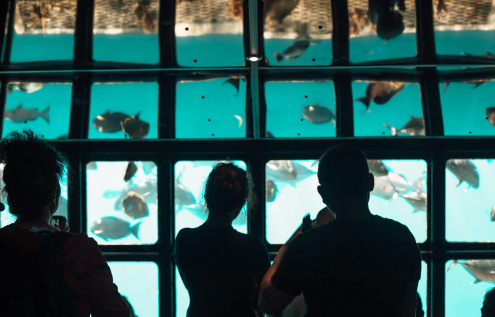 Underwater observatories are a feature at both our Moore and Arlington Reef Marine Bases. They are included as part of your day tour and are open for the duration of your time at the reef.
From the ground floor of the Marine Base, descend a set of stairs and find yourself in the world's most impressive natural 'fish tank'.
Take advantage of the theatre-style seating to relax in the darkened room and watch the fish swim by. Get lost in an underwater world and spot yellow tail fusiliers, red bass, giant trevally, 7 barbed butterfly fish, angelfish, goatfish and more!
Make sure you head to the underwater observatory during the fish feeding presentation. Our marine experts also provide a scheduled talk for a more in depth experience.
TOUCH TANK PRESENTATION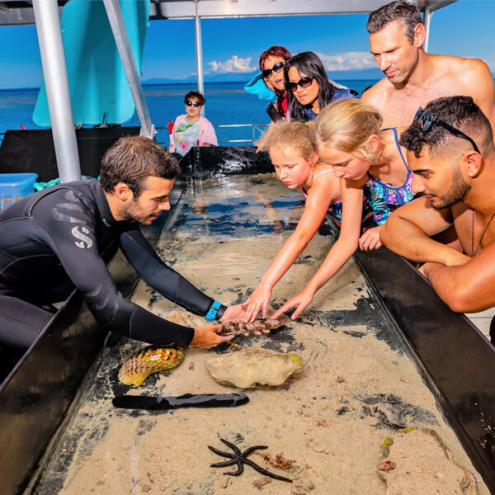 Our marine life touch tank presentations allow you to observe and interact with some unique marine species at very close range.
This 15 minute interactive Great Barrier Reef touch tank presentation is run by one of our marine naturalists, who will show you a variety of marine life who call the reef home.
Commonly shown marine life include blue sea stars, pineapple sea cucumbers, black sea cucumbers and trochorus shell. Our friendly and knowledgeable marine expert will invite you to gently touch the fascinating creatures and will educate you on the creatures' habitat, diet and other interesting facts.
Rest assured these creatures are handled with the utmost care and are carefully replaced on the reef.
Touch tank presentations are included for free as part of your reef day experience!
TROPICAL BUFFET LUNCH WITH PRAWNS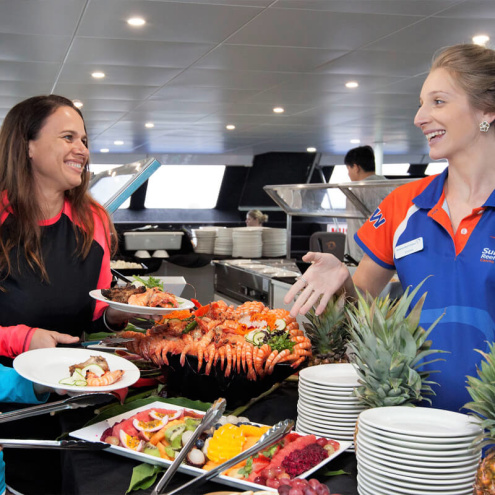 Keep your energy levels up to make the most of all the activities on offer at Moore Reef with our Tropical buffet lunch with prawns that is included as part of your day.
Served from midday - 1.30pm on the lower level of the boat you can enjoy*:
Focaccia bread and butter
Large cooked tiger prawns with cocktail sauce
COLD MEATS: Honey soya garlic chicken nibbles, sliced leg ham, roast beef
SALADS: Potato salad, garden salad, rocket, spanish onion and shaved parmesan salad, pasta salad with cajun dressing
HOT DISHES: Beef and potato golden curry, chicken and mushroom creamy penne, Indian spiced vegetable and chickpea curry, jasmine rice
DESSERT SELECTION: Seasonal fruit platter
AND a selection of condiments, brewed tea and coffee
If you have any food allergies please notify us at least 48 hours prior so we can ensure we can accommodate your requirements.
*MENU IS AN INDICATION ONLY AND MAY DIFFER SLIGHTLY ON THE DAY.
MOORE REEF MARINE BASE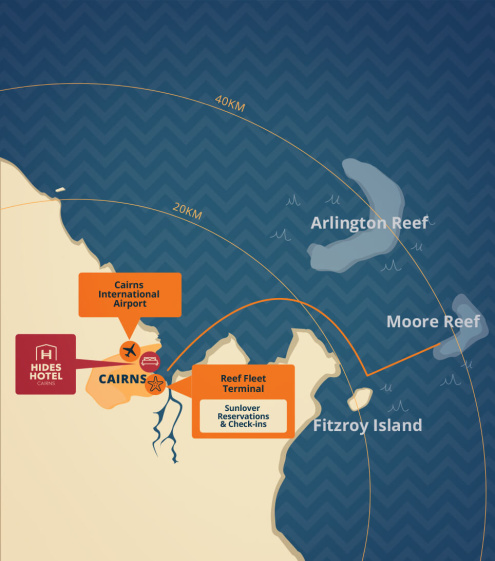 Our double-storey Moore Reef Marine Base is anchored at Moore Reef, 47km off Cairns. The base has been custom designed so all ages and abilities can explore and enjoy the wonders of the Great Barrier Reef.
The base is 50 metres long with a capacity of up to 400 people, and was recently refurbished and enhanced to now feature a large upper-level sundeck, which is the perfect spot to relax in the tropical sunshine, and prime position to look out over the turquoise waters and mosiac of the reef. The sundeck is also where the Sunlover Sunslide starts on its 30 metre spiral descent into the tropical waters.
On the lower level, there is plentiful seating in the shade. The boat docks alongside the base and gangplanks provide seamless access between base and air-conditioned boat.
Moore Reef Marine Base features:
Fully powered
WIFI and cellphone coverage (dependent on conditions and provider)
Air-conditioned 60 tiered-seat underwater observatory that can also be used for presentations
Built in SCUBA dive station, with all equipment & diving platform
Two snorkel platforms
Plentiful tables and seating
Marine-life touch tank
Glass bottom boat
Change-rooms
Fresh water outdoor showers
Ocean enclosed children's pool
Sunlover Sunslide - only waterslide on the reef
Two levels - shaded lower level and upper level sundeck
‍SeaWalker Helmet Dive platform
Scenic helicopter pad
What to Bring: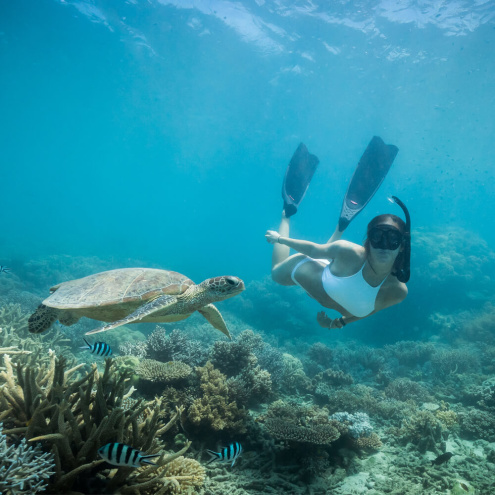 Simply pack a bag as if you were going to the beach for the day and camping overnight
Hat & sunscreen (SPF 30+)
Sun protective clothing, like a t-shirt or rash vest
Swimming costume
Beach towel
Cash for drinks at the bar (soft drinks, beer, wine)
Personal Toiletries for overnight stay
Credit card for on-board shopping and optional adventures
Camera
Due to limited space on the vessel and pontoon, Sunlover by Starlight guests are encouraged to bring small overnight
bag for the duration of their stay. For larger suitcases and bags, storage and transfer can be arranged upon request at
extra cost.
---
Sunlover by Starlight Reviews
---
Sunlover by Starlight
Departs Reef Fleet Terminal at 9:30am & returns 5:30pm the following day.
---