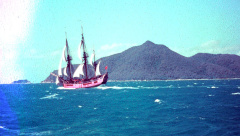 This is an extract from Timothy Bottoms' CAIRNS, City of the South Pacific, A History 1770-1995 (Bunu Bunu Press 2016).
www.cairnshistory.com.au see free historical documentaries about Cairns.
At noon, we were in the middle of the channel, [and saw some people] and by observation in the latitude of 16° 57'S. with twenty fathom water. The point on the main, of which we are now abreast, I called CAPE GRAFTON....
Lt. James Cook, Sunday 10 June 1770
At Gububarra (Fitzroy Island) the 1873 Queensland North-East Coast Expedition anchored for water and wood, and expeditions' leader, George Dalrymple observed that the "excellent anchorage and watering place appear to have been used some years since as a beche -de- mer fishing station, and to be now a place of frequent call by vessels of that trade and passing ships."
The expedition then travelled around Djilibirri (Cape Grafton) to the future Mission Bay and Rocky Island [Djarruway]) on which a camp was established for the night. Many Gungganydji "were seen around the shores of the bay, from which steep scrubby hills rise on all sides, except to the south, where a dead level runs through to the sea on the opposite side, a distance of three miles. Blacks' camp fires burnt brightly during the night in glens of the mountain sides."