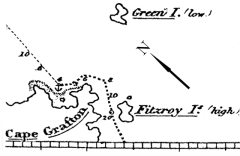 Extract from the map Terra Australis by Matthew Flinders, Commander of H.M. Sloop Investigator (1802-1803, East Coast – Sheet V) showing Captain Cook's route. Flinders noted on the map: "The Coast, Reefs &c. in this sheet are mostly copied from Capt. Cook's charts and journals, the longitudes being made conformable to my timekeepers in the Investigator & Cumberland. [North compass added]
Cook drew a 'working-chart' on the evening of Sunday 10th June 1770 when the Endeavour sailed north from the peninsula that he called 'Cape Grafton'. At midnight Cook and his crew sailed North (unplotted course 315° Magnetic). Later it seems he mistook 'True-N', drawn from the anchorage on his working chart, as the ship's track ( which was not surprising, considering the ship-wreck on what he called Endeavour Reef and the subsequent limping to 'Endeavour River' and completion of repairs).
Thus Cook mis-fitted 'True-N' as his '315° Magnetic track', and unwittingly pivoted his working chart 39° anti-clockwise: his Cape Grafton (and Fitzroy island) now 'stood upright' !
Re-checking observed angles, Cook correctly aligned latitudinally Mission Bay's outermost capes, and also, inadvertently included some distortions. Cook's finished chart, therefore, was able to create a 'phantom headland' facing Green Island, which placed (today's) Cape Grafton 'inside' Mission Bay.
Historical extracts from Timothy Bottoms' CAIRNS, City of the South Pacific, A History 1770-1995 (Bunu Bunu Press 2016). www.cairnshistory.com.au see free historical documentaries about Cairns.