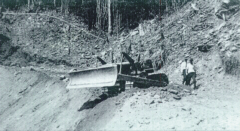 In 1939 representatives of the Cairns City Council, the Cairns Shire Council and the Woothakata Shire Council, met to consider building the Cairns to Kuranda Range road. Construction began the next financial year (1940).
Machine power was used for the first time. Explosives had to be transported from the Stratford magazine, still in use for the purpose for which it was built 40 years earlier. Jackhammers were rather basic, and steel bits had to be re-forged frequently, which resulted in three blacksmiths' shops operating eight hours a day sharpening steel ends.

Some 100 men were employed, mostly elderly, as the younger males were off in the Middle East sector of the war in Europe. It was a tough and demanding effort and the project was brought in at half the original estimated cost of £100,000 for a single-lane road, for a dual-lane highway, and not a soul was killed in its construction. Nevertheless, there seems to have been some close-calls, as bull-dozer driver Ernie May, describes:
the mountain slid down onto the machine twice, and covered the machine once while I was driving, and once while Ian [Hunter] was driving. All we had time to do was to shut the motor off and scramble out over the rams and keep going to the far side of the road and hope that a rock was not too close on our heels.
The Cairns-Kuranda Range Road was opened for traffic in mid-1941, six months before the Japanese attacked Malaya and Pearl Harbor, and the Kuranda to Mareeba road was improved and bitumen-sealed when the military began using it. It was, as Glenville Pike identified, "to be one of the most vital links in joint Australian and American defence of the Far North."
This is an extract from Timothy Bottoms' CAIRNS, City of the South Pacific, A History 1770-1995 (Bunu Bunu Press 2016). www.cairnshistory.com.au see free historical documentaries about Cairns.