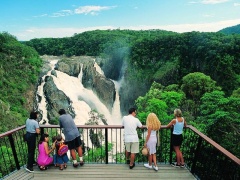 TRACK SUMMARY:
Track name: Barron Falls
LookoutArea: Cairns/Kuranda
Track Class: Pathway (Wheelchair)
Type of walk: Return
Length: ShortTime: 30min
Distance: 0.60kmDifficulty: Easy
Barron Falls is one of the most visited sites in the World Heritage Area, with visitors choosing between several modes of transport through the park, including the historic Kuranda train and the Skyrail cableway. They provide spectacular views of the Gorge and the Barron River far below. At the top of the gorge near Kuranda are the Barron Falls (Din Din).
The Barron Falls (Din Din) Lookout walk begins with an elevated boardwalk traversing the rainforest just below the canopy. It then winds its way down the hill past several lookout points and rest stops to the lookout area which also acts as a railway platform. The walk is well maintained, accessible to all, and is a wonderful way to view these huge falls. In the rainy season, you may be enveloped by a cloud of mist from the falls. Informative displays describing the area's Aboriginal and European cultural heritage are located at the beginning and end of this 600 metre walk.
HOW TO GET THERE:
The Barron Falls Lookout walk begins 5 kilometres outside Kuranda. Follow the road signs to Barron Falls.
FACILITIES:
CarparkWheelchair
ACTIVITIES & INTERESTS:
Aboriginal culture
Geology crater
Lookout mountain top
Rainforest
Waterfall
Wildlife