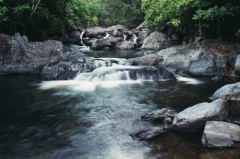 TRACK SUMMARY:
Track name: Copperlode Dam to Crystal Cascades
Area: Cairns/Kuranda
Track Class: Rough Track
Type of walk: One Way
Length: Medium
Time: 1hr
Distance: 3.00km
Difficulty: Strenuous
Copperlode Dam (Lake Morris) to Crystal Cascades is a steep track over rough terrain and involves strenuous physical activity. The walk can be done from either direction. If you wish to walk one way, it easier to leave a car at Crystal Cascades and walk downhill from Copperlode Dam.
Starting from the Crystal Cascades carpark, walk up the Crystal Cascades concrete path past the secondpicnic area and you will see a sign on your left to the walk up the hill.
Starting from Copperlode Dam Kiosk, walk back along the bitumen road, out the main gate and past the huge electricity pylon. Not far past the pylon is a locked yellow gate on the left where the track starts. Here the walking surface is of good quality and passes through rainforest with vines and ferns. About half way down you will reach another pylon with views to the coast. From here the track becomes narrow and rougher, winding down the steep grade to Crystal Creek. You can usually hear the creek and visitors as you approach and come out about 100 metres from the gate. A nice refreshing swim at Crystal Cascades is the perfect ending to this trek.
FACILITIES:
ACTIVITIES & INTERESTS:
TRACK DESCRIPTION:
Crystal Cascades Falls
HOW TO GET THERE:
Copperlode Dam (or Lake Morris) is in the ranges above Cairns, 25 kilometre from the city centre. Take the Brinsmead-Reservoir Road and look for the signposted turnoff. The road is narrow, winding and without guardrails so watch out for cyclists, runners and wildlife on sharp corners. Crystal Cascades is a 10 kilometres drive from Redlynch in Cairns' northern suburbs.