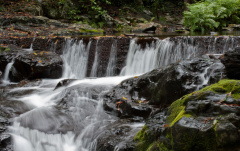 TRACK SUMMARY:
Track name: Stoney Creek Weir Track (Garndal Garndal)
Area: Cairns/Kuranda
Track Class: Graded Track
Type of walk: Return
Length: ShortTime: 1hr
Distance: 2.00km
Difficulty: Moderate
Stoney Creek is a popular swimming spot for locals and visitors. You can swim in the creek near the carpark or climb up the old rocky roadway to some isolated and pristine swimming holes amidst the boulders upstream. The walk narrows to a rough path above the creek valley which levels out and meets the creek at the small concrete were after a kilometre.
FACILITIES:
Carpark
ACTIVITIES & INTERESTS:
Lake creek or river
Swimming
TRACK DESCRIPTION:
Stoney Creek swimmer
HOW TO GET THERE:
Stoney Creek is in Barron Gorge National Park in Cairns. Drive to Kamerunga and turn off to Stoney Creek and the Rainforest Estate. Follow the road up the valley to the Stoney Creek carpark at the end.