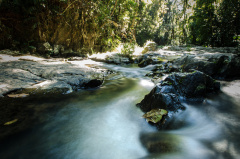 TRACK SUMMARY:
Track name: Jumrum Creek
Area: Cairns/Kuranda
Track Class: Graded Track
Type of walk: One Way
Length: ShortTime: 18min
Distance: 0.80km
Difficulty: Easy
Jumrum Creek Conservation Park walk can be done a short walk from either end. It can also be done as part of a larger 2.6-kilometre circuit which includes the Jungle Walk and Barron River Walk. From Kuranda, this paved walk winds its way down into the Jumrum Creek valley through some open, scenic rainforest to the creek. Take some time to rest and enjoy the sound of the water flowing here and watch for the different birds. It an easy stroll up the other side of the creek to Barron Gorge Road and the Jungle Walk.
FACILITIES:
Carpark
ACTIVITIES & INTERESTS:
TRACK DESCRIPTION:
Brush Turkey - Jumrum Creek Walk
HOW TO GET THERE:
The Kuranda end - at the back of the fire station. The Barron Gorge Road - Turn right past the school and go down the hill across the Jumrum Creek bridge and up the other side. Near the top you will see two speed humps and small parking bay. The Jungle Walk starts here too.