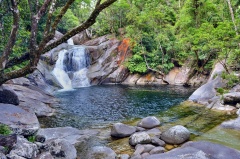 TRACK SUMMARY:
Track name: Josephine Falls
Area: Central Coast
Track Class: Pathway
Type of walk: Return
Length: Short
Time: 30min
Distance: 1.20km
Difficulty: Easy
This pretty waterfall is fed by rains falling on Queensland's highest mountain, Mt Bartle Frere, which looms above this popular picnic area. An 800 metre walking track leads from the carpark and through dense rainforest to a viewing platform at the base of the falls. Below the falls are several swimming holes surrounded by boulders and a popular water slide down a smooth sloping rock face between pools.
FACILITIES:
ACTIVITIES & INTERESTS:
Swimming
Lookout mountain top
Waterfall
TRACK DESCRIPTION:
Swimming at Josephine Falls
HOW TO GET THERE:
Turn west off the Bruce Highway south of Miriwinni (68 kilometres south of Cairns, 20 kilometres north of Innisfail). The road is signposted and its an 8 kilometre drive to the carpark.