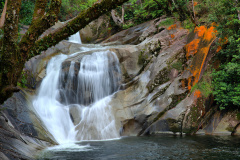 Rain in Cairns during the wet season generally falls overnight and clears up during the day. However, if you find yourself with a wet day, there are still plenty of suitable activities to experience this beautiful tropical region. fitzroy island near cairns
After a day of heavy rain, photographers will love the amazing photo opportunities that the rain brings to the area. Waterfalls such as the Barron George in Kuranda are most magnificent when they are roaring with life from the rainfall.
Rain will not dampen your Cairns touring adventures with plenty of options to keep you busy. You could take a rainforest tour exploring Kuranda or the Daintree Rainforest, go White Water Rafting on the Barron or Tully rapids, experience your own ATV adventure on quad bikes or try your hand at skiing at the Cable Ski Park.
Want more of a laid back day? Then take a day tour to Kuranda in comfort on the Kuranda Scenic Railway, returning on a fully enclosed gondola on the Skyrail Rainforest Cableway. In fact, almost all of the tours in Cairns can be fitzroy island near cairnsenjoyed in both rainy and fine tropical days.
If you would prefer staying inside, treat yourself with a day spa experience, visit the enclosed Rainforest Dome onto of the Casino, go shopping, or visit the local Blue Sky Brewery and enjoy having a drink with the locals.