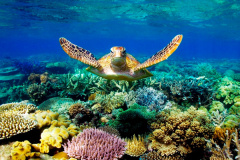 Just because it's raining in Cairns doesn't mean it's raining on the reef. Low to moderate rain in Cairns generally falls overnight and will clear up during the day, making a perfect opportunity to visit the Great Barrier Reef.
There are a variety of tours that depart from Cairns daily, travelling to the Great Barrier Reef which is alive with amazing marine life activity and plenty to see and do. During the wet season in summer months, visiting the reef and swimming in the beautiful tropical waters is the perfect way to cool down on a hot day. Water temperatures on the reef vary from a comfortable 22 degrees in winter to 29 degrees in summer, ideal for year round enjoyment in the water from snorkelling to scuba diving.
From July to August you may even be lucky to see the Minke and Humpback whales that migrate up the coast and from November the reef comes alive with the annual Coral spawning, a unique event in the animal kingdom occurring at night with a mass spawning of coral. Millions of spawn and eggs are released together, an amazing sight of oranges, red, pink, blue and purple that can be viewed by the naked eye. Take a tour that specialises in this once in a lifetime experience.