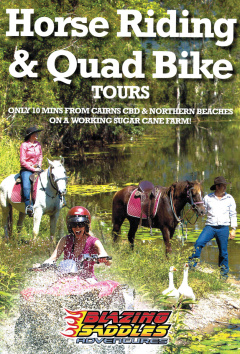 Native bush & rainforest surroundings provide adventurous trails & also many native wildlife. Spectacular views over the panorama at Yorkeys Knob provide wonderful memories. Tours include courtesy coach transfers from all hotels in Cairns and the Northern Beaches plus Aussie BBQ Sausage Sizzle.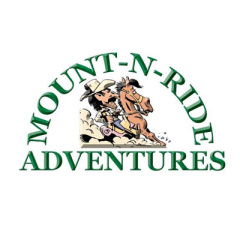 Come and enjoy the thrill and feel the freedom! Mount-N-Ride Adventures are situated just a short 30 minute drive south west of Cairns city, in the stunning Little Mulgrave Valley and have been operating exciting and scenic horse trail rides to both locals and tourists for over 15 years. We are well...
About Horse Riding For Cairns
If you would like to experience horse riding while on holiday in Cairns there are a number of options. All Horse Riding tour operators include tuition and explain safety before you head off on your trail ride.
Most horse riding companies offer a 2 or 2.5 hour ride including transfers from Cairns and it is generally possible to do this tour as a half day either in the morning or afternoon.

You do not need horse riding experience to participate and horses are selected with the riders experience in mind.

If you would like to experience horse riding on a beach it is possible however you would need to go to Wonga Beach. This is located about 1.5 hours North of Cairns and it is possible to self drive or to have a pickup. There is also beach horse riding at Cape Tribulation and this is located at least 2 hours drive North of Cairns.

We also have 15 North Queensland Pony Clubs where young people are encouraged to learn about riding sports and the proper care of animals. These are the Zone 18 Pony Clubs. The Clubs in Cairns are located in Cairns City, Earlville, Freshwater, Edmonton and Gordonvale. The Freshwater Pony Club is located next to the Freshwater Railway Station where the Kuranda train departs so most tourists who visit Cairns can see the club house.