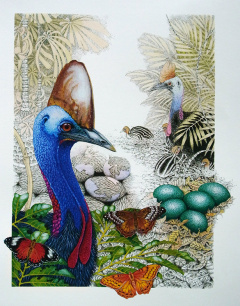 David Stacey has studied Fine Arts and dedicated his life to depicting the lush wilderness of Far North Queensland through his illustrations and paintings. David is an artist of genuine repute, his name is synonymous with the genre of fine art; the work speaks for itself. Recently David has been pub...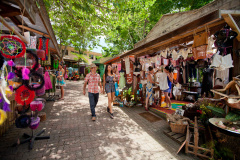 Come with us to the Kuranda Original Markets! You will love the eco-friendly stalls, and meet the locals. Located in the Rainforest of Kuranda, these markets feature tropical gardens, gourmet regional fare, contemporary art, great clothing, jewelry, homemade food products, events and more . . . even...
About Markets & Shopping For Cairns
Cairns has a very wide range of shopping with an enormous shopping centre in the centre of the city itself that has a wide range of national boutiques and chain stores that will easily satisfy the needs of an entire family.

Myer is the only large Department Store in Cairns and this is also within the Cairns Central development. Myer has a range of household items as well as fashions, games and electrical goods.

In the centre of the city we have a large Woolworths supermarket. This supermarket sells the most Tim Tams in Australia as it is a very popular souvenier for Japanese people to take home to their co-workers. In need of an update but you cannot beat its central location there are novelties here as well as fresh breads, a deli and all shopping needs.
Cairns Central is not as conveniently located to the esplanade precinct but there is also a Coles and a Bi Lo in Cairns Central shopping centre.