Get the best service and rates by dealing direct with Doongal Gallery.
---
About Doongal Aboriginal Art
Aboriginal Rainforest & Central Australian Aboriginal Art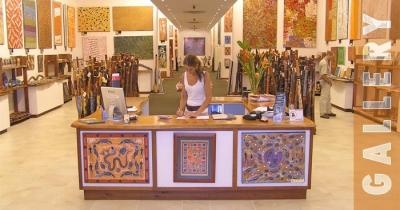 Visit one of our 3 Art Galleries while visiting Far North Queensland:
Doongal on the Esplanade, 49 The Esplanade, Cairns
The Ark Gallery, 22 Coondoo Street, Kuranda
Doongal Gallery, 14 Coondoo Street, Kuranda
About Us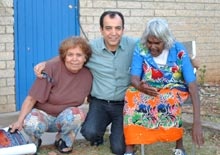 Fred Nooravi, who has a passion for Aboriginal art, and in conjunction with three local Kuranda Aboriginal artists, established Doongal Aboriginal Art in 1993. The Gallery has expanded to 3 galleries and now represents over 20 local artists specialising in Aboriginal Rainforest Art.
Doongal Galleries also showcase more than 150 Central Australian artists.
Gallery director Mr Nooravi regularly visits central Australia and has developed a rapport with some of the well-known artists.
---
News By Doongal Aboriginal Art
Doongal Aboriginal Art - New works by Margaret Scobie
By Doongal Aboriginal Art
06 May 2015
New works by the celebrated artist Margaret Scobie have arrived at Doongal Aboriginal Art. Margaret Scobie is an Anmatyerre speaker and one of the senior women at Utopia. Her family contains a string of accredited artists. Her mother is sister to the father of highly respected artist Gloria Petyarre and more notably was sister to celebrated artist Emily Kngwarreye. She often paints similar Tjukurrpa Dreamtime stories such as the Bush Medicine Dreaming, Honey Ant and Mountain Devil Dreaming.She has a wonderful flair for colour in her paintings and is a highly respected artist, a rising star within her community who promotes her culture, country, seasons and ceremony through her paintings.
Doongal Aboriginal Art - Wanjidari - Local Aboriginal Rainforest Artist
By Doongal Aboriginal Art
29 Oct 2014
Wanjidari means white flower. I was born in 1965. My mother came from central Queensland at a place called Woorabinda and came from the tribe Wadja Wadja. My father came from Lockhart River from the Kuntha Napu tribe. I have been painting since I was 17 and the inspiration for my paintings came from both sides and from my childhood.
When I was growing up I would often go out with my aunts and other family members to collect bush tucker the traditional way. We would look for turtle eggs, goanna, fruit, yams, etc. so I grew up with my culture.
---
How to get to Doongal Aboriginal Art
---