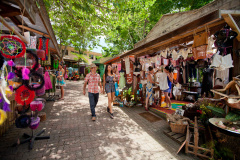 Come with us to the Kuranda Original Markets! You will love the eco-friendly stalls, and meet the locals. Located in the Rainforest of Kuranda, these markets feature tropical gardens, gourmet regional fare, contemporary art, great clothing, jewelry, homemade food products, events and more . . . even...
About Markets For Cairns
Cairns is a market hotspot..you just need to know where to go! Every week there are markets within Cairns city and the surrounding area, check out the guide below to give you the low-down on what to get and where.
Rusty's Markets
Beneath Gilligans Backpacker Hotel and REsort (between Sheridan and Grafton street) from Friday to Sunday, is Rusty's markets, the ost popular markets in Cairns! There is a plethora of stalls selling exotic fruit and vegetables; Locally grown and in many cases, organic. There are also stalls selling beautiful, tropical flowers, bric-a-brac, yummy international and local food, specialty products....and there is even a delicatessen!
Esplanade Market
Local arts and crafts market held every Saturday from 8am to 4pm. This market is set up by Cairns cities biggest tourist attraction, the Lagoon. You can enjoy an swim, the view and have a brouse at the beautiful crafted products! It is a market you must see.
Palm Cove Night Market
A local arts and crafts market held every Friday from 5pm to 9pm at the warf end of Palm Cove. Come and enjoy the music, have a bite to eat an maybe some desert! A charming market right by the ocean, come down and have a look at the wonderful products created.
Port Douglas Markets
Every Sunday from 8am to 2pm between the Dickson Inlet and Wharf Street on Anzac Park is the Port Douglas Markets. To get there, take the scenic coast road drive north from CAirns - about 45 minutes. With great food and drink stalls, buskers and entertainment, you can totally relax and enjoy the gorgeous tropical atmosphere set against the Coral SEa and mountain ranges. Pick up a painting by a local artist, or jewellery, nuts, confectionery, beauty products, coffee and teas, furniture and home wares, clothing, plants and more!
Kuranda Markets
Kuranda markets is a popular attraction for locals and visitors alike in the rainforest atop the Kennedy Highway. Meander through the stall selling oils, artwork, gemstones, hand made clothing, crafts, home wares, aboriginal artefacts, home made tropical fruit ice-cream and locally grown coffee. Make sure you have time for BOTH Kuranda markets; the Kuranda Heritage Markets and the Original Rainforest Markets (established in 1978). Both markets are open 7 days a week from 9.30am to 3.30pm.
Other Markets
Other markets in the surrounding area include the Yungaburra markets (one hours drive from Gordonvale up the Gillies Highway), which has over 250 stalls including locally made wines, clothing, flowers, home made crafts and more. Held on the fourth Saturday of every month from 7.30am to 12.30pm.
The tanks also hold Market Day on the last Sunday of every month from 9am to 2pm in the months from April to November selling a range of items from arts, crafts, clothing, food, entertainment and more.
Finally the UMI Arts Markets are held on the Esplanade on the last Friday of every month from May through to October from 4-9pm. This is a great chance to pick up authentic aboriginal artefacts and souvenirs.