---
Getting to Kuranda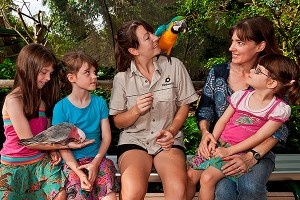 Kuranda truly is the Village in the Rainforest, situated 380m above sea-level on top of the McAlister Range, in the heart of the Wet Tropics World Heritage Rainforests. Lush tree ferns line the roadside on the way into the village and numerous walking tracks and trails take you into the green surrounds, offering running streams, wide rivers and views over waterfalls and gorges.
Boasting spectacular scenery and natural beauty, just getting here is an experience in itself.
We look forward to seeing you at Kuranda The Village in the Rainforest.
Things To do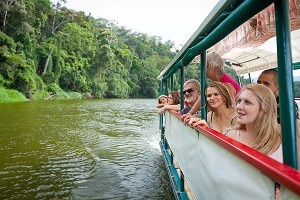 Whether it's a day or a weekend, there are a number of great ways to see Kuranda. Everybody likes to experience different things, so in addition to the comprehensive itineraries available, we have endeavoured to provide the approximate times required to partake in the many different activities that you can find in Kuranda.
Use the following list as a guide when planning your day; for more information regarding tour packages and time allocation for various activities contact the Kuranda Visitor information Centre on phone
(07) 4093 9311, mobile
0407 758 645 or info@kuranda.org
Kuranda Markets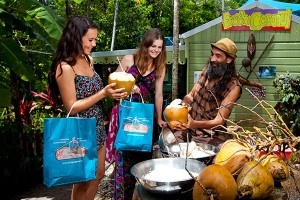 Come and enjoy the Markets in the Rainforest
Kuranda is world famous for its markets. The Village in the Rainforest has two market locations, the Original Markets and the Heritage Markets, both of which are open every day of the year. Stalls offer a wide range of Aboriginal artefacts, handmade leather goods, wood and jewellery. Stall holders are happy to explain their craft and overseas posting is not a problem. Entertainment from wandering buskers may also be enjoyed.
Kuranda Accommodation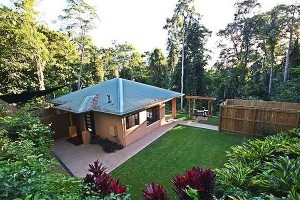 Choose from units, cottages, an artist's studio, cabins, dormitories, luxury rooms all with modern conveniences, or just sleep in a tent. Breakfast in bed, cook your own, or eat out. The choices for overnight comfort are varied, with tropical forest settings and access to water in pools and creeks adding to the experience.
After a busy day take the opportunity to relax at your accommodation and listen for Kuranda's many night roaming creatures: wallabies, pademelons, bandicoots, flying foxes, owls and curlews and the "murdered woman"- the scrub hen. The wet season from December through to April is a time for frog music – the real sound of the tropical rainforest. All this is possible from your Kuranda accommodation hide-away.
---
Meet the artist
By Kuranda Village
14 Sep 2018
Meet local artist Hayley Gillespie at Terra Nova Gallery on Sunday, September 16 from 11am-2pm. She is looking forward to chatting about her colourful paintings and having some fun colouring in with her youngest admirers. Hayley is well known for the engaging creative workshops she runs for children.
Each of Hayley's unique, detailed paintings encourage a smile with their child-like subjects which are much loved by children and adults alike. During September she is offering a special discount on her original paintings shown at Terra Nova Gallery in Therwine Street.
Mobile magic
By Kuranda Village
14 Sep 2018
The colourful chakra mobiles created by Debbie Loy at Get Funked in the Kuranda Original Rainforest Markets have been selling out as fast as the Kuranda artist can make them. Debbie is sourcing local wood for her next batch which she will hand paint and decorate with dyed guinea fowl feathers. Each of the seven wooden discs spins independently creating a mesmerising mobile. Her incense hangers incorporating bamboo charms and feathers are also popular with those wanting incense to waft down from a height, while the mozzie coil hangers will be a necessity once the summer rains arrive.
---
How to get to Kuranda Village
---