---
About Tourism Tropical North Queensland
Cairns & Great Barrier Reef Australia - Official Tourism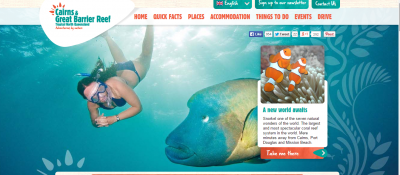 Welcome to the official tourism website of Nature's Theme Park - Cairns & Great Barrier Reef Australia.
Here you'll find everything you need to plan your perfect Tropical North Queensland vacation in the only place on earth where world heritage listed Wet Tropics and Daintree rainforests meet the Great Barrier Reef.
Take a virtual scuba dive on the Great Barrier Reef with our underwater webcam or view our other cams and get a feel for the heart-stopping adventure, secluded escapes, amazing wildlife, rare birds, and picturesque landscapes here for you to experience. Then catch up on all the latest news, weather information, events, photos, and videos from around the region.
Whether you're seeking an indulgent tropical vacation, some time with the family or the thrill of a new, World Heritage-listed adventure, cairnsgreatbarrierreef.org.au is your one stop shop for unbiased, local information and advice about tours, accommodation, dining and attractions available in Cairns, Great Barrier Reef, Daintree Rainforest, Port Douglas, Atherton Tablelands, Cape York, Mission Beach, Gulf Savannah, and much more!
What are you waiting for? Visit our site to see for yourself!
---
News By Tourism Tropical North Queensland
New TTNQ CEO appointed
By Tourism Tropical North Queensland
20 Apr 2017
Pip Close, the CEO of the Margaret River Busselton Tourism Association, has been appointed TTNQ CEO beginning July 3.
A regional tourism industry Chief Executive Officer with more than three decades of experience in management and marketing, Pip has been appointed to lead Tropical North Queensland through a strong growth phase.
Previously CEO of the Augusta Margaret River Tourism Association, Pip managed the organisation's amalgamation with the Geographe Bay Tourism Association two years ago to become the Margaret River Busselton Tourism Association with 800 members, 120 staff, four visitor centres and six tourism attractions to operate.
Her 30-year career in the tourism industry includes General Manager of Tourism Fraser Coast, senior marketing and general management roles in several key Australian hotels and resorts, and earlier roles with Captain Cook Cruises, and the Australian Tourism Commission and Northern Territory Tourism Commission in the United Kingdom.
Pip has strong experience in the leisure, business and meetings markets and held board roles in both the meetings industry and regional development in Western Australia.
Her broad experience in the tourism industry at a regional level and her ability to work with industry and government stakeholders will ensure a smooth transition into the CEO role at TTNQ and a continued strong direction for the region.
The growing investment in tourism infrastructure for Tropical North Queensland and the anticipation of direct flights from China present many opportunities for our destination.
I am pleased we will have someone with proven experience to work with our industry to develop strategies to carry us forward to a prosperous future.
Pip said she had always admired the way the Tropical North Queensland tourism industry worked together to bring optimum results for the region.
"Given the challenges of global tourism, I'm really looking forward to working with a great team of people to take Tropical North Queensland to even greater heights," she said.
"Tropical North Queensland is such a strong brand that is both innovative and dynamic.
"The destination provides travellers with high quality, premium tourism product that the consumer wants – it's about immersing oneself in nature experiences which are exclusive and memorable.
"I am very excited to have the opportunity to live and work in this beautiful part of the world where I have holidayed on numerous occasions."
Kind regards
Max Shepherd
Chair
Tourism Tropical North Queensland
Cairns to host 10th ANZA Workshop
By Tourism Tropical North Queensland
17 Feb 2017
Cairns will host the 10th Australia New Zealand Agent (ANZA) Workshop on 5 - 7 April. ANZA attracts hundreds of educational institutions, youth tourism and edu-tourism operators to meet one-on-one with international agents (buyers) who send many thousands of students and youth travellers to the region annually.
ANZA is the most efficient and cost-effective way to personally meet a large number of high-quality agents committed to promoting Australia as a destination. Pre-schedule 1:1 business meetings with 180 quality screened buyers from over 40 countries. Meet agents attending the Study Cairns FAM tour.
Contact Rod Hearps rhearps@icef.com for more information.
---
Tourism Tropical North Queensland (TTNQ) is the peak regional visitor destination marketing organisation for Tropical North Queensland. Joining is easy and the benefits are many. The following pages describe how your organisation can benefit from the di...