Experience some of Australia's most popular wildlife at Kuranda Koala Gardens. Kuranda Koala Gardens offers the opportunity to hold a Koala (extra charge can be paid for at the photo area.) plus meet kangaroos and wallabies in a free-range enclosure. See the rare Greater Bilby, the Northern Bettong...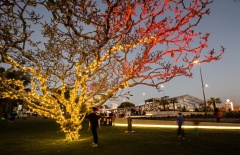 Munro Martin Parklands is Cairns' newest premier community gathering place complete with an outdoor performance space. The Parklands boast tropical plantings, vine covered pergolas and arbours and an open-air plaza to encourage passive, casual use of the facility. The venue is also equipped to host...

Welcome to the Cairns Botanic Gardens, which is renowned for having one of the best exhibitions in Australia of tropical plants. The collections within the gardens reflect our tropical diversity with plants, including specimens from Northern Australian rainforests, along with plants from the steamy...

Originally created in the 1930's by José Paronella, a man with a dream, Paronella Park continues to be enjoyed by visitors from near and far. José Paronella arrived in Australia from Catalonia in Spain, in 1913. For the next 11 years he worked, cutting sugar cane initially, then purchasing, improvin...