---
About Munro Martin Parklands
Munro Martin Parklands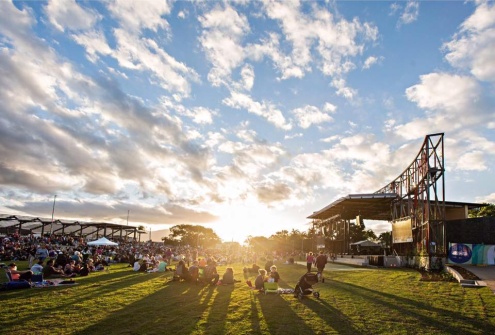 Munro Martin Parklands is Cairns' newest premier community gathering place complete with an outdoor performance space. The Parklands boast tropical plantings, vine covered pergolas and arbours and an open-air plaza to encourage passive, casual use of the facility. The venue is also equipped to host a wide range of shows, from full orchestras to music concerts and theatre performances.
Munro Martin Parklands is open to the public from 6am to 8.30pm, seven days a weeks except on ticketed event days.
Plan your trip to MMP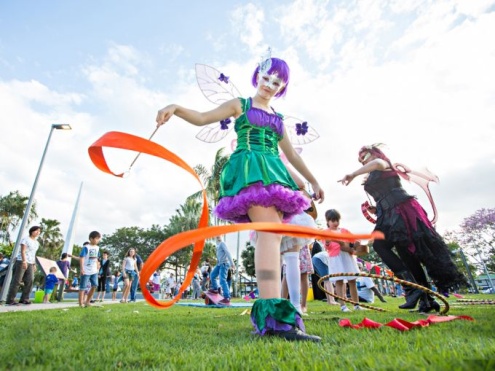 Opening hours
Open 6.00am to 8.30pm, seven days a week except ticketed event days.
The gates are locked when the park is closed.
Please check our MMP Facebook page for the most recent status.
Performance usage
Munro Martin Parklands is Cairns' newest premier community gathering place, complete with an outdoor performance space. Due to the residential nature, the specific nature of the stage and the visibility the stage offers the audience, this venue is best suited to high end performing arts events.
Munro Martin Park is a space dedicated to curated events to provide culturally enriching experiences for the Cairns community. Due to its niche program, venue hire availability is limited and dependent on assessment by management to ensure performances are suitable for a curated space.
Embrace - public art sculpture
Woopen Creek based sculptor, Braham Stevens, designed the piece to withstand the harsh tropical conditions and maintain a 'timeless' character. Embrace is a nine-metre tall sculpture, made from laser-cut, heavy gauge steel and is part of a linking public artwork project which connects the Munro Martin Parklands with the James Cook University Campus. The sculpture represents the intricate relationships, cycles and connections between geology, ecology, man, time and place.
Facilities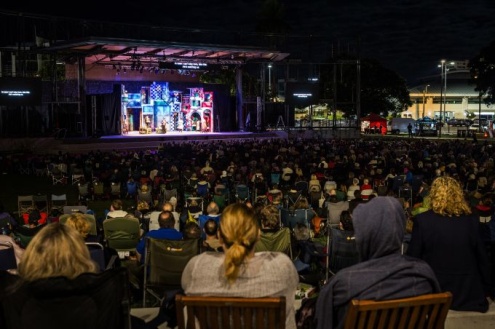 Parking
Limited parking surrounds MMP on Sheridan, Florence, Minnie and Grafton streets.
Accessible parking - there are two access parking spots on Florence Street, two on Minnie Street and one on Grafton Street.
Public transport
The central terminal is located on Lake Street opposite the Cairns City Library. Please refer to the following link or bus routes -Translink translink.com.au/cairns
Entrances
There are six gates surrounding the Parklands for general admission on non-ticketed days.
The main entrance gate to MMP is on Florence Street, this is the only entrance for ticketed events.
There is one gate on Sheridan Street, two gates on Minnie Street and two public access gates on Grafton Street.
Toilets
Permanent toilet facilities are located on site underneath the terraces on the Sheridan Street side and also the northern corner on the Grafton Street side.
Drinking water
Three filtered water stations are available in the park.
---