Get the best service and rates by dealing direct with The Cotton Club.
|

$ 17

|

Save $10
TBone Thursday!!
Special Expires 31 Mar 2019
TBone Thursday!! $17.00 from 5pm - 9pm
TBone Thursday!! $17.00 from 5pm - 9pm
---
The Cotton Club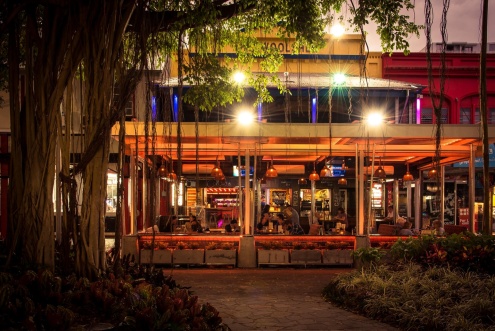 Located in the heart of Cairns city, The Cotton Club is the place to meet friends or colleagues for a drink, a meal or to dance the night away.
The outdoor dining area alongside two shady fig trees in the newly renovated City Place is air-conditioned so you can keep your cool no matter how tropical the weather. Inside, the street-level restaurant is an intimate venue featuring cosy booths and an elegant cocktail bar where the in-house inventions include Hendrick's Ice Tea and Tequila Expresso.
Open seven days a week from 11.30am until the early hours of the next morning, The Cotton Club serves hearty gourmet food all day and into the evening.
From 10pm resident DJs take the party up a notch and make sure the dance floor is the place to be. Owned by a Cairns family who have operated one of the city's most successful nightlife venues for the past 22 years, The Cotton Club fills a gap in the city's entertainment market for those wanting a sophisticated and safe night out.
Functions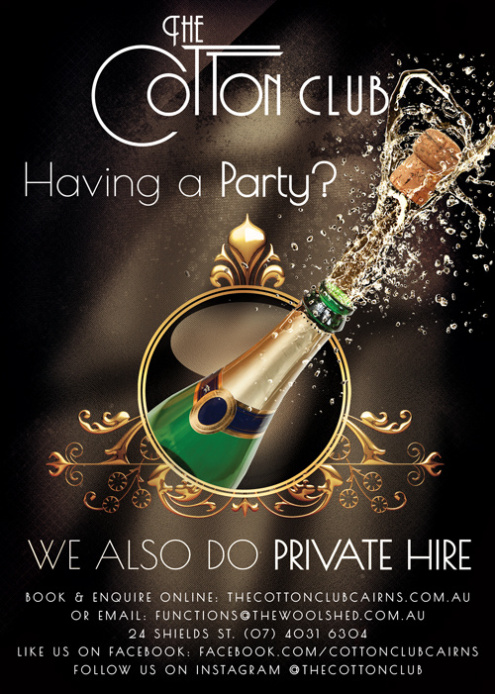 The Cotton Club can be yours for functions with less than 100 people or choose the bar or al fresco areas for smaller groups. Groups of 100 to 500 people can be accommodated in the upstairs function area.
Packages can be tailored to suit the occasion and your budget and all include your lighting and audio-visual needs. An event coordinator will be on-site to cater to your every need and ensure your function's success.
When the party is over there is no need to leave – you are already in an after-party venue which opens to the public once your function has ended.
Cocktail Bar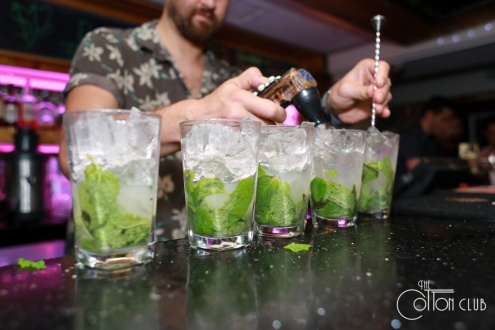 The Cotton Club cocktail bar has its own take on exotic cocktails to cool you down or heat the night up. Try an Elderflower Martini for an elegant taste sensation or treat yourself to a drink that is as good as dessert – a Twisted Russian.
Traditional cocktails like Mint Juleps and Cosmopolitans are also on the menu or The Cotton Club mixologists can whip up a creation just for you.
Craft beers are a speciality with flavours from around the country including Byron Bay's Stone & Wood Pacific Ale and Freemantle's Little Creatures Rogers Amber Ale.
Restaurant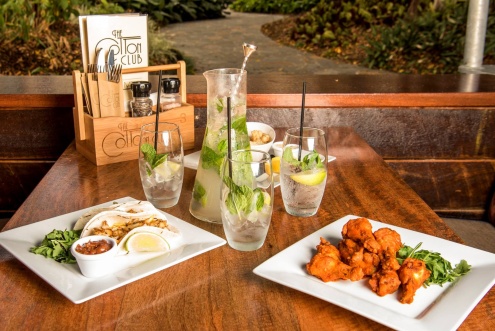 The Cotton Club chefs pair innovative culinary techniques with traditional tavern fare to create comfort food made from scratch.From the grilled local barramundi to the twice-cooked pork belly, this is hearty gastropub fare that will keep you coming back.
In the evening the juicy steaks are popular and many a shared plate of salt and pepper calamari or mini lamb koftas is consumed over drinks, while the salads and gourmet sandwiches are often the choice at lunch. Enjoy al fresco dining with air-conditioning in the new outdoor area overlooking the magnificent fig trees in City Place or cosy up in an intimate booth alongside the premium cocktail bar.
---
TUESDAY EVENING SPECIAL
By The Cotton Club
28 Sep 2017
Beer-Battered Fish & Chips ONLY $14 or $25 with a jug
Your Tuesdays just got a whole lot better!
L A T E • N I G H T • M E N U
By The Cotton Club
16 May 2017
NEW! Every FRIDAY & SATURDAY enjoy a selection of our share plates, pizzas or large hearty meals from 9PM UNTIL 12AM in our Alfresco Cotton Club area.
For the late night diners, staff with awkward break times or party-goers with an appetite come & see us!
---
How to get to The Cotton Club
---