---
About 2 Day Reef & Rainforest Package
Where the Rainforest meets the Reef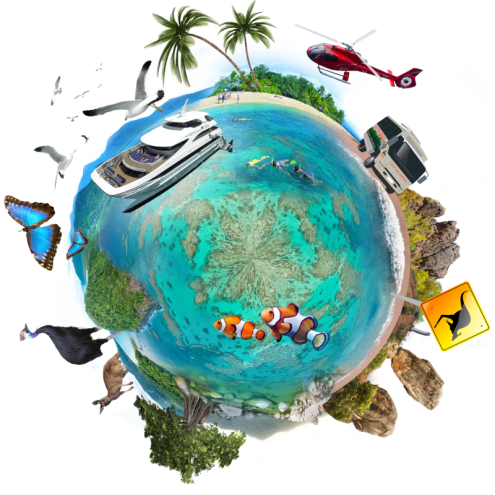 Welcome to Tropical North Queensland where the Rainforest meets the Reef – and you have two stunning World Heritage areas to explore. With Down Under Cruise and Dive and The Adventure Company, you can discover both the reef and rainforest with a local company now celebrating its 20th year of operation.
Over 2 action-packed days, you get to experience the Great Barrier Reef with Down Under Cruise & Dive aboard EVOLUTION, then explore the wonders of Cape Tribulation and the famous Daintree National Park with a Full Day Starter PAK Tour.
Upgrade to a Deluxe PAK to include a Beautiful lunch at Cape Tribulation and/or Admission to the award-winning Wildlife Habitat in Port Douglas
Day 1: Reef tour departs from the Reef Fleet Terminal (Check in from 7.15am for an 8.00am departure/Returns at 4.30pm)
Day 2: Includes pick up & drop off from your accommodation.(Pick up time confirmed at time of booking)
When: Departing daily
Day 1: Full Day Reef Cruise on EVOLUTION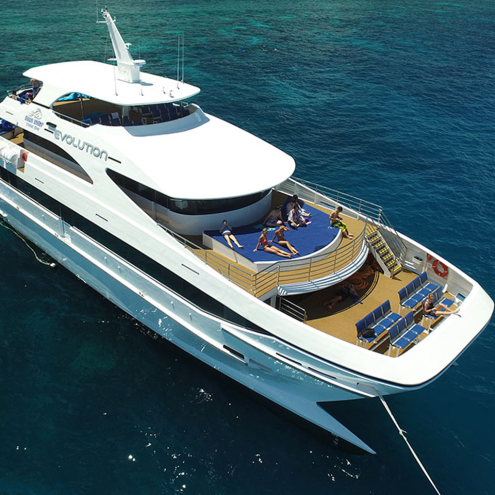 Ride on EVOLUTION to the Outer Great Barrier Reef for snorkelling with all gear and tuition included. Visit two exclusive reef sites, with plenty of time to enjoy relaxing and sun bathing on three deck levels. Dial up the adventure and choose from a variety of optional activities including an Introductory dive or Certified dive.
​In the afternoon there's a choice of optional activities such as a ride on our Semi-Submersible coral viewing tour (weather dependent), a 10 minute scenic helicopter flight, more snorkelling or diving, or just laze around on our massive sun-deck.
Finally cruise back to Cairns while enjoying our on-board entertainer for some live music together with a free glass of wine, cheese and biscuits.​
EVOLUTION Reef Cruise Includes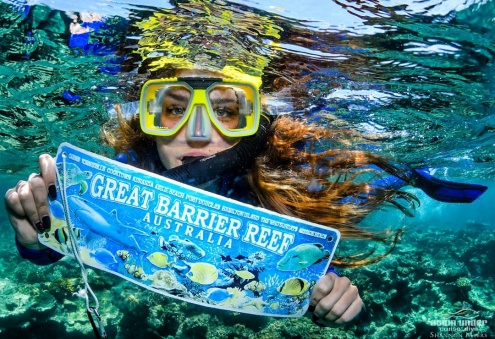 Departs from the Reef fleet terminal - 1 Spence St, Cairns
2 stunning outer reef sites - 5 Hours Reef Time
Snorkelling equipment & floatation devices provided
Hot BBQ Lunch (Hot meats, fish, prawns & a variety of fresh salads, vegetarian option available)
Free Lycra/sun suit hire
Fruit platter, cheese and a glass of wine on return journey
Experienced, professional dive instructors
Large air-conditioned modern lounges to relax in comfort
EVOLUTION Reef Cruise ITINERARY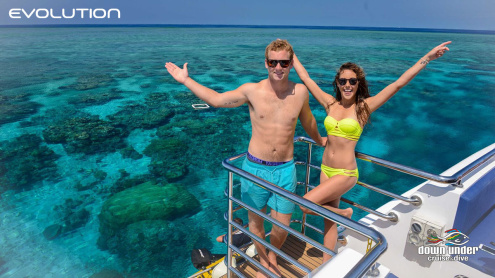 7:30AM : Check-in at the Reef Fleet Terminal - 1 Spence St, Cairns
8.15AM : Evolution departs Cairns to its first location
11:30AM : Enjoy a BBQ buffet lunch onboard
1:00PM : Evolution arrives at its second location
3:00PM : Evolution departs for Cairns
4:30PM : Evolution arrives back in Cairns
Activity included in your day: Snorkelling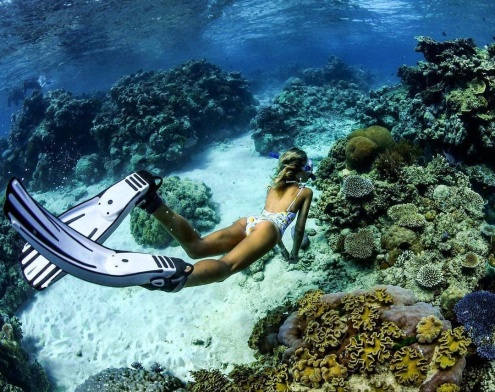 We have selected our outer reef locations for their variety and bottom contours, so to provide the best experience for both beginners, experienced snorkelers and children of all ages.
​Our staff keep a constant watch over the snorkelling sites making sure all passengers can enjoy the amazing wildlife in perfect safety. Our snorkel supervisors are all experienced Divemasters and provide in-depth briefings on safety procedures and site orientation, so you know where to find all the 'cool stuff'.
​For the beginners we offer one-on-one tuition on gear use and snorkelling techniques, a selection of buoyancy aids (foam noodles, life jackets and wetsuits) and FREE snorkel guides are available all day long to guide you through the natural maze of beautiful coral and fishes.
Extra Optional Activity: Introductory Dives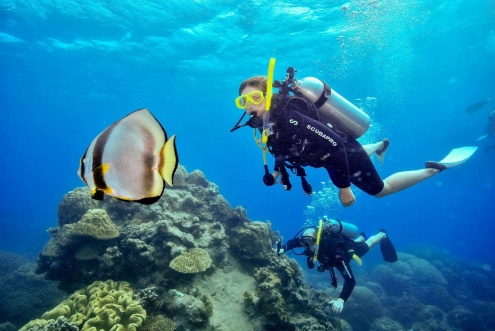 No experience necessary! Try scuba diving without any previous training or experience! That's right, if you have never dived before, and have always wished to experience firsthand the beauty of the underwater world you can arrange an Introductory dive with one of our friendly and professional Instructors. ​
Through the PADI Discover Scuba Diving program you will be taught all the basic skills required to dive down up to 12 metres while accompanied by one of our experienced Instructors. Even people with limited swimming ability can enjoy the thrill of diving the Great Barrier Reef in perfect safety. ​ Requirements Participants must be at least 12 years of age All participants must complete a medical assessment on board to assess their fitness for diving Try our FREE Scuba lesson (available on-board)…it's fun and it's easy!
Extra Optional Activity: Certified Dives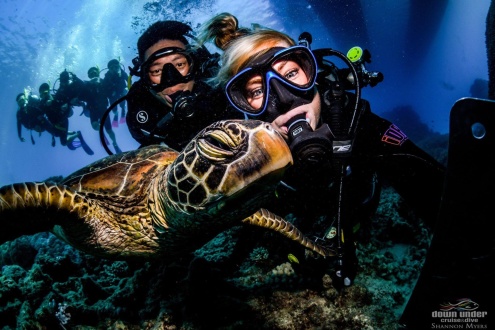 EVOLUTION travels to 2 of our 12 exclusive outer reef dive locations every day. With over 5 hours at the reef, there's plenty of time between dives for snorkelling and relaxation. Our certified divers can enjoy up to 3 dives per day, either guided with one of our professional Divemasters or with your own dive buddy or one we can provide for you. ​ Our experienced, environmentally conscious Divemasters know all the best areas at our sites, and know how to find and interact with all the amazing marine life.
Other Extra Optional Activities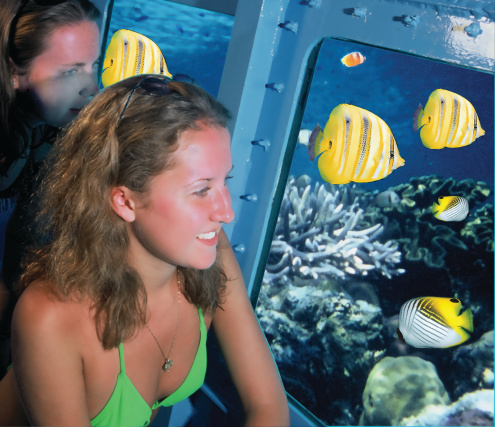 Marine Biology Guided Snorkel Tour
Learn the secrets of the reef from our marine biologist and explore the coral gardens on a guided snorkel tour. Join these professional men and women for a guided snorkel tour, which takes approximately 20 minutes - and which will bring you up close and personal with the extraordinary marine life and colourful coral.
For first timers, this is also a great way to learn the art of snorkelling and feel comfortable in the water. For more experienced snorkellers this is an interactive tour that will put you on the key coral formations and marine creatures - setting you up for a great day of exploration at your own pace.
SubXplorer Semi Submersible
Enjoy the spectacular coral formations without getting wet on our semi-submersible tour with commentary and marine life identification cards. The tour operates at Hastings Reef and runs for approximately 20 minutes. Our friendly team help guests board directly from Evolution safely. Once inside everyone has a seat by the enourmous viewing windows and you will be welcomed on board by our Marine Biologist who will provide live commentary in English throughout the tour - helping you understand the enormity of the world's largest living organism.
Day 2: Cape Tribulation Day Trip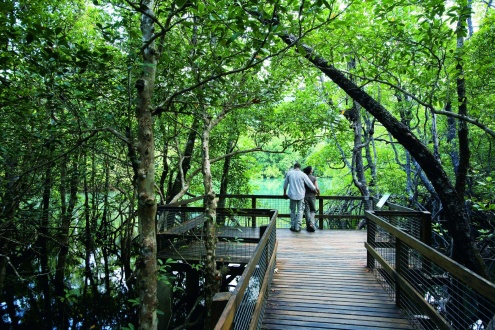 Pick-up start from 6:45am - 7.30am (confirmed at time of booking) & tour returns to Cairns at approximately 6:30pm
Join our professional, friendly and highly experienced guides in an unforgettable day of fun, discovery and adventure exploring the majestic rainforests, pristine rivers and white sandy beaches of the World Heritage Listed Cape Tribulation and Daintree National Parks. Cape Tribulation is the only place in the world where two-world heritage listed regions live alongside each other.
The Adventure Company - Starter Pak Tour
Designed for travellers looking for best value experiences, the tour includes all the must-see attractions between Cairns and Cape Tribulation Beach. No lunch is included but there are opportunities to buy your own lunch or Bring your own
The Adventure Company - Deluxe Pak Tour
Upgrade your day to include all the sites included as part of the Starter Pak plus explore all the amazing wildlife at the Wildlife Habitat in Port Douglas, then treat yourself to an amazing lunch at Cape Tribulation Beach House right at the water's edge where the rainforest and reef collide.
Highlights of your day in the Daintree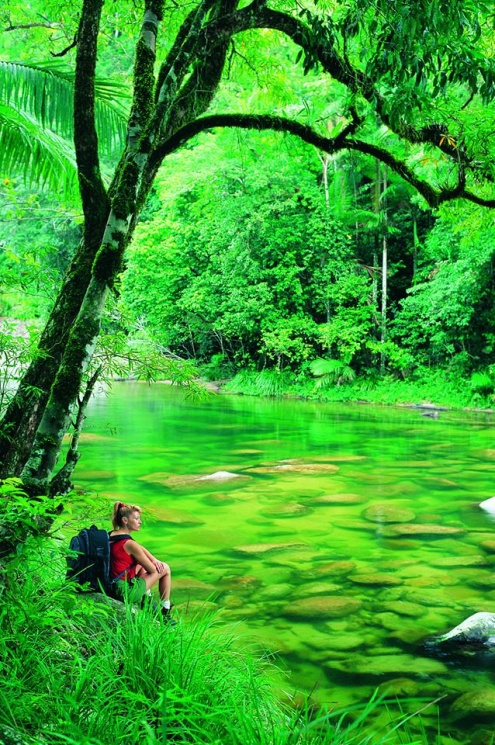 Port Douglas – (Starter Pak) Take in the spectacular scenic coastal drive north of Cairns, before you enjoy free time in Port Douglas to soak up the village atmosphere.
Wildlife Habitat – (Included in Deluxe Pak) We visit the award-winning Wildlife Habitat where you will venture through purpose built native habitats of some of Australia's rare, endangered and totally unique native animals. ** New optional activity is to get a photo holding a Koala. Ask your tour guide for details **
Visit famous Mossman Gorge – Enjoy a guided rainforest walk and see the crystal-clear waters of the Mossman River cascade over spectacular boulder formations amongst the lush rainforest. National Park entrance fee included in tour price.
Lunch time – (Included in Deluxe Pak) Only metres from Cape Tribulation Beach you will be treated to a chef-prepared lunch. Meal options include: steak, fish, chicken, kangaroo and vegetarian options.
Cape Tribulation Beach – Kick back and relax under the fringing rainforest of the Daintree where the "Rainforest meets the Reef". Enjoy a leisurely walk and take in the picturesque views at this beautiful historic beach location.
Daintree River Wildlife Cruise – Our journey continues to the majestic Daintree River for a one-hour Wildlife and Crocodile exploration. This is a rare location to see wildlife at play in the natural habitat.
Cable Ferry crossing across the ancient Daintree River
Cape Tribulation Day Trip Includes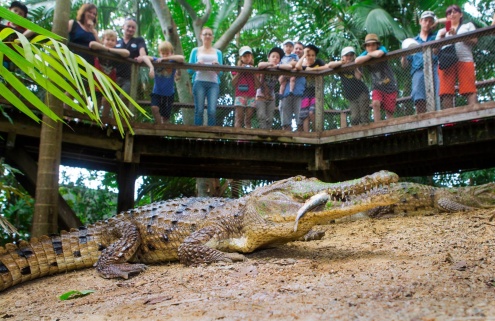 Return accommodation transfers
45 minutes free-time in picturesque Port Douglas Village (Starer Pak) or Stroll through the Wildlife Habitat and get up close and personal with some of Australia's most iconic animals (Deluxe Pak)
Guided Rainforest walk through Mossman Gorge National Park
Enjoy your chef prepared meal at Cape Tribulation Beach House (Deluxe Pak) or BYO your own food to enjoy a cool picnic around the pool or on the beach (Starter Pak)
Daintree River Cruise- see some of the rainforests native birds, snakes & famous crocodiles on the 1 hour guided river cruise
What to bring
Day 1- Reef Cruise:
Hat & Sunscreen
Travel Voucher
Spare Clothes
Swimmers and a towel
Cash or Credit Card
Day 2- Rainforest tour:
Hat & Sunscreen
Small day bag
Comfortable clothing & footwear
Water bottle
Lunch/snacks (optional)
Swimmers and a towel (optional)
Cash or Credit Card
​Important information for diving: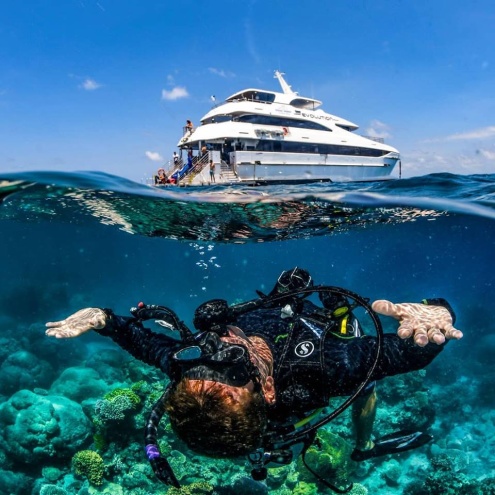 All divers must complete a Medical Questionnaire. Please be aware that certain medical conditions (eg asthma, heart disease, diabetes) and/or prescription medication may preclude some people from diving.
You will need to fill out the following documents for diving - you can download them and fill them out now or fill them out on the day.
Divers over 65yrs require a medical - if you answer YES to any question you will be referred to a qualified physician for a Dive Medical assessment. You will not be allowed to dive until you are fit to dive.
For advice please contact our office directly. Final decisions rest with our qualified dive instructors who consider your safety – our highest priority.
---
2 Day Reef & Rainforest Package Reviews
---
2 Day Reef & Rainforest Package
Day 1: Reef tour departs from the Reef Fleet Terminal (Check in from 7.15am for an 8.00am departure/Returns at 4.30pm) Day 2: Includes pick up & drop off from your accommodation.(Pick up time confirmed at time of booking)
---