Get the best service and rates by dealing direct with Divers Den.
|

$ 180
Reef Quest Snorkeling tour from Cairns
Special Expires 31 Mar 2020
ReefQuest is a brand new luxury vessel that was introduced to The Great Barrier Reef for the 2016 season and is fully equipped with modern state of the art facilities. Our passengers are provided with unrivalled comfort as we visit some of the b...
More
ReefQuest is a brand new luxury vessel that was introduced to The Great Barrier Reef for the 2016 season and is fully equipped with modern state of the art facilities. Our passengers are provided with unrivalled comfort as we visit some of the best dive a
---
About Divers Den - Cairns
About Divers Den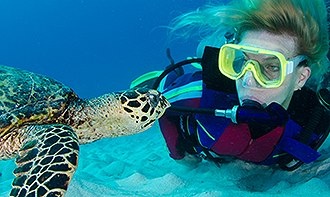 It is little wonder as there is such an abundance of underwater reef teeming with brilliantly coloured corals and an infinite number of vibrant tropical fish, making it the ideal destination for warm water Great Barrier Reef Diving or Snorkeling.

Diving or Snorkeling with Deep Sea Divers Den is the right choice for visiting the Great Barrier Reef. Deep Sea Divers Den has operated from Cairns, Australia for over 30 years, making us not only the largest but also one of the longest established Cairns Diving and Snorkeling companies in the area. Whether you are a beginner or an experienced Diver or Snorkeler, your safety and enjoyment is on the top of our list when you visit the Great Barrier Reef with us.
What's more, all our Cairns diving training facilities are under one roof, which is one of the many reasons Deep Sea Divers Den has earned it's PADI 5 Star Instructor Development Centre status and PADI Career Development status - one of the highest ratings awarded to any Dive store as recognition of continued Diver training excellence.
If you can't find the information you need, please feel free to contact us directly. Our Divers Den reservations team are available 24 hours by telephone, if you prefer to use email, we endeavour to reply within 24 hours whenever possible.
Day Reef Trips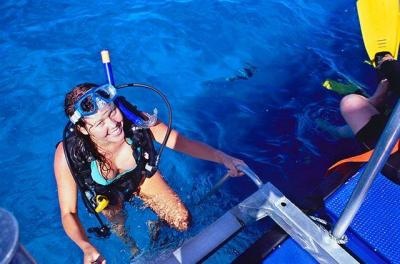 Our friendly and professional crew would like to welcome you aboard our luxury Day Trip vessel ReefQuest. launched in December 2015 this $3.5million purpose built boat will whisk you towards the Great Barrier Reef in unparalleled comfort and style.
Offering fantastic value for money that will take you on the magnificent Great Barrier Reef in only 90 minutes for a full day of unlimited snorkelling and/or the chance to do up to three dives per day. We have 17 exclusive reef sites to choose from each day and will visit two, moving the boat during lunch.

With the passenger's number limited to 80, we will provide you an excellent customer service and comfort. Our Buffet Lunch is a tropical buffet style of cold cuts, salads and fruits. Complimentary tea, coffee and chilled water are available throughout the day as well as snacks, soft and alcoholic beverages on extras.
Deep Sea Divers Den Day Trips caters for snorkellers, certified divers and introductory divers. The Discover Scuba Diving program is your perfect introduction to the reef with pre-dive tuition teaching you all you have to know about the diving skills, equipment, communication under water and the marine wildlife before your exciting first dive! Close underwater supervision, dive recognition card and certificate included. Certified divers can explore the Great Barrier Reef on up to three spectacular dives in one day choosing to dive with a buddy or one of our experienced guides at a nominal extra cost.
Explore the reef from Cairns with Deep Sea Divers Den - they don't call it GREAT for nothing!
Liveaboard Trips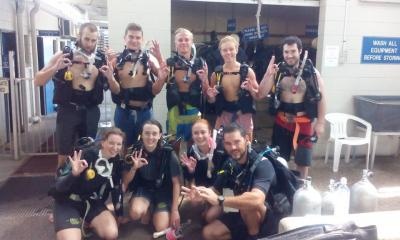 Ocean Quest - Cairns' Outer Reef Livaboard - Flexible Itinary
Imagine yourself waking up and watching the sun rise over the Great Barrier Reef!
This is exactly what you can experience by staying overnight onboard our luxurious liveaboard vessel Ocean Quest! With daily departures via our fast transfer boat, we can offer flexible itineraries from a single night stay to multiple night trips. Our liveaboard vessel boasts a range of spacious accommodation and cabin types, and all rooms are fully equipped with air conditioning, en-suite and a television.
Ocean Quest provides a spacious and comfortable home away from home on the Great Barrier Reef offering a truly unique and luxurious experience for all travellers, whatever your budget!
---
News By Divers Den - Cairns
Minke Whale Expeditions to the Great Barrier Reef are commencing soon!
By Divers Den - Cairns
11 May 2017
Explore the wonders of the Ribbon Reefs on-board our luxury liveaboard vessel OceanQuest this June and July!
See the best of the Great Barrier Reef at the most exciting time of year.
BOOK NOW, LIMITED SPOTS AVAILABLE.
AquaQuest arrives in Port Douglas
By Divers Den - Cairns
05 Apr 2017
Divers Den is thrilled to announce the addition of AquaQuest which will begin operations from Port Douglas in June. The purpose-built vessel will accommodate up to 80 passengers offering snorkel and scuba dive tours at two separate locations. Divers Den is a locally owned company with more than 43 years' experience. AquaQuest is a welcome addition to the existing fleet which consists of three vessels - OceanQuest, SeaQuest, ReefQuest - and a 5-star PADI Career Development Centre.
---
Divers Den - Cairns Reviews
---