---
About Get High Up Top & Dive Down Under
Get High Down Under Packages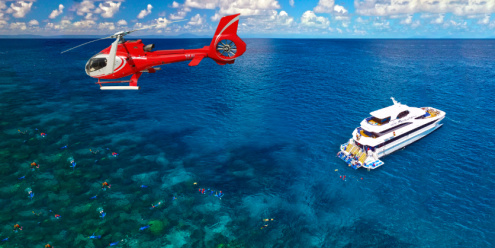 Experience the ultimate adventure package, and best value day on the Great Barrier Reef. Enjoy all our full day tour inclusions including snorkelling, lunch, sun bathing plus your choice of either an Introductory dive or Certified dive.
In the afternoon, you will board a luxury Nautilus Aviation Helicopter for a 10-minute scenic flight to see the magical colours of the reef from the air.
Where: Cairns Reef Fleet Terminal - 1 Spence Street, Cairns
When: Check in from 7.15am-8.00am daily at the Reef fleet Terminal
Boat departs at 8.15am sharp; Returns at 4.30pm daily
Get High Package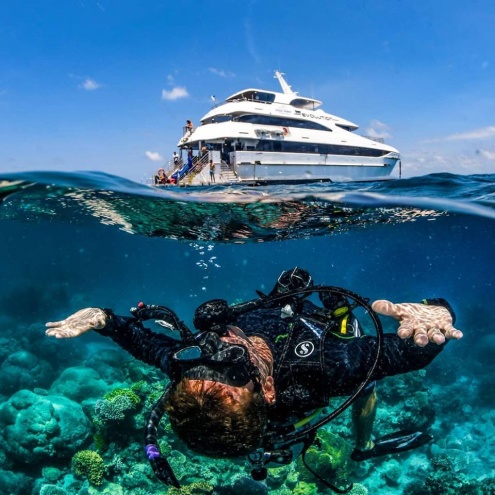 Ride on EVOLUTION to the Outer Great Barrier Reef for snorkelling with all gear and tuition included. Visit two exclusive reef sites, with plenty of time to enjoy relaxing and sun bathing on three deck levels.
Dial up the adventure and choose from a variety of optional activities including an Introductory dive or Certified dive.
For First Time Divers; after an in-depth briefing from our expert dive staff, we gear you up and jump in the water for the thrill of a lifetime as we guide you through this amazing wonderland.
For Certified Divers; either buddy up with a friend or join our guides as we plunge into the abundance of marine life and explore the amazing ecology of the reef.
10-minute Scenic Flight over The Great Barrier Reef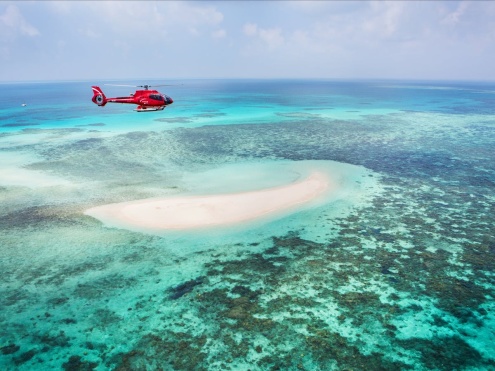 Take to the air from our exclusive helicopter pontoon at Hastings Reef and enjoy a spectacular scenic flight on board a luxury aircraft from Nautilus Aviation. Experience the sheer size and beauty of the Great Barrier Reef and gain a true appreciation of one of the seven natural wonders of the world.
Sightings of manta rays, turtles and other marine life are not uncommon on scenic flights and if you're flying with us in the winter months there is even a chance of spotting whales; however, as the marine life are wild animals, we can't make any guarantee!
With your feet back on the boat, you can squeeze in another snorkel or kick back on a beanbag and sunbake before we head back to Cairns.
Finally cruise back to Cairns while enjoying our on-board entertainer for some live music together with a free glass of wine, cheese and biscuits.
What's included?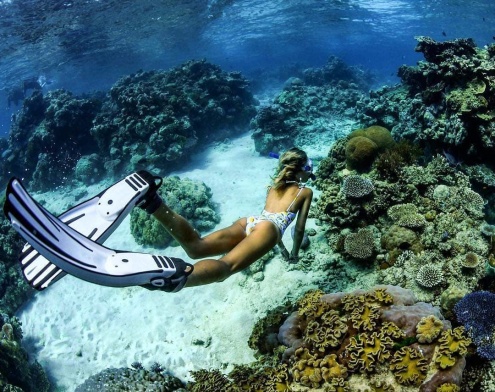 2 stunning outer reef sites with 5 Hours Reef Time
10-minute Scenic Flight in a 6-seater luxury helicopter with Nautilus Aviation
Snorkelling equipment & floatation devices provided
Hot BBQ Lunch (Hot meats, fish, prawns & a variety of fresh salads, vegetarian option available)
One Introductory or Certified Scuba Dive (if selected)
Free Lycra/sun suit hire
Fruit platter, cheese and a glass of wine on return journey
Experienced, professional dive instructors
Large air-conditioned modern lounges to relax in comfort
Itinerary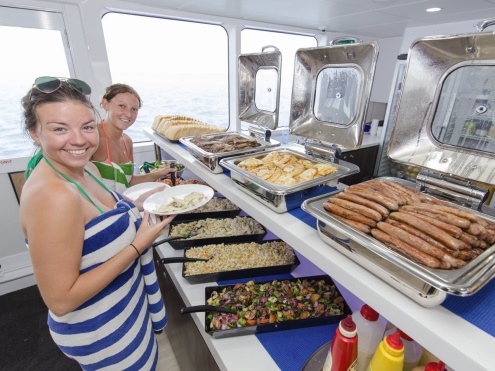 7.30am Check-in at Reef Fleet Terminal, commence boarding
8.15am Departs daily
9:30am Approximate arrive Norman OR Saxon Reef
3 hours to play, Snorkel Tour, sunbathe & relax, Aussie BBQ Lunch is served
12: 20pm Depart for Hastings Reef
12:30pm Arrive Hastings Reef
2 hours to play, Snorkel, 10 minute Scenic Helicopter flight
4:45pm Returns back into Cairns
Snorkelling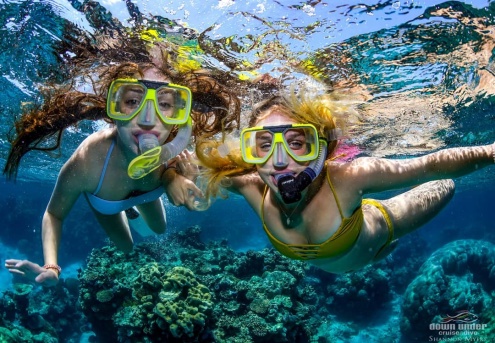 We have selected our outer reef locations for their variety and bottom contours, so to provide the best experience for both beginners, experienced snorkelers and children of all ages.
​Our staff keep a constant watch over the snorkelling sites making sure all passengers can enjoy the amazing wildlife in perfect safety. Our snorkel supervisors are all experienced Divemasters and provide in-depth briefings on safety procedures and site orientation, so you know where to find all the 'cool stuff'.
​For the beginners we offer one-on-one tuition on gear use and snorkelling techniques, a selection of buoyancy aids (foam noodles, life jackets and wetsuits) and FREE snorkel guides are available all day long to guide you through the natural maze of beautiful coral and fishes.
Introductory Dives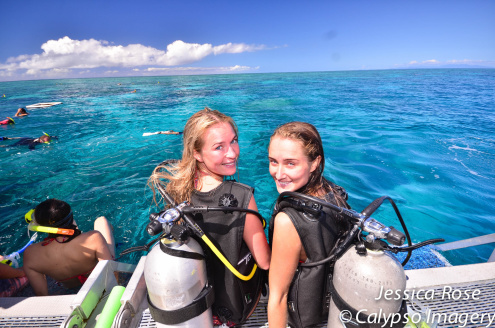 No experience necessary! Try scuba diving without any previous training or experience!
That's right, if you have never dived before, and have always wished to experience firsthand the beauty of the underwater world you can arrange an Introductory dive with one of our friendly and professional Instructors. ​ Through the PADI Discover Scuba Diving program you will be taught all the basic skills required to dive down up to 12 metres while accompanied by one of our experienced Instructors.
Even people with limited swimming ability can enjoy the thrill of diving the Great Barrier Reef in perfect safety. ​ Requirements Participants must be at least 12 years of age All participants must complete a medical assessment on board to assess their fitness for diving Try our FREE Scuba lesson (available on-board)…it's fun and it's easy!
Certified Dives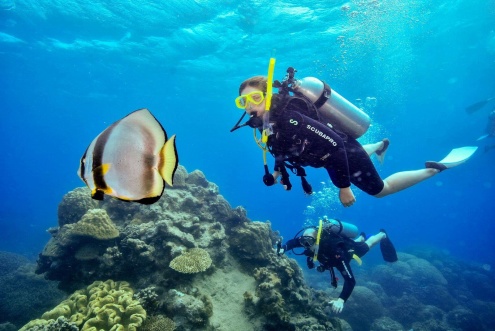 EVOLUTION travels to 2 of our 12 exclusive outer reef dive locations every day. With over 5 hours at the reef, there's plenty of time between dives for snorkelling and relaxation. Our certified divers can enjoy up to 3 dives per day, either guided with one of our professional Divemasters or with your own dive buddy or one we can provide for you. ​
Our experienced, environmentally conscious Divemasters know all the best areas at our sites, and know how to find and interact with all the amazing marine life.
Marine Biology Guided Snorkel Tour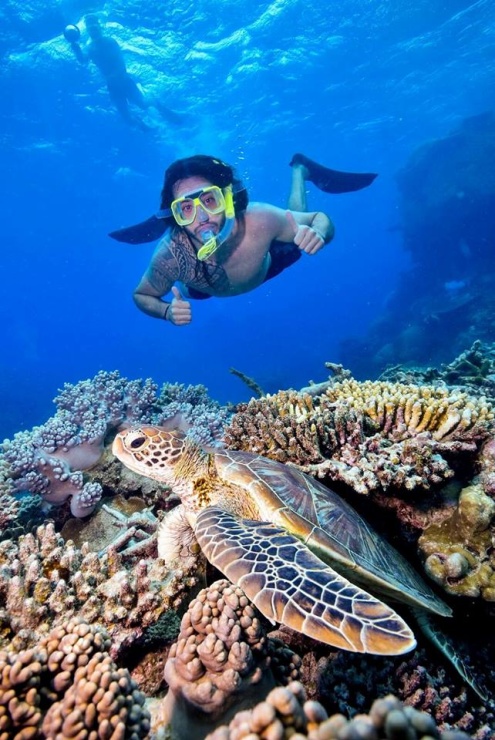 Learn the secrets of the reef from our marine biologist and then explore the coral gardens on a guided snorkel tour.
Our team of dedicated Marine Biologists are actively engaged in conservation work on the Great Barrier Reef. Their weekly tasks include collation of data via observational surveys as part of the Eye on the Reef program with the Great Barrier Reef Marine Park Authority.
Join these professional men and women for a guided snorkel tour, which takes approximately 20 minutes - and which will bring you up close and personal with the extraordinary marine life and colourful coral.
For first timers, this is also a great way to learn the art of snorkelling and feel comfortable in the water. For more experienced snorkellers this is an interactive tour that will put you on the key coral formations and marine creatures - setting you up for a great day of exploration at your own pace.
SubXplorer Semi Submersible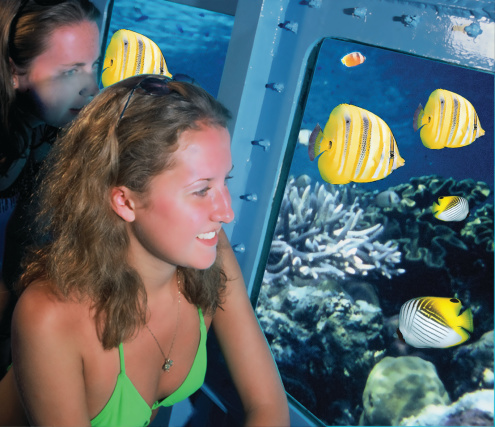 Enjoy the spectacular coral formations without getting wet on our board SubXplore - our semi-submersible.
The tour operates at Hastings Reef and runs for approximately 20 minutes. Our friendly team help guests board directly from Evolution safely. Once inside everyone has a seat by the enourmous viewing windows and you will be welcomed on board by our Marine Biologist who will provide live commentary in English throughout the tour - helping you understand the enormity of the world's largest living organism.
(The Semi Submarine Tour is weather permitting. This optional activity is fantastic for all ages, particuarly families with small children and non-swimmers)
​Important information: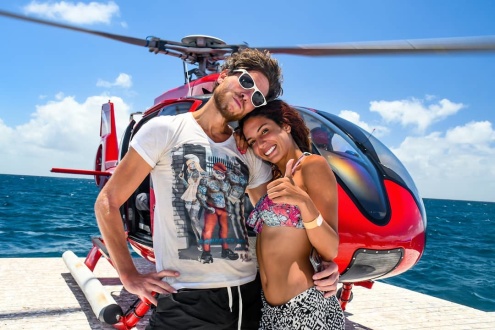 Please be advised: 110kg weight restrictions apply for helicopter rides.
All divers must complete a Medical Questionnaire. Please be aware that certain medical conditions (eg asthma, heart disease, diabetes) and/or prescription medication may preclude some people from diving.
You will need to fill out the following documents for diving - you can download them and fill them out now or fill them out on the day. Please have a look at them to see what is required:
Divers medical questionnaire.pdf
Divers over 65yrs require a medical - if you answer YES to any question you will be referred to a qualified physician for a Dive Medical assessment. You will not be allowed to dive until you are declared medically fit to dive.
For advice please contact our office directly. Final decisions rest with our qualified dive instructors who consider your safety – our highest priority.
What to bring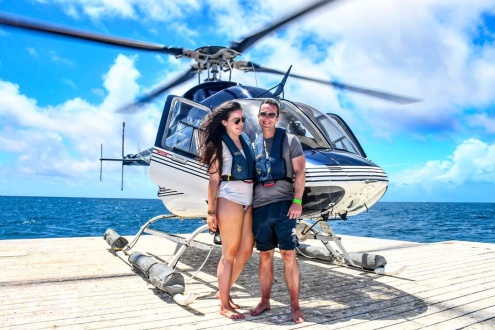 Sunscreen & Hat
Travel Voucher
Spare Clothes
Swimmers and a towel
Cash or Credit Card
Australian Standard Dive Medical (if required)
---
Get High Up Top & Dive Down Under Reviews
---
Get High Up Top & Dive Down Under
Where: Cairns Reef Fleet Terminal - 1 Spence Street, Cairns When: Check in from 7.15am-8.00am daily at the Reef fleet Terminal
---