---
About OceanQuest Liveaboard Trip
Reef Accommodation on the Outer Great Barrier Reef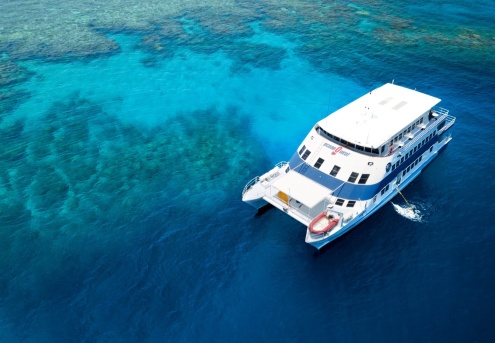 Perfect for Snorkelers, Certified and Introductory Divers
Check In - 07:30 - 08:00 (Pick-Up and Drop-Off available for all Cairns city accommodation)
Return - 16:45
# Dives: Up to 5 dives a day, (4 day, 1 Night)
Location: Norman / Saxon / Hastings Reef Cairns' Outer Reefs, The Great Barrier Reef
​Departs - Daily access via SeaQuest
Come and join us for the adventure of a lifetime diving the magnificent Outer Barrier Reef with Cairns' leading dive operator.

​Wake up to watch the sun rise over the Great Barrier Reef. This is exactly what you will experience when staying overnight on-board our liveaboard vessel OceanQuest. With daily departures via our fast transfer vessel SeaQuest, we can offer flexible itineraries from a single night stay to multiple nights on The Great Barrier Reef.

Looking to travel in June/July? Check out our Minke Whale expeditions for a truly unique experience.
The Vessel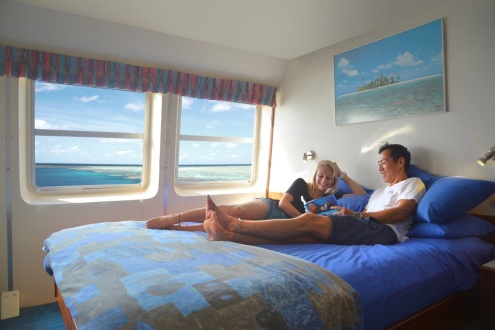 OceanQuest is a 36 metre catamaran over 3 decks with the capacity to sleep 48 customers overnight.
There is a large lounge area on the wheelhouse deck with a bar where you can relax and kick back after a long days diving. The main deck has a large dining room capable of comfortably seating 48 passengers.
Cabins:
4 x Double bed Staterooms with ocean views
18 x Twin share 2x single beds. Ocean views (with the exception of 3 cabins)
1 x Multishare 4x single beds
All cabins feature:
Air-conditioning
Private en-suite bathroom
TV
Australian electricity outlets
Inclusions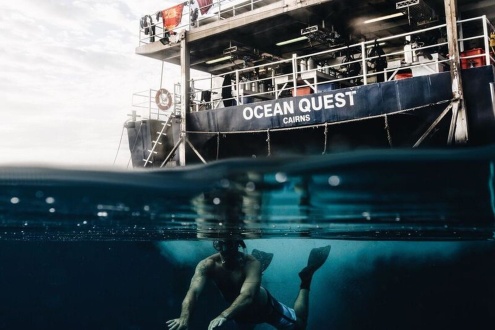 SCUBA & Snorkel equipment
Wetsuits, dive computer
Air fills
Fresh chilled water
Tea & coffee
All meals onboard
Prescription masks
Extras Onboard
Nitrox Fills
​Snacks (CHOC/CHIPS ETC)
Alcoholic beverages
SCUBA Guide ($15 per dive)
Introductory SCUBA
Photo purchases
Digital camera hire
Souvenirs
Example Itinerary - Access To and From OCEANQUEST 365 days a year!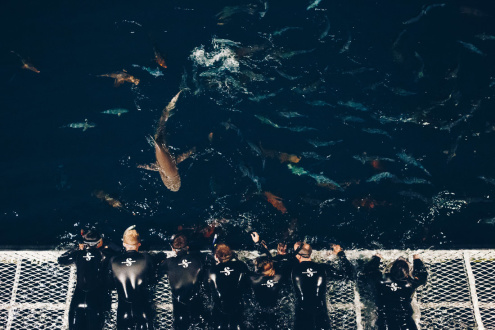 Day One - 4 Dives
07:30am - 08:00am pick up from your Cairns city accommodation
8.00am Board a fast modern transfer boat for 90 minute transfer to Outer Barrier Reef
Equipment selection
2 dives before transferring to your Liveaboard at 2.30pm
Afternoon dive and night dive
Lunch and dinner
Day Two - 4 Dives
Three day dives
One night dive
Breakfast, lunch, dinner
Departure Day - 3 Dives
Breakfast and lunch is included
3.00pm Depart Outer Barrier Reef
Return to your accommodation approx. 5pm
Snorkelling aboard OCEANQUEST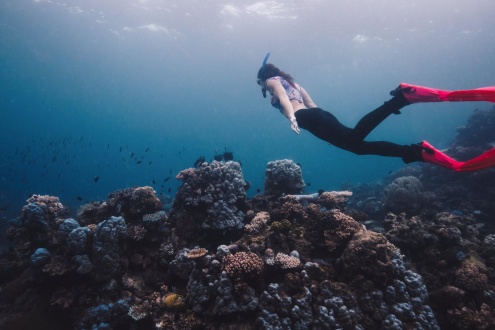 Snorkelling is the easiest way to discover the Great Barrier Reef, it is as simple as breathing. If you have never snorkelled before, don't worry, a briefing is held on board, explaining how to put on and use the snorkelling gear. All of the snorkelling equipment you will require is supplied as part of your trip, including a wetsuit or stinger suit. Prescription masks are also available upon request.
Discover SCUBA aboard OCEANQUEST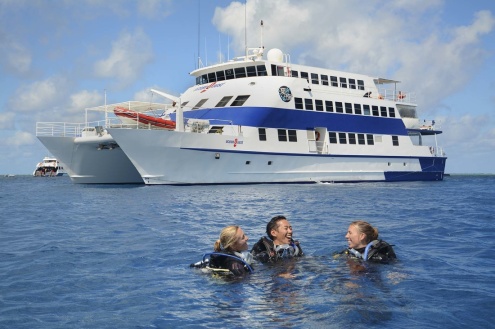 Introductory diving is a great way to experience the exhilaration of diving without taking a full PADI Open Water Course. The PADI Discover SCUBA is a non certification program. During your cruise out to the Great Barrier Reef our experienced SCUBA Instructors will clearly guide you through all the skills involved. The briefing covers all the procedures that will make your day not only safe but an unforgettable experience. You can pre-book a package of 5 Intro Dives on OceanQuest and subject to availability and trip duration you may be able to add more once on board.

Prerequisite ​12 years off age, successfully completed self-assessed medical declaration.
Certified SCUBA aboard OCEANQUEST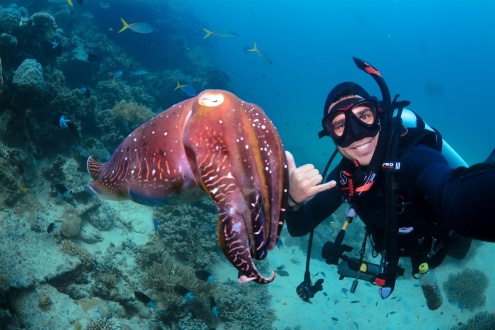 Experience the Great Barrier Reef Diving the best way - on a Liveaboard. Our daily departures and flexible trips make this the easiest way to log some serious bottom time in with more than 1,000 different species of fish and many more creatures. Each full day on the Liveaboard offer you a chance to do up to 5 dives.
From an early morning dive getting to watch the reef 'wake up' through to the exhilaration of splashing after dark and seeing some of the nocturnal critters. We also offer the chance to participate in a Fluoro Dive. New in 2017 - Nitrox fills and Courses available.
SCUBA Dive with Sharks on The Great Barrier Reef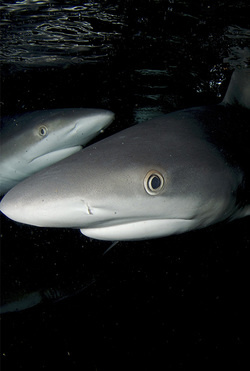 Sharks in the Dark!
Our Liveaboard OceanQuest (suitable for Snorkelers and SCUBA Divers) features our exclusive 'Sharks in the Dark' experience. With our SCUBA night dives you can explore the Great Barrier Reef in the dark and see all the friendly marine creatures that come out to play, including our harmless Australian Reef Sharks. Although divers are only permitted into the water after dark, snorkelers can witness these magnificent creatures as they play in the gentle lights cast from our vessel.
Grab a drink, a sun lounger, and watch these inquisitive animals patrol the dark barrier reef waters. If conditions are calm, you may even get the chance to place on a mask and have a peek under the surface, it's common for reef sharks to pass within just feet of our vessel! This is a safe, calm experience, the sharks having become accustomed to the vessel over many years. It is against policy for any food to enter the water.
Fluoro Diving - Exclusive to Divers Den, Cairns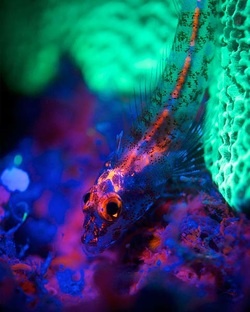 Let's Go Fluoro
This spectacular dive extravaganza brings the reef to life with a range of amazing colours. Bio Fluorescent Diving is available exclusively to Deep Sea Divers Den on board OceanQuest for only $50 per dive, including specialist torches and mask filters which create amazing fluorescent underwater landscapes. Fluoro Diving offers a truly unique and magical experience on the Great Barrier Reef!

Fluorescence is the emission of light by a substance that has absorbed light or other electromagnetic radiation. It is a form of luminescence. In most cases, the emitted light has a longer wavelength, and therefore lower energy, than the absorbed radiation. Fluorescence occurs when an orbital electron of a molecule, atom or nano-structure relaxes back to its ground state, thereby emitting a photon of light, after being excited to a higher quantum state by some type of energy. In our case, we are "hitting" an organism with higher energy light (relatively) in the near-actinic range, and lower energy light (relatively) in the green, yellow and red portion of the spectrum is being emitted. The actual color emitted is determined by how many quantum states the electron has "decayed" or relaxed back to.

​When energy (UV or violet/blue light in our example) strikes an atom, it knocks an electron up to a higher energy state. When the electron decays back to its normal state (usually instantly, after a few nanoseconds), it emits a photon of light (in the more visible, lower energy part of the spectrum in our example).
What To Bring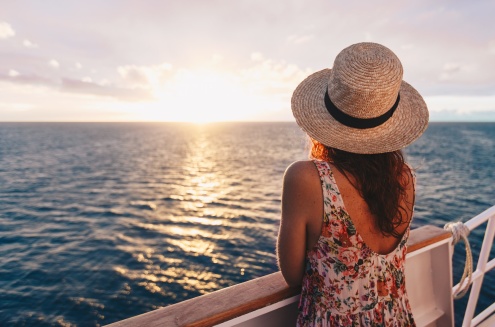 Hat, towel, swimsuit
Sunscreen
Sunglasses
Certified Divers please bring Cert-Card & Logbook
Warm clothing and socks for sleeping
PLEASE NOTE: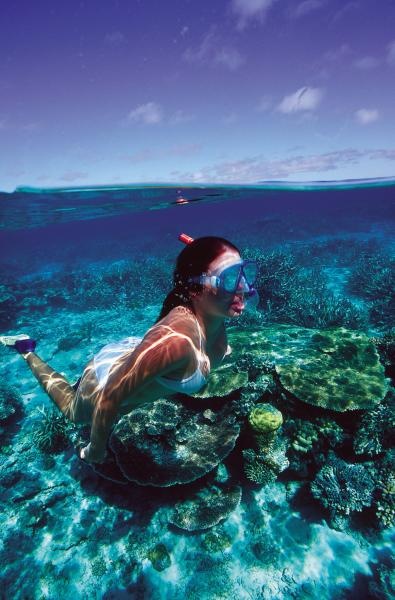 Itinerary is a guide only. All times and sequences are subject to change, indicated number of dives is a maximum (may be subject to weather/safety conditions)
Flying and altitude after diving:
- Divers Den recommends waiting a minimum 24 hours whenever possible.
- These are guidelines only, there is no guarantee that these recommendations will prevent decompression sickness.
- Altitude is 300m/1000ft above sea level.
This includes going to the Atherton Tablelands, so be careful when you are booking tours to follow your dive trip.
- Under normal circumstances, you should be out of the water on your last dive at 12pm (midday), this should help with organising any travel plans you have after your dive trip.
- If you are doing an introductory dive you will be asked to fill out and sign the following form: Cairns Introductory Diver Form
- If you answer YES to any questions further medical clearance may be required. This must be arranged prior to day of departure.
- If you have a medical question, please feel free to contact Cairns 24 Hour Medical Centre, Cnr Grafton & Florence Streets, Cairns - Phone 07 4052 1119
- If you are a certified diver you will be asked to fill out and sign an Advice to Divers Form.
- Medical Standards differ from country to country, certain medication / medical conditions may preclude you from diving in Australia.
- If you answer Yes to any of the questions below, further medical clearance may be required. (This must be organised at least the day before your trip start date). In some circumstances you may be able to dive, with a certified professional (Dive Guide), at an additional cost.
---
OceanQuest Liveaboard Trip Reviews
---
OceanQuest Liveaboard Trip
Check In - 07:30 - 08:00 Pick-Up and Drop-Off available for all Cairns city accommodation
---