---
About SeaQuest | Cairns Reef Day Trip
SeaQuest Budget Day Trips to the Outer Great Barrier Reef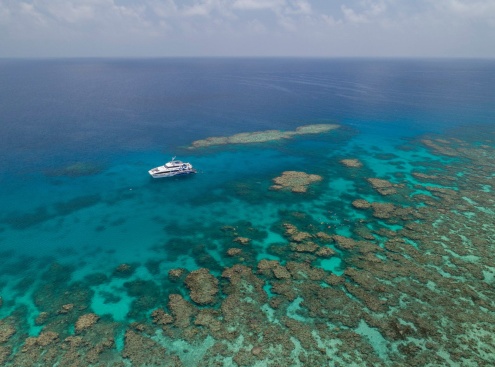 Offering the opportunity to spend a full day on the magnificent Great Barrier Reef with unlimited snorkelling and/or the chance to do two SCUBA dives per day. Visit two stunning Great Barrier reef locations with all equipment included. Our professional and friendly crew will ensure that you have a fantastic day on the reef.

We offer a full Tropical Buffet Lunch with something for everyone, including a variety of salads, cold meats and fruits. Complimentary tea, coffee and chilled water are available throughout the day as well as snacks, soft and alcoholic beverages for an additional cost.
Departures:
Check In: Daily, 8:00am 'B' finger, Cairns Marina
​Return: Daily, approximately 4.30pm
Location: Norman / Saxon / Hastings Reef (Cairns' Outer Reefs, The Great Barrier Reef)
Inclusions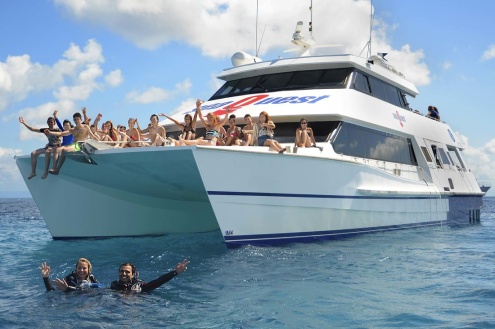 4 hours on the outer reef
Visit two exclusive dive locations
Morning tea including pastries with choice of tea or coffee
Hot and cold tropical buffet lunch selection with fresh prawns
Hot fresh water showers
Detailed snorkel and dive briefings
Free guided snorkeling tour and safety spotters
Free professional certified diver guides (optional)
Free use of dive / snorkel equipment
(including masks, snorkel, fins and flotation devices)
Free use of wet and stinger suits
Free prescription mask (deposit required)
Day Trip Snorkelling aboard SeaQuest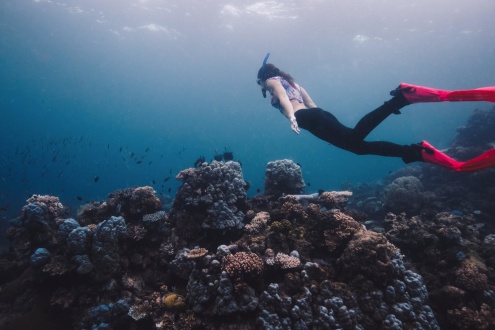 Snorkelling is the easiest way to discover the Great Barrier Reef, it is as simple as breathing. If you have never snorkelled before, don't worry, a briefing is held on board, explaining how to put and use the snorkelling gear. All of the snorkelling equipment you will require is supplied as part of your trip, including a wetsuit or stinger suit. Prescription masks are also available upon request.
SeaQuest is our liveaboard transfer vessel and offers the budget conscious great value for money with the chance to experience unlimited snorkelling at two separate reef locations on the Outer Reef. This purpose built vessel departs daily and comfortably carries up to 80 passengers in air-conditioned bliss to the Norman, Saxon, and Hastings Reef systems.
If you have never snorkelled before we will teach you how to put on and get the most out of the snorkelling gear and assist you into the water to enjoy your first taste of The Great Barrier Reef. If you are a snorkeller extraordinaire or even somewhere in the middle we will get you out and about finding some of our friendly residents.

Discover SCUBA aboard SeaQuest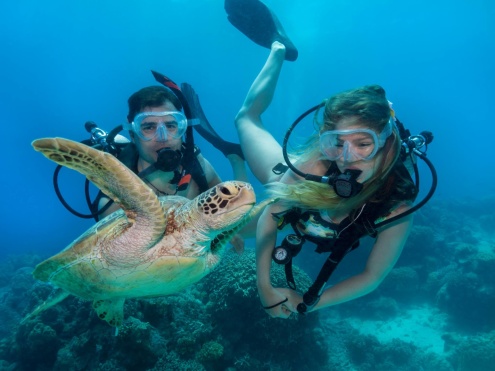 Want to go SCUBA diving, but don't want to go through the whole PADI course. Why not discover SCUBA diving with an introductory dive!! Nothing compares to the first breath you take underwater, or the feeling of weightlessness, or even coming face to face with an underwater critter that you have only ever seen on TV.

Introductory Diving is a program designed for those that have no official SCUBA certificate. These dives are under supervision of our highly qualified dive instructors and there will be a maximum of 4 divers with 1 instructor. You will go to a maximum depth of 12 m (40ft) and these dives generally last around 1/2 hour.

​On the way out to the Great Barrier Reef our friendly and experienced instructors will give you a briefing on what to expect and what procedures will be followed to ensure that your first breaths underwater are a safe and unforgettable experience.

Once you arrive at the reef, you will get comfortable with your equipment by practicing on the surface. Once you are comfortable with those skills, you practice them again only this time with the added thrill of being underwater! Finally when you feel comfortable, it's time to dive. Relax, Breath in, Breath Out, repeat as necessary and most of all enjoy!!!
Certified SCUBA aboard SeaQuest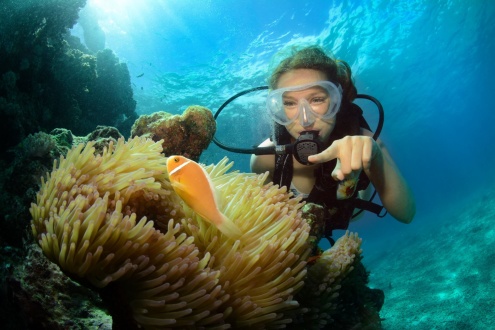 Cairns' warm waters offer excellent conditions to enjoy your diving experience. With more than 1,000 different species of fish, you will be amazed by all the diversity the Great Barrier Reef has to offer. 'Nemos', Parrotfish, shy Sharks, a friendly Mahori Wrasse called Wally, Turtles, and many more creatures.

During your day trip, you will be able to dive in two different locations on the reef, chosen according to the weather conditions and the safety and enjoyment of our customers.
​
All equipment that you require is included in the course cost. All our dives are certified buddy dives but if it has been awhile since you last dived or if you just want to cruise and let someone else remember where the boat is then dive guides are available for an additional cost. (HINT: they also know where all the cool things are!!)

Make sure that you remember to bring your certification card and your logbook with you for a friendly crew member to see.
What To Bring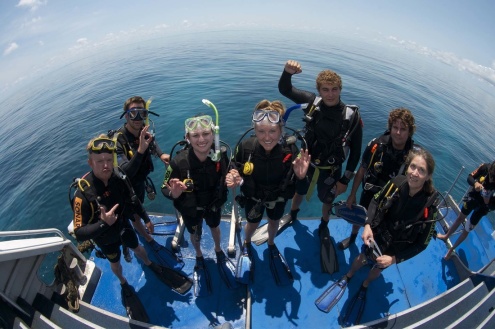 Hat, towel, swimsuit
Sunscreen
Sunglasses
Certified Divers please bring
Cert-Card & Logbook
Reef tax ($20 per person per day)
IMPORTANT INFORMATION FOR SCUBA DIVING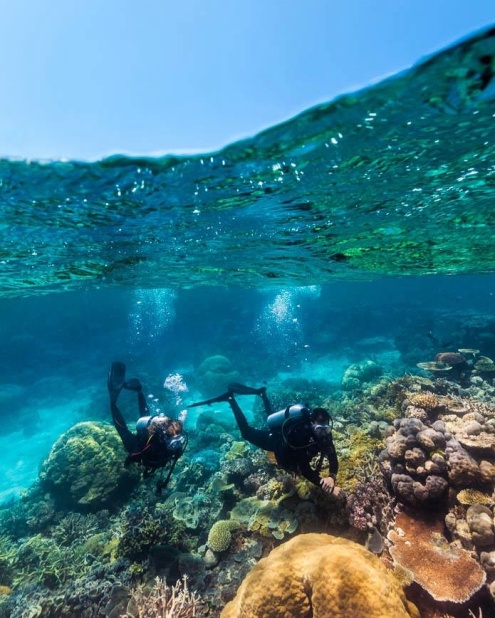 Flying and altitude after diving:
- Deep Sea Divers Den recommends waiting a minimum 24 hours whenever possible.
- These are guidelines only, there is no guarantee that these recommendations will prevent decompression sickness.
- Altitude is 300m/1000ft above sea level.
This includes going to the Atherton Tablelands, so be careful when you are booking tours to follow your dive trip.
- Under normal circumstances, you should be out of the water on your last dive at 12pm (midday), this should help with organising any travel plans you have after your dive trip.
Introductory Diving:
- If you are doing an introductory dive you will be asked to fill out and sign the Cairns Introductory Diver Form
- If you answer YES to any questions further medical clearance may be required. This must be arranged prior to day of departure.
- If you have a medical question, please feel free to contact Cairns 24 Hour Medical Centre, Cnr Grafton & Florence Streets, Cairns - Phone 07 4052 1119
- If you are a certified diver you will be asked to fill out and sign an Advice to Divers Form.
- Medical Standards differ from country to country, certain medication / medical conditions may preclude you from diving in Australia.
- If you answer Yes to any of the questions below, further medical clearance may be required. (This must be organised at least the day before your trip start date). In some circumstances you may be able to dive, with a certified professional (Dive Guide), at an additional cost.
---
SeaQuest | Cairns Reef Day Trip Reviews
---
SeaQuest | Cairns Reef Day Trip
Check In: Daily, 8:00am 'B' finger, Cairns Marina
---