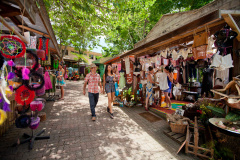 Come with us to the Kuranda Original Markets! You will love the eco-friendly stalls, and meet the locals. Located in the Rainforest of Kuranda, these markets feature tropical gardens, gourmet regional fare, contemporary art, great clothing, jewelry, homemade food products, events and more . . . even...
About Souveniers For Cairns
We have many Souveniers and dollar stores in Cairns. They change location and come and go but if it is souveneirs you are after they are everywhere. I have a dislike for all Boomerangs made in China but if you are looking for one they are everywhere.

There is a relatively interesting souvenier store at the Lake St end of Orchid Plaza and also an R. M. Williams store inside this centre.