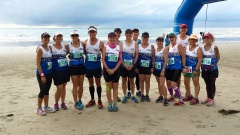 Dynamic Running Ltd. aims to inspire runners into a life-long passion for running. The company limited by guarantee was created in April 2014 as a not for profit organisation to promote running, and in particular group training for runners in the Cairns region. We are based in Edge Hill, and we also...
About Sporting Clubs For Cairns
The Cairns Taipans have been playing for 10 years now and have a full schedule of Basketball
games this season. Come along and watch our fantastic local team at the Cairns Convention Centre!


Cairns Hockey Association is responsible for Hockey in the Cairns region. Our hockey fields are located at the Northern end of the Cairns Esplanade.


The Cairns Yacht Club is currently having a battle to keep the old Cairns Aquatic Club house on the waterfront open however the picture is fading fast and the building has now been closed. The New Cairns Yacht Club is located at the Northern end of the marina in a very modern facility.


The Yorkeys Knob Boat Club is a popular spot for a lunch or dinner and has great facilities for the boating community.


The Cairns Rowing Club is located in Portsmith and rows Trinity Inlet.


The Cairns and district Fishing Club.


There are a number of Football clubs in the city.


There are a number of Golf clubs including Paradise Palms, Cairns Golf Club and the Yorkeys Knob Golf Club.


Yoga and Pilates is very popular and is offered by many health clubs including the Cairns Yoga Academy.


Cairns PCYC runs a comprehensive Gymnastics programme. The Barron River Valley Gymnastics centre is also a very popular and established club.


Lawn Bowls is a very popular pastime. These clubs have excellent dining facilities and generally have "Barefoot bowls" and "Ladies Days" as well as many different events. Come along and have fun for all ages!


Parachuting and Skydiving


Parasiling


Rafting


Roller Blading



Martial Arts


Swimming


Paintball and Skirmish


Ten Pin Bowling


Bungee Jumping


Bushwalking


Canoeing and Kayaking


Cycling


Dance


Triathlon


Tennis


Touch Football


Water Skiing


Scuba Diving


Camping


Athletics, Badminton, Baseball and Softball.


The climate in North Queensland is perfect for outdoor pursuits and people of all ages are involved in sport to become fit, have fun and meet new friends. We have many sporting clubs and sporting activities available for beginners to elite so come along and learn some new skills.