---
About Coral Sea Sportfishing Safaris
About CSSS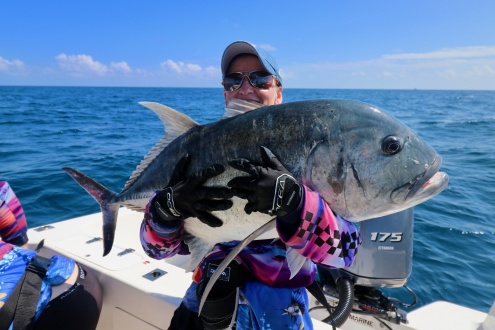 We are the Sportfishing Specialists. We know the where, when, why and how of sportfishing. But what is it exactly that we do? We hunt the biggest meanest fish in the Coral Sea by casting surface lures, jigging and light tackle trolling. We take you to destinations where few have the capacity to venture and the fish are big and bold. Most importantly we provide you with the knowledge required to hook, fight and land those bucket list fish. "We do the miles so you get the smiles" is a slogan we have embraced. We definitely do the miles on our "Extended Safaris" out to remote outer reefs off Lucinda, the same can be said for our "Escape Day Trips" on the Great Barrier Reef; we travel that little bit further than the rest getting away from major population centres in order to get you bending on as many big fish as possible. This slogan reflects our service as well; our staff will go that little bit further to create the adventure of a lifetime for you. We use quality tackle and equipment, Wilson Venom Livefibre rods exclusively and Shimano and Diawa reels; and they are all in excellent condition. Our 8 metre Hooker Boats centre console "Insidious" is state of the art and custom built for fishability, safety and comfort. Chasing big GTs is our passion, not just our business. We live to see all our clients achieve their angling goals. We even go to the extreme of offering our clients that little bit of extra incentive, by way of our "CSSS Big Fish Club".
Escape Full Day Trips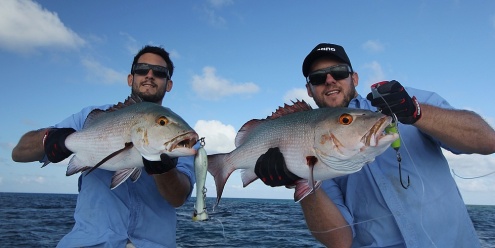 Launching daily from Port Douglas or Innisfail with a free pick up from Cairns. These trips are an ideal introduction to sportfishing where you can target a broad spectrum of species and participate in a variety of techniques. Or should you have a particular species and technique in mind your day can be customised to suit. Ice-cold soft drinks and water are onboard for your refreshment, morning tea consists of fresh baked pastries and fruit, lunch is served as individual gourmet platters; and cheese, biscuits and nibbles served for afternoon snacks while being chauffeured home. All this punctuates some of the best local sportsfishing on offer. All Escape Day Trips are on a private booking basis for a maximum of 3 anglers. Cost AUD$1200 per day for the boat.
Remote Safaris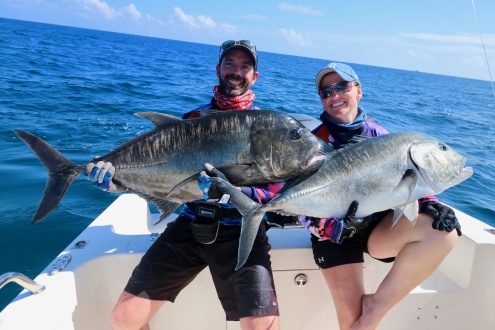 Our extended safaris step off from the port of Lucinda situated at the southern end of Hinchinbrook Island. You will explore the lesser travelled pristine outer reef systems, as well as the inshore areas surrounding Hinchinbrook Island, the Palm Island group and Lucinda. The fish are big and brash and the action is hot. Our extended safaris run for 3, 4 or 5 days and operate on a private charter basis for a maximum of 3 anglers. Lucinda Fishing Lodge is our base of operations, all the rooms at the Lodge are self contained and air-conditioned. Situated at the southern end of the picturesque Hinchinbrook Channel, approximately 3 hours south of Cairns, the Lodge provides an excellent point of disembarkment, with it's own private pontoon. These extended safaris are priced at $1800 per day, per boat. This works out at $600 per person per day for a group of 3 anglers This price includes all fishing and tackle, accommodation, transfers from Cairns or Townsville and all meals and beverages (excluding alcohol) for a maximum of 3 anglers.
---
Coral Sea Sportfishing Safaris Reviews
---
How to get to Coral Sea Sportfishing Safaris
---