---
About Passions of Paradise Full Day Reef Tour
MULTI AWARD WINNING GREAT BARRIER REEF TOURS PASSIONS OF PARADISE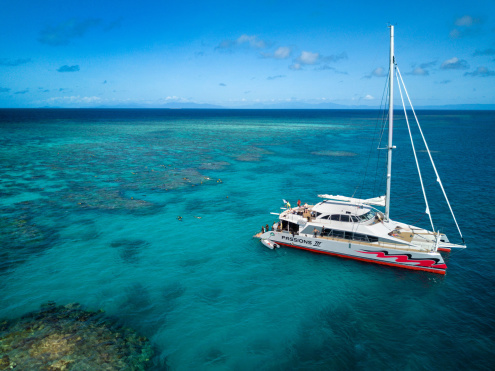 Experience the adventure of snorkelling, diving and sailing on the Great Barrier Reef with Passions of Paradise. The 25 metre high performance catamaran sails daily from Cairns to two unique outer reef locations, where you can dive and snorkel with turtles, colourful fish and see an amazing variety of corals.
Enjoy a personalised day on the Great Barrier Reef with a friendly crew dedicated to making your trip memorable and a local operator whose environmental credentials and attention to detail have earned many awards including the Australian Tourism Award for Adventure.
OUR TOUR INCLUDES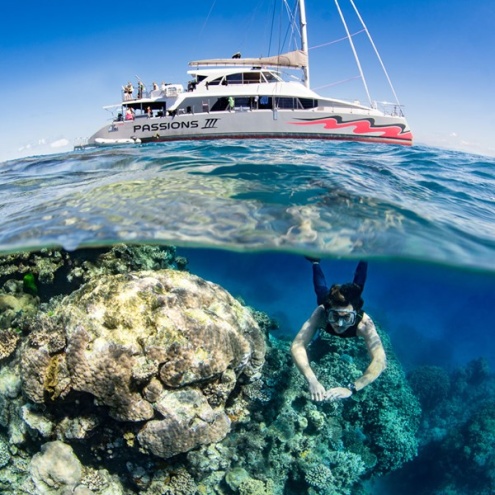 Sailing on a stylish and fast catamaran to two unique outer reef destinations
All Snorkelling equipment including a free guided Snorkel Tour
Relax on our stylish upper deck or netted deck trampoline at the bow of the boat
A chef prepared tropical buffet lunch of hot and cold dishes including fresh tropical fruit.
Morning and afternoon tea provided
Meet with our Eco accredited marine naturalist who provide presentations on coral fish and life
YOUR DAY ON THE GREAT BARRIER REEF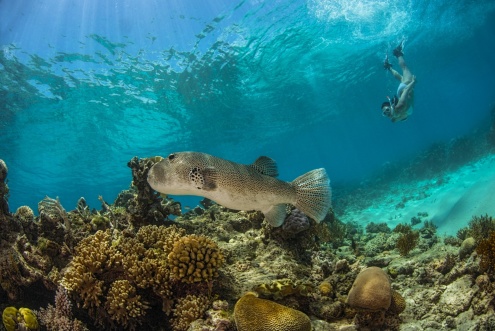 Cruise from Cairns at 8am aboard the stylish Passions Catamaran to the Great Barrier Reef
Relax with morning tea, get to know the crew and learn all about or marine eco system
Arrive at our first amazing outer reef location, where you can snorkel, dive, sunbathe, or chill out on the boat
Time for a Tropical buffet lunch of hot & cold dishes including local fruit
Arrive at our 2nd amazing outer reef location, where you can jump in for a swim, snorkel, dive or relax
Wind down with a cold beverage on the sail back to Cairns for 5pm whilst enjoying afternoon tea
SNORKELLING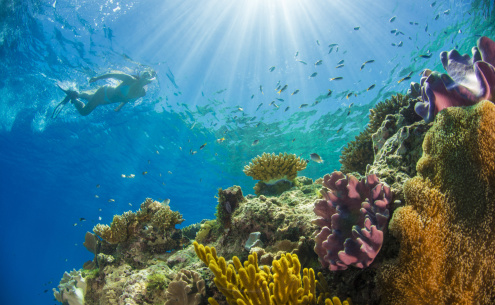 Included for free on your full day outer barrier reef trip
Green turtles, manta rays, clown fish, soft and hard corals – you never know what you will come across when you snorkel in the warm, clear waters on our Great Barrier Reef Tours. A full briefing on how to snorkel, fit the equipment and make the most of your time at the Reef is given. Join a free snorkelling tour for a unique insight into this special World Heritage area. Read more
INTRODUCTORY DIVING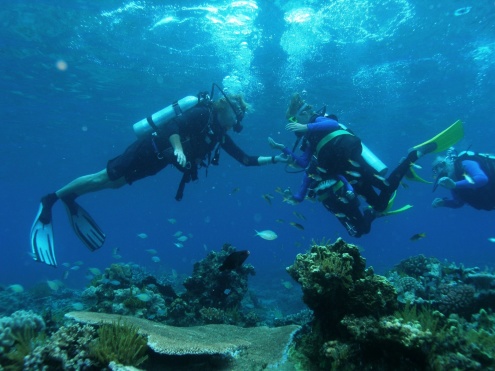 Introductory diving is a safe and fun Great Barrier Reef adventure that allows you to get up close to turtles, giant clams, clown fish, coral trout, barramundi cod and a variety of colourful corals. All introductory scuba divers start from the safety of the Passions of Paradise catamaran and dive in a calm, shallow lagoon full of marine life
Passions offer Intro Divers:
A FREE "try before you dive" policy which means you are welcome to join the briefings, get into the water and use apparatus for 5 minutes before deciding to continue with your dive
Maximum of 4 students per Instructor
Highest quality equipment
Outstanding safety record
Highly experienced instructors
CERTIFIED DIVING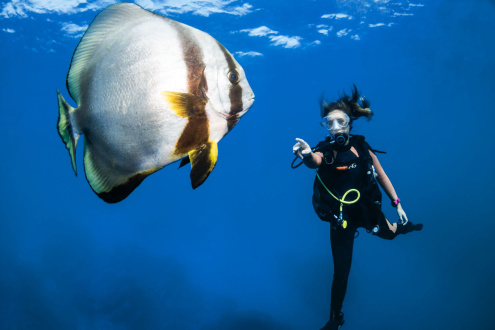 Certified scuba divers have an amazing range of exclusive reefs to dive with a selection of drift dives, wall dives and swim throughs. With our extensive choice of reef destinations, we will take you to the best locations on the day for a fully guided dive with all your equipment, including wetsuits and computers, provided. Explore the depths of the Great Barrier Reef.
Passions offer Cert Divers:
Drift dives, wall dives and swim throughs
Price inclusive of all gear, dive computer and wetsuit
Complimentary guided dive with our experienced Dive Masters
High quality brand new equipment
Two remote locations you won't be bumping into other divers from different boats
GREAT BARRIER REEF ECO TALK
Included for free on your full day Outer Barrier Reef trip
Join our free eco talk on the way back from the reef following your in-water activities. This fun and lively 30 minute commentary on the coral, fish and unique features of the Great Barrier Reef is a great opportunity to learn more about the ecosystem you have just dived and snorkelled. Highly interactive, marvel at how hard and soft corals co-exist, why reef creatures work together and why Nemo's father is actually his Mother? Come away appreciating how we can all take a part in protecting the Great Barrier Reef for future generations.
REEF LOCATIONS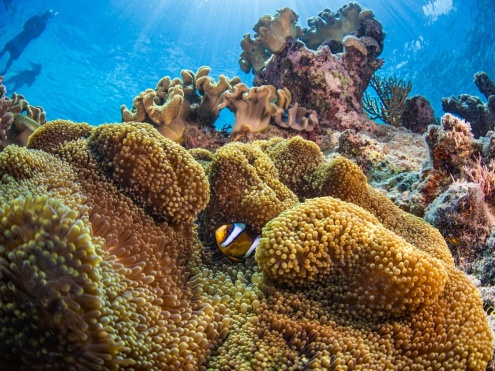 Each day we will select the site best suited to the weather conditions to give our guests the best possible experience. Our exclusive moorings include Flynn - Little Tracey, Flynn - Point Break, Milne - Three Sisters, Milne - The Whale, Milne - The Edge, Milne - The Drop, Thetford - 360. Thetford - Nolans Bommie, Moore - East Timor, Moore - West Timor, Moore - 5 Ways, Moore - Wildside, Pretty Patches, Breaking Patches - Long Bommie, Breaking Patches - Paradise Reef, Hastings Reef - 1770, Hastings Reef - Stepping Stones, Hastings Reef - Split Bommie and Norman Reef and so on...

All sites include stunning coral gardens, structures and fish. Some are notable for swim-throughs while others have very shallow lagoons. All reefs are different but you can be assured of having an enjoyable day with the best possible reef options offered on the day subject to tides and weather conditions.

Certified scuba divers can experience depths of up to 25 meters along the edge, water clarity is good and the Outer Reef is host to many exciting fish species.
DEPARTURE DETAILS AND WHAT TO BRING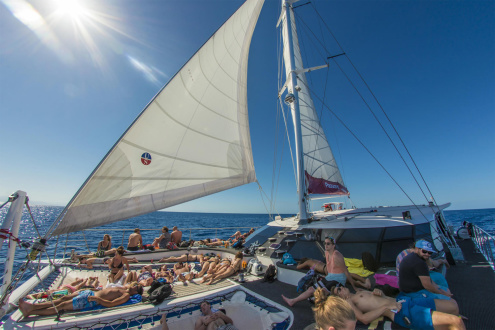 Check in is at our counter at the Reef Fleet Terminal, Marlin Marina from 7:00 am for 8 am departure.
Bring, hat, sunscreen, bathing gear, sunglasses, towel, etc. as you would for travelling to the beach. We have credit card facilities on the boat.
Things to know about Scuba Diving: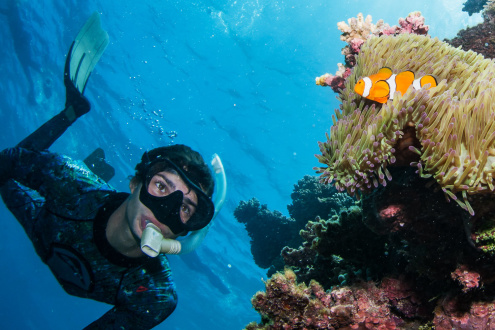 Under Australian scuba diving legislation, all scuba divers are required to complete a dive medical form on board the vessel.
Passengers with a history of asthma, heart, ear and other medical conditions may be precluded from diving. 18 hours surface interval is recommended before flying. Please be certain of your clear health condition before booking the scuba dive option.
Minimum age for scuba diving is 12 years.
---
Passions of Paradise Full Day Reef Tour Reviews
---
Passions of Paradise Full Day Reef Tour
We check in from 7:oo am at our counter at the Cairns Reef Fleet Terminal at the end of Spence Street, Marlin Marina. The boat is located about 50 meters away on the Marlin Jetty and we depart at 8 am.
---