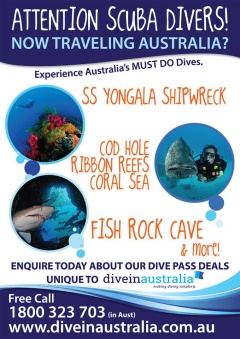 Our mission is to help you plan and organise your perfect Diving Holiday while visiting Australia. We work with all dive operators and other adventure tour experiences along the East and West Coasts of Australia. Let us help you choose the right dive course, Liveaboard or day dive/snorkel trip to en...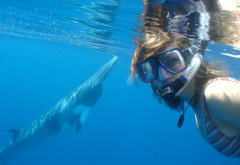 Swim with dwarf minke whales on the Great Barrier Reef this June/July with Eye to Eye Marine Encounters. As the only permitted operator with no fixed itinerary, we are free to make the most out of changing sea conditions and animal behaviour, ensuring you get the very best whale watching experien...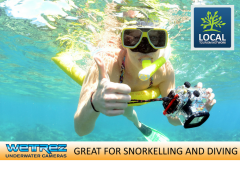 Going to the Great Barrier Reef? Want to capture awesome images from the trip of a lifetime? See us first for the best photographic options on the world's greatest natural wonder! We specialize in Digital Underwater Camera Hire and Sales, with an emphasis on providing great service, quality products...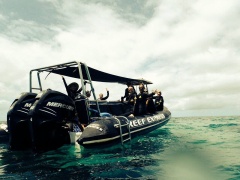 Reef Express is a snorkel tour company located on the Great Barrier Reef . We explore unspoiled reef sites less than 50 minutes from our departure points and you can enjoy an exciting ride to this magical wonder departing from the coast at Mission Beach.
About Whale Watching Tours For Cairns
Queensland is the best place in Australia to spot whales. Humpback whales migrate annually from the cold waters of the Antarctic, to warmer waters on the eastern Australian coast. Over 4000 whales take the three month journey to warmer waters to breed and give birth. Sometimes baby whales are also seen travelling with their mothers on the return journey.
The Cairns whale watching season falls between July and August. The majority of the whales seen are Humpbacks, but some Minke whales are sometimes spotted. If you are extremely lucky you will spot Migaloo who is the only known all-white humpback whale in the world. The male humpback was first spotted in 1991 and travels down the Australian coastline every year.
Reef Magic Cruises created whale watching tours in Cairns due to the high demand from both tourists and locals. As the only dedicated whale watching provider in the region, they provide daily tours at 9:30am and 1:30pm so you can have an up close experience with Humpback whales in their natural environment.
It is not uncommon for curious whales to spend a few minutes up close to vessels and swim underneath and around them before continuing on their journey. Adult Humpback whales are about 12-16 metres long and weigh approximately 36, 000 kgs each! They are a very playful and acrobatic species, who breach and splash their dorsal fins playfully on the water.
Sightings of Humpback whales off Cairns waters have increased over the last 20 years and Reef Magic Cruises guarantees sightings with their tours. If you do not see whales on the day, you can travel free any other day. In 2009 Reef Magic Cruises had a 99% success rate in spotting whales, so you are in for the experience of your lifetime!
Reef Magic Cruises use a 22m Catamaran which provides excellent viewing opportunities for all guests with plenty of photo opportunities to capture these amazing creatures in the wild. 3 to 3.5 hours of whale watching time is spent on the water, as well as commentary on the habits of humpback whales and some interesting facts. There is even an underwater microphone that is used to listen to the Humpback whales sing!
With pickup options available from Cairns and Northern beach accommodation, make sure you book your whale watching adventure today. There are only a few weeks of the year that it is available and bookings fill up fast!