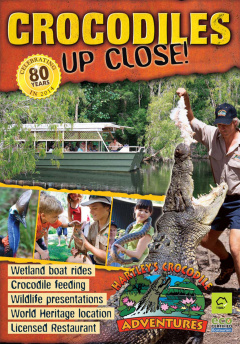 Located just 40 minutes north of Cairns and 25 minutes south of Port Douglas, Hartley's Crocodile Adventures is simply the best place to see crocodiles and local wildlife in Tropical North Queensland. With over 2100 metres of timber boardwalks and pathways leading you on a journey of discovery throu...
Experience some of Australia's most popular wildlife at Kuranda Koala Gardens. Kuranda Koala Gardens offers the opportunity to hold a Koala (extra charge can be paid for at the photo area.) plus meet kangaroos and wallabies in a free-range enclosure. See the rare Greater Bilby, the Northern Bettong...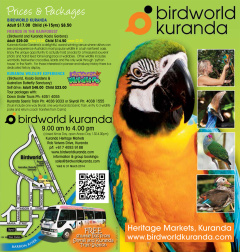 Naturally landscaped with waterfalls, ponds, exotic and native plants, Birdworld replicates the natural habitats of almost 80 species that roam this unique rainforest immersion exhibit. It is truly a photographer's delight. Birdworld Kuranda is located in the Kuranda Heritage Markets on Rob Veivers...
About Wildlife Parks & Zoos For Cairns
We have many wildlife parks in North Queensland set in a variety of different venues. In general they are located in natural surroundings however we do have a wildlife park in the glass atrium on top of the Reef Hotel Casino in the heart of the city.

Whether you are interested in:
Crocodiles
Koalas
Kangaroos
Snakes
Lizards
Scorpions
Spiders
Birds including exotic birds
Cassowaries
Spotted Quoll
Tree Kangaroos
Emus

And, we also have a wildlife park with animals from other parts of the world such as:
Spider Monkeys
Ostrichs
Rhino's
Hippos
Lions
Bears

With various experiences offered such as dining next to the lions cage at the Mareeba Zoo or having breakfast with the Birds at Rainforest Habitat or lunch with the Lorikeets. Dinner is offered at the Cairns Tropical Zoo where you also have some bush songs and see a croc show. Some zoo's have facilities to have a family BBQ and all of them have a cafe or restaurant. Some are huge free flying aviary for birds or butterflys while others are traditional sprawling zoos with many dangerous animals in enormous componds, and generally all put on feeding shows. It is also often possible to have a photo taken with fluffy friendly animals such as koalas which is a very memorable experience.