Get the best service and rates by dealing direct with Cairns Aquarium.
---
About the Aquarium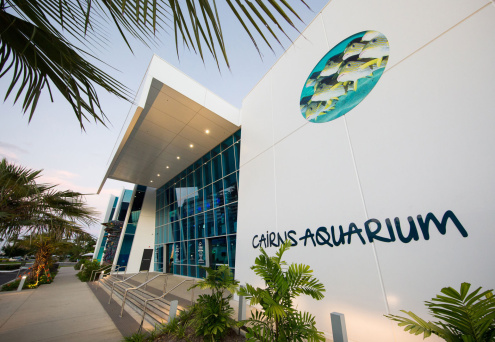 The Cairns Aquarium is one of Australia's most exciting new world-class tourist attractions. Located in the heart of Cairns, this iconic three level land mark attraction will showcase the animals, plants and habitats of the only two adjoining World Heritage protected areas – The Great Barrier Reef and The Wet Tropics Rainforest to an expected 720,000 visitors each year.
Protecting and conserving the biodiversity of these World Heritage listed ecosystems is the vision and the overriding passion of our founding partners and this commitment underpins our business philosophy and environmentally sustainable business practices.
Cairns Aquarium Presentation Times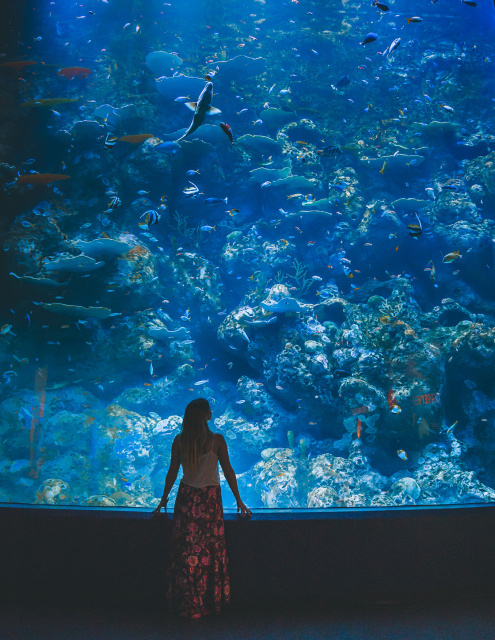 Enjoy daily talks and presentations provided by our very knowledgeable and entertaining AquaNuts - we call them that because they are crazy about all things aquatic and when you meet them you'll see and hear that for yourselves!
9:30am - Flooded Billabong River Monsters
River Monsters Amphitheatre (Ground Floor)

10:00am - Terrestrial Encounter Touch and Talk
Wet Tropics Rainforest Zone (Level 1)

10:30am - Ribbon Reef Denizens of the Deep
Deep Reef Amphitheatre (Level 1)

11:00am - Coral Sea Life of Sharks and Rays
Oceanarium (Ground Floor)

11:30am - Open Ocean Curious & Coloured
Coral Sea Amphitheatre (Ground Floor)

1:00pm - Flooded Billabong River Monsters
River Monsters Amphitheatre (Ground Floor)

2:00pm - Ribbon Reef Denizens of the Deep
Deep Reef Amphitheatre (Level 1)

2:30pm - Marine Encounter Touch and Talk
Marine Touch Pools (Level 1)

3:00pm - Coral Sea Life of Sharks and Rays
Oceanarium (Ground Floor)

4:00pm - Open Ocean Curious & Coloured
Coral Sea Amphitheatre (Level 1)
10 North Queensland ecosystems and 71 habitats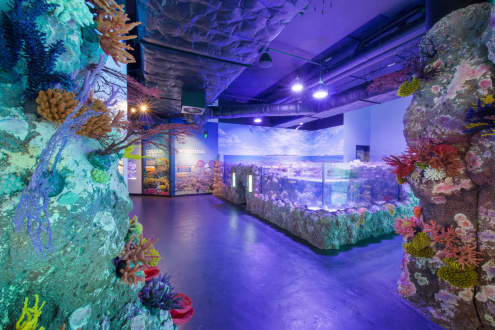 Your journey through the Cairns Aquarium follows a drop of rain as it descends from the tropical rainforest covered range, to join creeks, streams and rivers before travelling through the rainforest, across the mangrove flats and coral reef systems before entering the Coral Sea.
10 North Queensland ecosystems and 71 habitats have been meticulously researched so that these natural environments could be recreated in Cairns Aquarium to ensure the ongoing health and longevity of the species on display.
Bringing Nature to You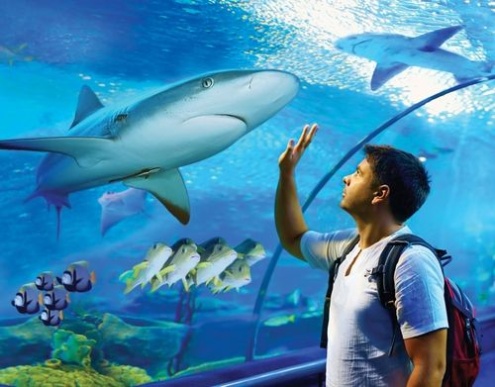 From the World's oldest living rainforest, The Daintree, to the twisted roots of the shoreline tropical mangroves to the spectacular colours and shapes of the Great Barrier Reef, to the fast flowing rivers of misty mountain forests, The Cairns Aquarium will truly cover all aquatic and terrestrial habitats in the region.
More than 5000 creatures from land, lakes, mangroves, shoreline, reefs, and open ocean ecosystems will be on display. Major themed exhibits will include: The Open Ocean, The Great Barrier Reef, River Monsters, Rivers and Streams, Life in the Mangroves, Coral Atoll, Reptiles and Amphibians of the Rainforest, Dangers of the Reef, and much more.
One of the many highlights of The Cairns Aquarium will be a two part thirty metre long 270º Acrylic underwater viewing tunnel through into a 360º open ocean viewing shark lagoon where you'll experience Australia's only school of Scalloped Hammerhead Sharks in a 2 million litre, 5 metre high deep water exhibit. Here you will witness the awesome forces of the open ocean from all angles and see the interactions of 3 metre sharks, giant stingrays, fearsome guitarfish, fast swimming unicorn fish and dozens of other reef species.
After Hours and Special Occasions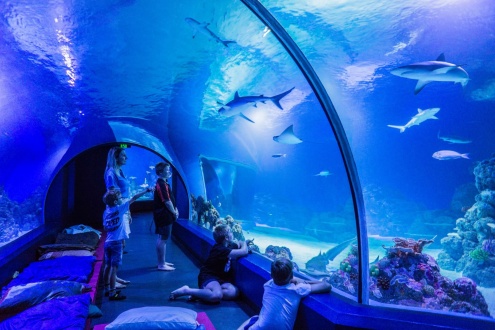 The Cairns Aquarium is a premier destination for corporate events and functions; a unique and perfect setting with giant Aquarium back drops to make a lasting impression on your employees, clients, shareholders, or friends.
The "AquaLuna" Restaurant is specifically designed to open up as an indoor/ outdoor 220 seat venue for the most intimate of Weddings, Conferences or functions with floor to ceiling Aquariums on one side and lush Tropical rainforests on the other. A professionally fitted industrial kitchen and expert catering team are on hand to provide the most exquisite menu choice for the ultimate function or event.
---
New VIP Platinum and Gold Experiences
By Cairns Aquarium
05 Feb 2019
We've added a touch of extra magic to our VIP Tours.



Our new tours bring you up close and personal with some of our most sensational creatures - including hand feeding of the friendly Cownose Rays (their bellies are as soft as marshmallows!) and an exclusive entry component - all available for F.I.T's and smaller groups at a new price point. Watch our Ray-Feeding test run here!


Introducing the Sea Explorer 5D - coming mid February!
By Cairns Aquarium
05 Feb 2019
A NEW virtual reality experience only available at Cairns Aquarium, the family friendly Sea Explorer 5D is an exciting exploration in a high-tech virtual submarine!



Coming early February, the Sea Explorer offers two 5D movies - the Deep Sea Dive and Polar Dive, submarine ride. Prepare to get your sea legs on as the motion floor simulates a true submarine experience! An individual product overview and rate sheet will be forwarded to agents and trade partners over the next few weeks.



Stay tuned for details!
---
Cairns Aquarium
Walk Cairns Aquarium is within easy walking distance of most accommodation. We are one block from The Esplanade, two blocks from the Lagoon Pool and an easy 5 mins walk from the Cruise Terminal. Drive The Cairns Aquarium is easily accessible by car however there is no onsite parking. Car parking is available in the surrounding streets, also hourly and daily fees may apply for metered parking. Drop Off Tour and school buses can drop off passengers in front of The Cairns Aquarium on Florence Street. Please ask our Reservations Coordinator for details when making arrangements for your group. Public Transit We have bus services on Lake and Abbott Street, right outside the Aquarium. The Cairns Aquarium is conveniently located in the heart of Cairns, next to Novotel Cairns Oasis Resort and opposite DoubleTree by Hilton.
---
Direct Contact Info
Hours: 9am - 5pm Everyday. Last admissions 4pm.
Address:
5 Florence Street
Cairns City
Queensland 4870
Australia
---
Encourage students' innate curiosity for the amazing creatures of the Great Barrier Reef and the North Queensland Wet Tropics Rainforest with our hands-on approach to teaching and learning.
Cairns Aquarium offers educational programs available to students from prep to tertiary.