Cairns Aquarium Listings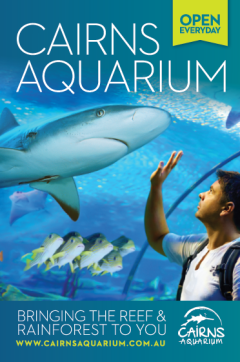 With over four million visitors a year to Australia's tropical North, The Cairns Aquarium provides a world class venue for seeing and interacting with the incredible plants, animals, and habitats found only in Australia's Wet Tropics, a region which borders two World Heritage listed environments: Th...
About Cairns Aquarium
The Cairns Aquarium is one of Australia's most exciting new world-class tourist attractions. Currently under construction in the Cairns CBD the iconic three level land mark attraction will showcase the animals, plants and habitats of the only two adjoining World Heritage protected areas – The Great Barrier Reef and the Wet Tropics Rainforest to an expected 720,000 visitors each year.

Protecting and conserving the biodiversity of these World Heritage listed ecosystems is the vision and the overriding passion of our founding partners and this commitment underpins our business philosophy and environmentally sustainable business practices.
Location
5 Florence St Cairns
Cairns, Queensland, Australia