Dundee's Restaurant Listings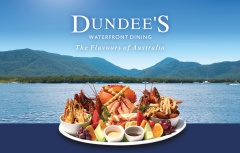 Dundee's Restaurant is waterfront dining at it's best! Dundee's has been one of the very few dining establishments in the Cairns region to continue to provide outstanding quality and service for over 30 years in one of the most competitive markets in Australia! Dundee's specializes in sumptuous cr...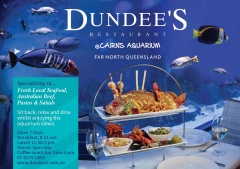 About Dundee's Restaurant
One of the best "Cairns Waterfront Dining" spots is Dundee's Restaurant on the waterfront in Cairns. Dundee's specializes in sumptuous creations of tender Australian grilled Beef, the freshest of Seafood, Pastas, Salads ,Crocodile, Kangaroo, Emu and deserts that do so much more than just impress. It's all about the taste!!!! You'll love the waterfront and mountain views because we're right on the boardwalk. Ships passing to and from the marina add to the perfect dining experience!