Vitalia's Italian Restaurant Listings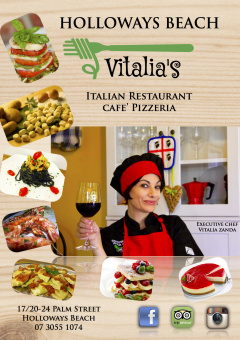 Located in one of the most beautiful Northern Beaches of Cairns, this unrevealed gem, offer one of the best Authentic Italian Food experience in Far North Queensland. Try our mouth-watering dishes, carefully prepared with fresh ingredients! Authentic Italian cuisine cooked by 25 years experienced Ch...
About Vitalia's Italian Restaurant
A new Vibrant italian Restaurant located in Cairns Northern Beaches, Holloways Beach is hosting this new born restaurant, Family envoiroment business, Hand-streched pizza using natural ingredients to enhance the flavours, Homemade gnocchi and Pasta, and also the most stunning seafood platter of Cairns. The dishes are Created by the Italian chef Vitalia Zanda with over 20 years experience.